Pat Spearman has no doubt that women make a big difference at the Nevada legislature.
The Democratic state senator pointed to a 2019 debate over a bill that would allow people to access a year's worth of birth control instead of a 30-day supply, something advocates say helps people avoid unintended pregnancy.
Spearman said she was surprised when male legislators in the room suggested that people with that much birth control would sell the medication.
"Why would they sell them if they need them?" Spearman said she asked. "… Every woman on the committee, and that was in the hearing room, you watched their heads nod. They knew exactly what we were talking about."
As lawmakers return to statehouses around the country this year, the Nevada legislature stands out in its scope of women's representation. In 2019, Nevada got the United States' first majority-woman legislature, and when the session begins Monday, nearly 60 percent of its 63 members will be women. For the first time there, or in any statehouse in America, women will have majorities in both chambers.
We're covering statehouses nationwide. Tell us what matters to you.
Some Nevada lawmakers say the presence of so many women as peers has changed the kind of bills that have passed. That includes polices to expand protections for pregnant workers, paid sick leave and abortion access; lawmakers in the most recent session debated several bills to help victims of domestic violence, sexual assault and human trafficking. In 2017, Nevada lawmakers approved the Equal Rights Amendment as part of the decades-long effort to enshrine gender rights in the U.S. Constitution.
"When I talk with my colleagues from other states, they are just astounded at the type of legislation that we're able to pass," said Assemblywoman Teresa Benitez-Thompson, a Democrat.
Though legislators see the changes as making a difference, some academics want to better understand it. Sondra Cosgrove, a history professor at the College of Southern Nevada, has been working with a small group of academics since 2019 to study the effects of so many women in the Nevada legislature.
The researchers want to understand the totality of this kind of gender parity, including whether women legislators are able to get all their priority bills through or if they have enough leadership power. Cosgrove hopes it will help shape conversations about what women's representation in statehouses means.
This year, the number of statehouse chambers with women majorities will be greater than all previous instances combined. Women are the majority in the Colorado House, the New Mexico House, the Oregon House and the Rhode Island Senate — as well as both chambers in Nevada.
"It is kind of a wow moment, because we've never had this before. … But you can't ever say, and now we stop," Cosgrove said. "From a research perspective, that's kind of where we're at. Great, let's celebrate. Then what's the next step?"
When Spearman was first elected in 2012, just 25 percent of Nevada legislators were women. At the time, nationwide the figure was 23.7 percent; that's up to 30.8 percent now, according to the Center for American Women and Politics (CAWP) at Rutgers University. That's a record, even as women make up more than half of the American population.
"If you would have told me this 10 years ago, I would not have believed you that there would be any legislature that would have even 50 percent, and now one is at 60 percent," said Jean Sinzdak, associate director of CAWP, about Nevada's legislature. "It's only one state, but it is astonishing."
Organizers credit years of grassroots candidate recruitment, along with factors like term limits that allow for turnover, for Nevada's jump. While most of the women legislators are Democrats, the number of Republican women has also increased in recent election cycles.
In 2019, Cosgrove and her research colleagues — Jennie Sweet-Cushman, a political science professor at Chatham University in Pittsburgh and Rebecca Gill, a political science professor at the University of Nevada Las Vegas — began to collect data about bills moving through the chambers. They noted when women sponsored legislation and tracked when bills advanced that centered women.
And after the 2019 session wrapped, the researchers interviewed the bulk of Nevada's legislators, both women and men, to get their perspectives. Many said it had improved workplace culture and decreased partisan sniping.
But the researchers are still sorting out the dynamics and impact, including whether women legislators face any barriers.
"We don't know what's going on behind closed doors, whether women legislators are asking for certain types of bills and being told no," Cosgrove said.
Women's representation in state legislatures has been studied before. The New Hampshire Senate was the first statehouse chamber, in 2009 and 2010, to reach gender parity when 13 women served in the 24-member chamber. Last year, researchers published a report finding partisanship, rather than gender, drove what the women lawmakers did.
When Nevada lawmakers begin a mostly virtual session Monday due to the pandemic, researchers plan to track what they advance (legislators in the state pass bills during odd-numbered years) to better compare the activities of the 2019 session.
Researchers, who hope to publish some of their work by the end of year, said they're considering several variables in their work, including the effects of party control. Democrats have controlled both chambers of the Nevada legislature since 2017, and the governor, who is also a Democrat, also has indicated support for many policies that help women, crediting the women-majority legislature for advancing reproductive health bills. Researchers are also looking at the effects of the coronavirus on policy and the budget.
"It's hard to kind of tease out how much the success of things was just that they had all the pieces of the puzzle … and how much of it was a collaborative, bipartisan environment that worked well," Sweet-Cushman said. "I think we got the sense of both, but that will require some more quantitative analysis to be able to say definitively."
Researchers said their preliminary findings complicate any one narrative about Nevada's women-majority statehouse.
For one thing, women don't call all the shots. Although several women run committee meetings that help advance bills, men began the 2019 session in the top two positions of chamber leadership. (In March of that year Democrat Nicole Cannizzaro became the first woman to become Senate majority leader, after the previous leader resigned over misusing campaign funds. Republicans, who are in the minority, voted Assemblywoman Robin Titus as their top leader at the end of the 2019 session).
The number of women in legislative leadership positions in statehouses everywhere is still low: In 2020, when women made up 29.1 percent of state legislators, the portion of them in the very top leadership positions within chambers was 23.9 percent. It was 25 percent in Nevada. (The 19th took a look at the unprecedented level of women's leadership in the Vermont legislature.)
Separately, the notion that women lawmakers advance more "women's bills" requires nuance, said Cosgrove. She recalled an interview with a lawmaker who told researchers that she focused heavily on bills related to natural resources.
"She said, 'I was dealing with environmental issues the whole session, and I consider those to be women's bills,'" Cosgrove said.
Benitez-Thompson, who is the number two on the committee that reviews revenue issues, said the most meaningful policy she helped advance last session related to the state's finances. Women are expected to lead on key financial committees this year, as statehouses grapple with budget shortfalls because of the pandemic.
"It's that power of the purse. We control all of the pennies coming into the state and all the pennies coming out of the state," she said. "… Our interests didn't necessarily always fall on just 'women's issues,' but we really had an economic agenda."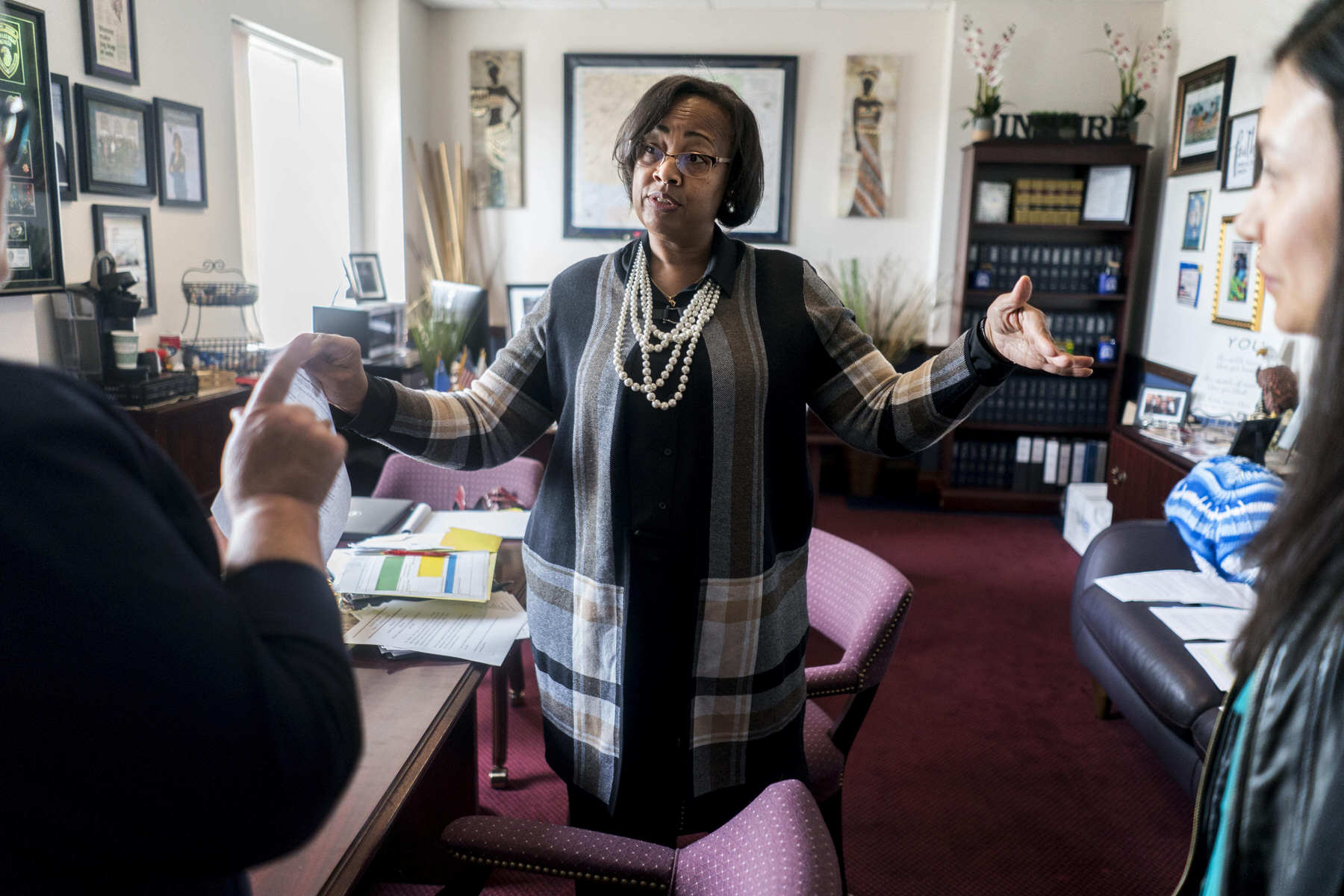 When Assemblywoman Daniele Monroe-Moreno entered her first legislative session in 2017, she was one of only a handful of Black women to ever serve.
Early in her tenure, she said, an older White lawmaker told her that "he never dreamed that he would see so many women and so many people of color" at the statehouse. He added that Monroe-Moreno and another lawmaker of color were "actually smart."
"And he thought that was a compliment," Monroe-Moreno said of the interaction.
Monroe-Moreno said she made a decision to understand the lawmaker's preconceived notions about who is typically a state lawmaker.
"We came into that building secure in who we were, knowing we had a job to do for the districts that we represent but the state as a whole," she said.
Diversity was among the central themes that emerged during researchers' interviews with lawmakers, according to Cosgrove, as many of the women lawmakers said the difference in legislation should also be attributed to the growing diversity of the statehouse. It has slightly increased its representation of Black people, Latinx, Asian Americans and LGBTQ+ lawmakers. Spearman is a queer Black woman; Benitez-Thompson is Latina.
The sentiment from lawmakers, according to Cosgrove: "If it's a bunch of White women, that's not diversity, and you're not actually bringing every voice to the table."