*Correction appended.
LOS ANGELES — On Wednesday, the head of queer editorial at Netflix reported to work in person for the first time, just to walk out.
Gabrielle Korn, who heads up Netflix's LGBTQ+ hub "Most," is among a string of employees who vowed to walk out of the company Wednesday morning after Netflix stood by its decision to platform the anti-transgender comedy special "The Closer" by Dave Chappelle for two weeks. The company has since started to backtrack support for the special. Korn is among those who Monday tweeted plans to leave the office amid growing discontent over the company's defense of Chappelle and retaliation against transgender employees who have raised concerns.
More than a hundred members of the media lined Vine Street, home to a Netflix office where workers walked off the job at 10:30 a.m. They were led by the trans activist Ashlee Marie Preston, who does not work at the company but has conducted trainings at Netflix, she said.
"It isn't just about Netflix," Preston told the crowd. "It's about a corporate culture that manipulates the algorithmic sciences to distort the way that we perceive ourselves and one another. It is the emergence of a hate economy, of corporations profiting and making money off of us getting at one another's throats."
Preston said that she and others had asked Chappelle to engage in a conversation about the special but that he had declined. She said Wednesday's demonstration did not seek to "cancel" the comedian but invite accountability for the real-world harm he caused against a backdrop of what is expected to be the deadliest year on record for Black transgender women.
Throngs of LGBTQ+ protesters and allies flooded the plaza in front of the building, chanting, "Trans lives matter" as security circled the perimeter and police helicopters circled overhead. The crowd was met with forceful counter-demonstrators demanding that the Chappelle special be allowed to remain on Netflix. Two men nearly consumed the demonstration with chants of, "Jokes are funny." At moments, the duo tangled physically with trans activists who tried to separate them from the larger crowd.
Noticeably absent from the action were Netflix employees themselves who did walk out but stood silently in literal shadow declining to speak to media, even off the record. Their silence comes in the wake of the firing of a Black transgender staffer who organized a smaller walkout last week after Netflix alleged the employee leaked internal metrics on the Chappelle special to reporters.
Amid preparations for the walkout, a Twitter account backing trans employees within the company released on Monday a bulleted list of demands for Netflix leadership that included an increase in investment in transgender content on the platform to greater control over editorial decisions for LGBTQ+ employees.
The demands come in the wake of a protracted battle between Netflix, its own employees and the wider trans community over the release of Chappelle's latest special, during which he misgenders a former friend who died by suicide after defending him, complains that transgender people accuse him of "punching down" and suggests that only White people are queer.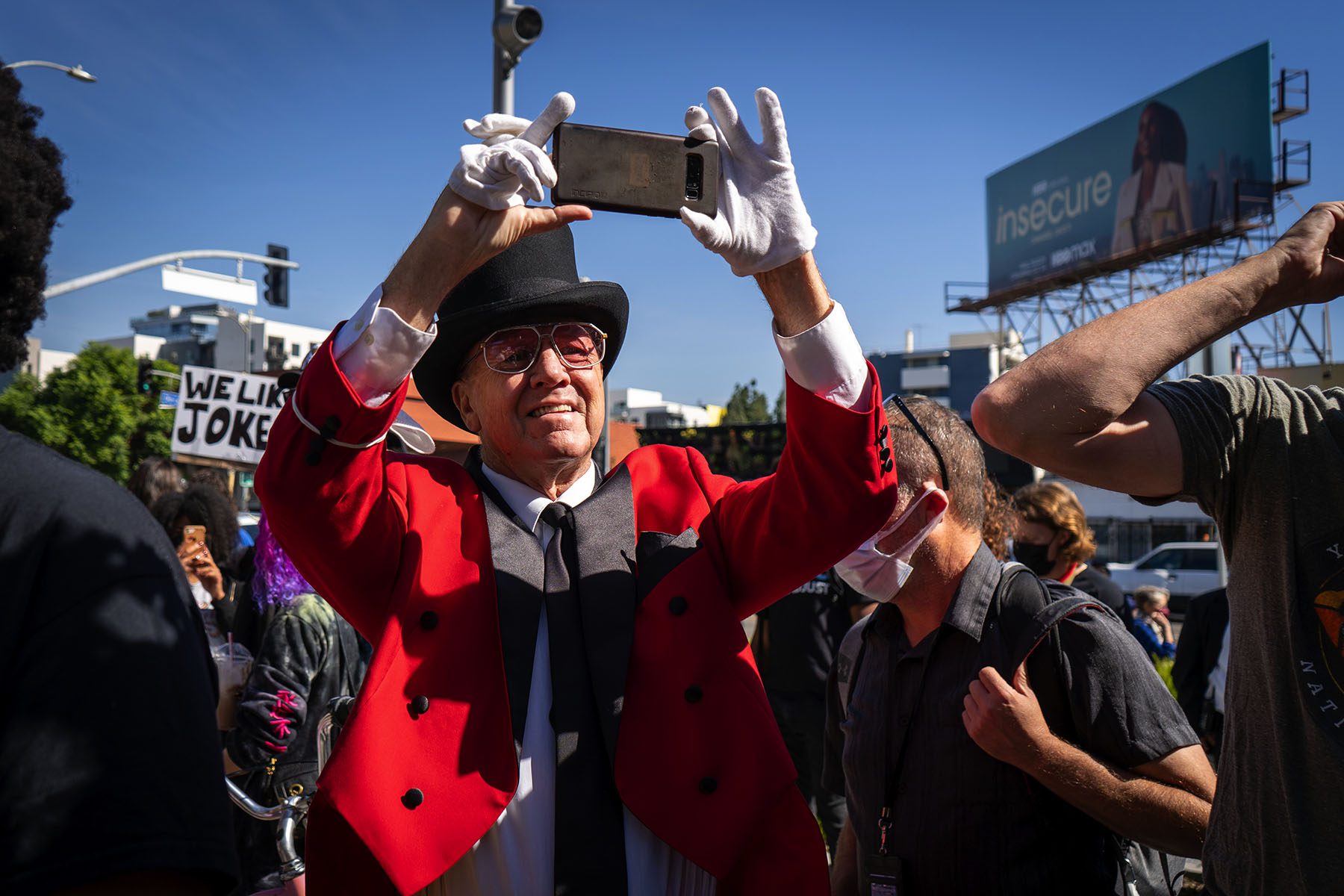 "Dave Chappelle represents a segment of society (along with white supremacists, hoteps [a person who is pro-Black but not progressive], incels, and others) that is anxious about the waning power of cisheteronormativity and the patriarchy," the transgender activist Raquel Willis tweeted."People like him know that their outdated, limited view of the world is obsolete, and instead of transforming in the name of empathy and humility, they lean into toxicity."
Trans employees within Netflix accuse the company of ignoring years of concerns raised by Black and trans employees, dating back to Chappelle's 2019 film "Sticks & Stones."
Variety reported that the company's CEO, Ted Sarandos, sent employees an internal memo reminding staff that the company had a policy against platforming content that incites violence.
"And we don't believe 'The Closer' crosses that line," he reportedly wrote.
In a terse response, LGBTQ+ media organization GLAAD pointed out that its entire founding was based on the premise that cultural representations of queer people have real-life consequences.
"Authentic media stories about LGBTQ lives have been cited as directly responsible for increasing public support for issues like marriage equality," the group said in a statement. "Film and TV have also been filled with stereotypes and misinformation about us for decades, leading to real world harm, especially for trans people and LGBTQ people of color. Ironically, the documentary Disclosure on Netflix demonstrates this quite clearly."
Sarandos said in an interview Tuesday night with The Wall Street Journal that his remarks had been an oversimplification of the situation and that they had been lacking in humanity.
"I should have recognized the fact that a group of our employees was really hurting," he told the Journal.
Adding to that the next day, a company spokesperson said in an emailed statement to The 19th that Netflix supported the walkout.
"We value our trans colleagues and allies, and understand the deep hurt that's been caused," the statement read. "We respect the decision of any employee who chooses to walk out, and recognize we have much more work to do both within Netflix and in our content."
In a blog post, Terra Field, the Netflix senior software engineer who first complained about the special via a viral Twitter post, said an employee resource group voiced serious concerns about both specials only to be written off by executives.
"So when a company like Netflix says something like, 'we do not believe this content is harmful to the transgender community,' you can be virtually certain that not a single trans person was involved in that decision," Field wrote.
Correction: An earlier version of this article misspelled Dave Chappelle's name.