For more on this race and results, read The 19th's latest coverage here.
CLEVELAND and AKRON, Ohio — With just nine days until the primary election to pick a Democratic nominee to replace a U.S. House lawmaker in Ohio who joined the Biden administration, frontrunners Nina Turner and Shontel Brown traced similar paths. 
The candidates, both Black women in a district that has been represented by one since 1999, kicked off the steamy Sunday at Cleveland-area churches, followed by separate drop-ins at a softball tournament, and both spoke to potential voters at the Akron African American Cultural Festival. House parties and meet-and-greets were sprinkled in between.
Their itineraries were both similar and traditional for a special election in a safe Democratic district that in any other off-cycle year would barely register on the national stage.
But the Aug. 3 primary in Ohio's 11th Congressional District has become a national barometer for Democrats, who are divided over how to best maintain their tenuous control of both chambers of Congress in November 2022 so that President Joe Biden can continue advancing his agenda during the second half of his four-year term.
The choice before Democratic voters is this: Will they fare better in the midterm elections if they run progressive activists, and sometimes rabble-rousers, who call for bold change in the mold of 'The Squad?' Or, are they better off with institutionalist-friendly contenders in the vein of Biden, who are more open to an incremental, and sometimes bipartisan, approach?
In Ohio's 11th Congressional District, which contains parts of Cleveland and Akron and the suburbs in between, including most majority-Black precincts, the Democratic primary has become as much about the type of party voters think can succeed in 2022 as the two leading candidates in the race and their specific policies. The general special election will take place in November and Democrats are strongly favored to win.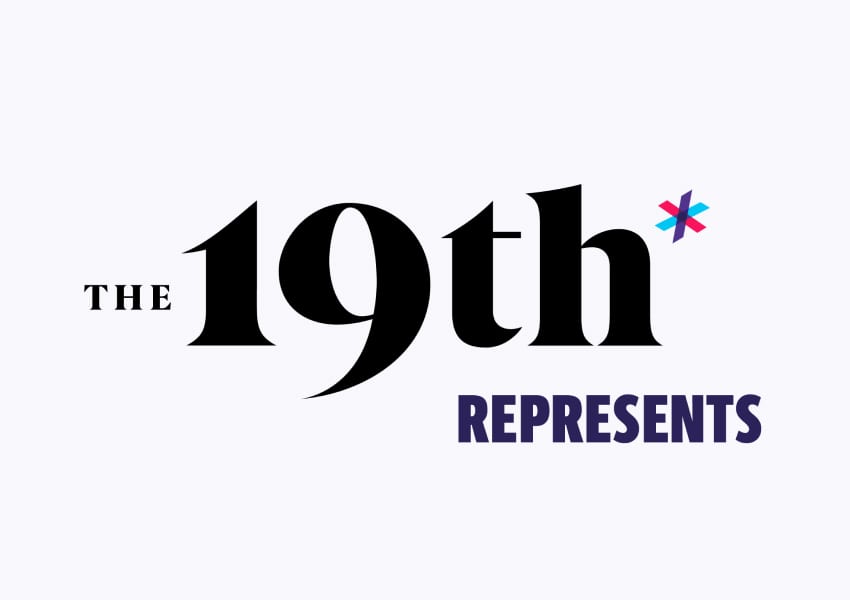 Join us this August for our free #19thRepresents summit with virtual conversations on representation in democracy, sports, business, culture and voting.
Turner, 53, is a former Cleveland councilwoman and state senator who hails from the Democratic Party's left wing. She came into the race with a national profile — and the fundraising and name recognition to match — after co-chairing Democratic Socialist Sen. Bernie Sanders's 2020 presidential campaign. Her backers include progressive leaders such as Sanders and Rep. Alexandria Ocasio-Cortez, an original member of the "Squad" who was there campaigning with Turner over the weekend.
Brown, 46, is a county councilwoman and the first Black person and first woman to chair the influential Cuyahoga Democratic Party. Her campaign's internal polling shows Brown has largely closed the 26-point support deficit between her and Turner in the last three months. She has the support of the political arm of the Congressional Black Caucus (CBC); Rep. Jim Clyburn, the third-ranking House Democrat who was instrumental in Biden's successful South Carolina primary bid to win over Black voters; and, in an indicator that she is seen as the successor to Housing Secretary Marcia Fudge, the former CBC chair who represented this district from 2008 until earlier this year, Fudge's own mother.
"I have no desire to join 'The Squad.' I truly believe the people here in the 11th Congressional District is the only squad I will be looking to serve," Brown assured voters at a house party over the weekend.
Turner is known for a bold style that has at times put her at odds with members of her own party. After Sanders lost the Democratic presidential nominations in 2016 and 2020, she did little to turn out voters for Hillary Clinton or Biden. A July 2020 interview with the Atlantic has become fodder for her opponents and some voters cite it as a concern. In it, Turner likened voting for Biden over Trump as being asked to eat half a "bowl of shit … instead of the whole thing."
"I'm running on a vision," Turner told The 19th in an interview this week. "People should be more fixated on fixing the problems in this district, and this state in this nation, than on some colorful words that I used in the heat of a primary."
Brown, meanwhile, presents herself as a consensus builder who has been able to work with lawmakers in her own party and across the aisle. The council, which currently has three Republicans, voted unanimously in July 2020 to declare racism a public health crisis in the county at a time when nationwide racial justice protests were exposing a partisan rift on the issue. Brown, who led the effort, told the small house party that bipartisan buy-in was critical because she "wanted to make sure that the legislation would put us in a position to be able to receive the resources and support whether I was there or not."
Each woman's campaign has accused the other of going negative.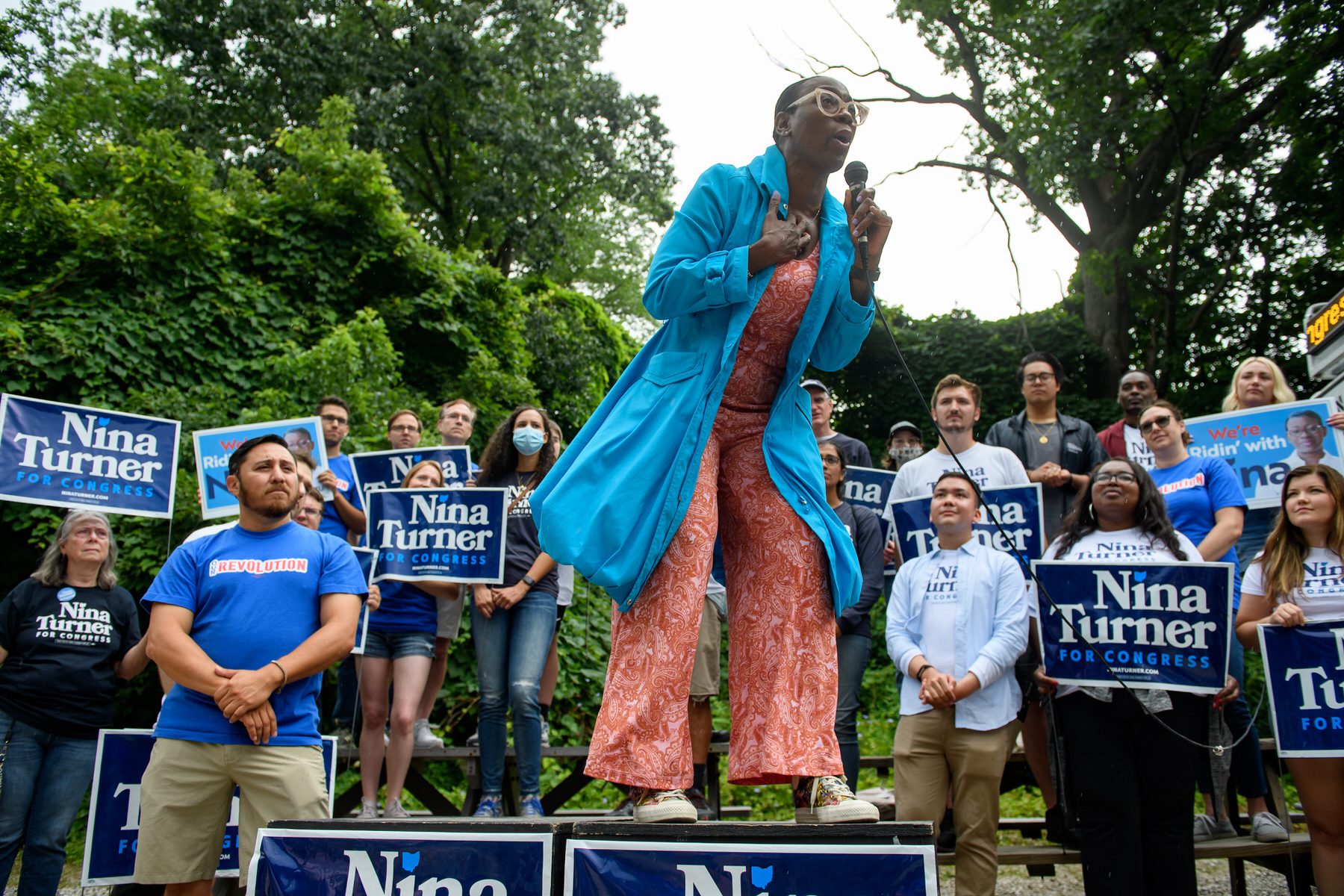 Yuvonne Webb sees Turner's frank style as an asset. She decided to support her after hearing her speak in Akron, then to volunteer for the campaign after seeing some negative ads that she felt took Turner's past statements out of context. When Webb went door-knocking, though, two things became clear. While "the people who support her, support her," for undecided voters, "her outspokenness, her not mincing words, that may be a problem."
Lana Moresky was at a meet-and-greet for Brown over the weekend because she believes she will be "working methodically for Democrats and with Biden" and Turner's differences with party leaders may be a "distraction."
"We're hanging by a thread in Congress. For Democrats to win, we can't be distracted. If we lose, Biden is done for the rest of his term," she said.
Whether Ohio voters choose Turner or Brown on Tuesday could signal how Democratic primary races will play out ahead of next year's midterm elections. In Kentucky, for example, state lawmaker Attica Scott announced earlier this month she will challenge longtime Rep. John Yarmuth to be the first Black woman to represent the district. In New York City, progressive activist Rana Abelhamid is hoping to replicate Ocasio-Cortez's 2018 success in neighboring Queens by ousting Rep. Carolyn Maloney, who has served in Congress since 1993.
The ideological split is similar to what Republicans faced as the Tea Party movement grew in prominence right before helping the GOP reclaim control of the House in 2010.
National attention is only intensifying in the final days of the primary race even as both candidates say they want to keep the focus local, presenting closing arguments for why they believe their vision is the best for the district.
Turner often notes Cleveland is the "largest poor city" — nearly a third of its close to 400,000 residents live in poverty. About 24 percent of Akron's roughly 200,000 residents do. "It really is about who best is going to help to change their material conditions," Turner said in an interview.
Turner, a years-long advocate for a Medicare-for-all system, which puts her to the left of Biden, noted that the number of Ohioans without health insurance grew during the COVID-19 pandemic as workers lost employer-sponsored health insurance plans. She said that as she campaigns, it's economics and jobs that are on most voters' minds, and cites her longtime support for a $15 federal minimum wage. Turner noted that she's running to represent a "majority-minority district" and often fields questions about voting rights and why Congress has been unable to pass legislation that would preempt restrictive GOP laws on the state level. She supports eliminating the Senate rule known as the filibuster that sets a 60-vote threshold to advance most legislation. She fears the race is being nationalized at the "expense of my constituents."
Brown said that her top priority is delivering local results as the district recovers from the pandemic. She too fielded a question about voting rights and the filibuster at the house party. Brown told those gathered on a patio she supports "carving out" constitutional issues such as voting rights from the filibuster rule, but said she "understands the importance of maintaining it in some instances."
"On a national level, clearly it's been typecast as a proxy fight," Brown said of the race in an interview. "When I'm talking to folks in the community and delivering [on] foodbanks, PPE, rental assistance, PPP loans … People are never like 'Are you progressive, by the way, or are you a moderate?' It's 'Help me get my stuff, Shontel.'"
In the final days before the primary election, both Turner and Brown will have prominent surrogates in town to help turn out voters.
Sanders will be doing some eleventh-hour canvassing before delivering a keynote address at a Turner rally where he will be joined by Rep. Cori Bush, a "Squad" member and Black activist from Missouri who defeated a longtime Democratic incumbent in 2020.
Clyburn will be campaigning for Brown, along with Ohio Rep. Joyce Beatty, the CBC chair who was arrested earlier this month during a Senate protest that called on lawmakers to pass the stalled voting-rights legislation.
Ohio voters are free to cast ballots in either party's primary but have been slow to do so during the early-voting period, which began on July 7 and extends until Monday, the day before the actual primary. Low turnout is not atypical for a special House election primary in an off-cycle year, but it could cast doubt on the impact that unprecedented outside spending is having on the race.