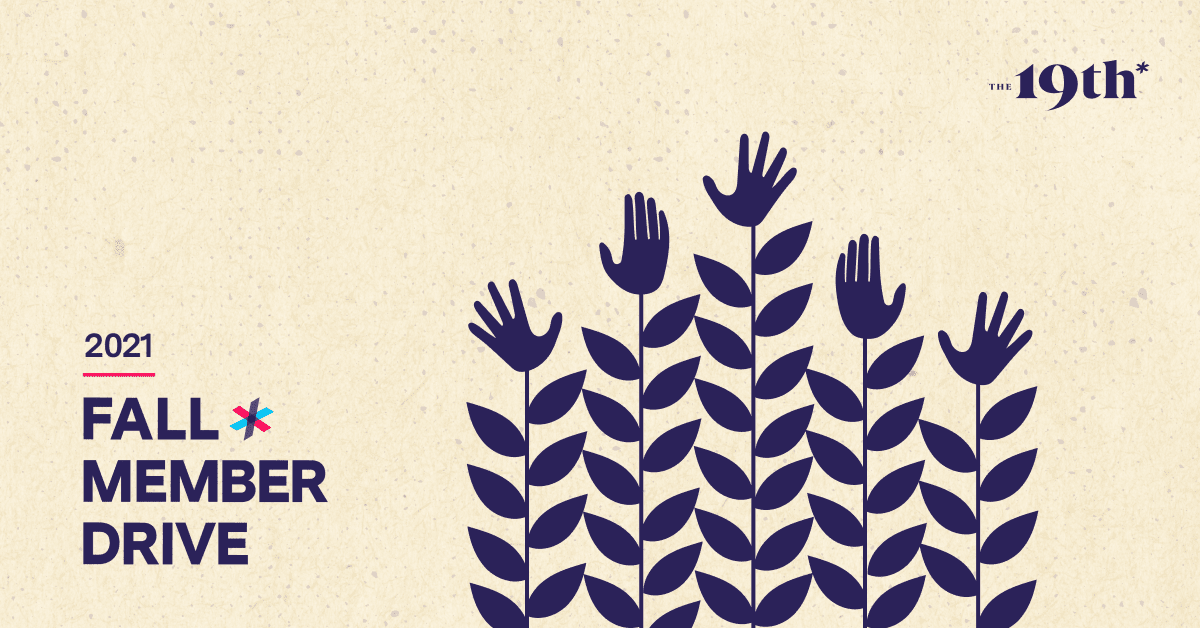 Leading change
When we introduced The 19th to the world almost two years ago, we knew we'd be charting a new course. We knew our efforts to disrupt American media and put a new lens on politics and policy journalism would have to be bold and leave room to learn and grow. That's what happens when you are committed to leading change.
By welcoming the individual experiences of our entire 19th community, we stand to earn, cultivate and retain the trust it will take to continue to lead the way in the news industry.

Our journalism is service leadership at the core. We are reporting on the issues that matter most to you, giving you the space to share your experiences and providing you the information and resources you need to be equal participants in our democracy. Ultimately, we're empowering you to help us lead the change by reporting with empathy, reimagining storytelling and transforming the news.

As part of our Fall Member Drive, you can expand on your support and invite others to join you in leading change by hosting your very own fundraiser on our behalf.
How do fundraisers work?
Raising funds for The 19th is free and only requires a few steps. Tell the people you know best why our work matters to you! To participate, simply click here to create your fundraising page with a goal and a note to encourage your friends and family to give. Adding a fundraiser photo will also make your fundraiser feel relevant to your community.
You'll receive a confirmation email when your fundraiser is ready to share with your friends and family. We You'll receive a confirmation email when your fundraiser is ready to share with your friends and family. We encourage you to share that link on your social media pages, via email and in your favorite group chat or Slack space through our Fall Member Drive, ending December 10. You'll receive email notifications when someone donates and when you reach your fundraiser goal — which you can also track through your member portal.
What makes a good fundraiser?
Tell your friends why The 19th matters to you. What 19th stories have you enjoyed reading? What inspired you to subscribe or donate?
Explain what The 19th is: a nonprofit newsroom covering gender, politics and policy, serving women, LGBTQ+ people and communities traditionally underserved and underrepresented by American media.
Let them know where they can learn more about our newsroom and mission: 19thnews.org/about
---
About The 19th
At a time when newsroom budgets across the United States are shrinking, The 19th is investing in serious, independent reporting that reimagines politics and policy journalism to be more inclusive of and responsive to all women and historically underserved and underrepresented people. That means:
Having reporters anchored across the country, not just on the coasts.
Meeting our readers where they are, whether it's online, in person or in the pages of their local newspaper.
Making our journalism free for state and local publications to republish.
Engaging with our audience to better understand how their lives are shaped by the decisions their elected officials make.
Hitting the pavement to listen to people's lived experiences, to tell their stories and to elevate their voices.
Have questions or need help?
Contact our community manager, Sereena Henderson, at [email protected].