Since 2019, U.S. Rep. Rashida Tlaib of Michigan, the only Palestinian American in Congress, has repeatedly called on her colleagues, and the broader public, to recognize the humanity of Palestinian people. They are sisters, daughters, mothers and grandmothers, she has said.
"I am a reminder to colleagues that Palestinians do indeed exist, that we are human, that we are allowed to dream," she said in a 2021 speech on the House floor. "Reducing Palestinians to live in utter fear and terror of losing a child, being indefinitely detained or killed because of who they are, and the unequal rights and protections they have under Israeli law: it must end."
Tlaib's advocacy has made her the subject of backlash. Critics accuse her of repeating statements that they feel put Jewish people's lives in danger amid rising antisemitism and violence. This tension came to a head on November 7, when members of the U.S. House of Representatives, 212 Republicans and 22 Democrats, voted to censure Tlaib. It was the second attempt to censure Tlaib in one week. The House voted to table the first censure resolution on November 1.
A censure is a rare public expression of disapproval that does not require specific punishment or legal action, but can harm a legislator's reputation.
The most recent censure was linked to her use of a controversial pro-Palestinian chant, "From the river to the sea, Palestine will be free." Many Israeli and Jewish people believe the phrase is a threat and a call to destroy Israel; many Palestinians say it's a call for freedom.
A number of Tlaib's critics cheered and clapped from the House floor as the second censure resolution passed. Other supporters of the censure took to social media to explain the need to take "a principled stand against hate speech."
What does it mean to be censured?
A censure is formal condemnation issued by a legislative body, like Congress.

It is a rare and significant action taken against a member of Congress as a form of public rebuke or disapproval.

A censure does not carry any specific legal consequences or penalties, but it serves as a public expression of disapproval and can harm a legislator's reputation.

Unlike expulsion, which would remove a member of Congress from office, a censure allows the legislator to remain in their position.
Some observers felt the move sent a different kind of message. For Palestinian Americans, the censure of Tlaib confirmed their worst fears — and what feels like a neverending reality: that their opinions are not important and their lives do not matter, said Shadin Maali, the national director of growth and operations for EMGAGE, a political advocacy organization for Muslim Americans. In Tlaib people like Maali also see a Muslim woman, the country's first Palestinian American congresswoman, challenging the political establishment by criticizing a U.S. ally and demanding equal rights for her community.
"If Rashida can't speak about this issue in her role, and she's the only representative from the Palestinian community in Congress, then who else can address this issue? So when they censure her and say she cannot talk about this from her lived experience, that's showing her, 'You hold no space here. The well being of Palestinians doesn't matter,'" Maali said.
In different ways Tlaib's time in Congress mirrors experiences that other people from minority communities face in their workplaces. There's often a dual feeling of wanting to be embraced and accepted like everyone else, while also feeling a sense of responsibility to speak out on issues that affect people from similar ethnic, racial or socioeconomic backgrounds. Research indicates that women and people of color speak up more on issues of bias or discrimination.
As diversity expands into the highest offices of power — from the White House to the U.S. Supreme Court — multiple news articles and interviews have discussed the burdens that accompany being the first or the only individual to represent a particular community.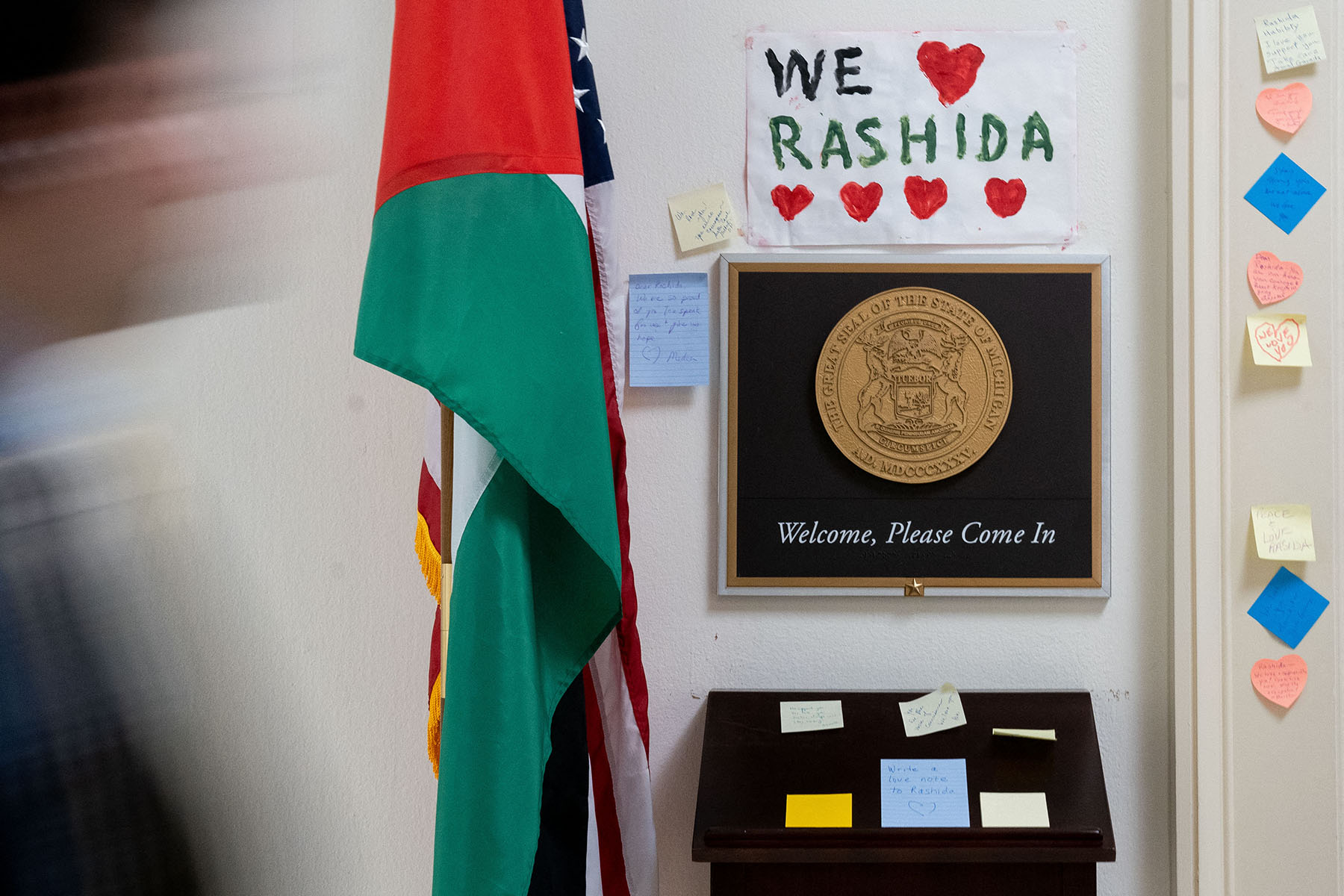 Rozina Ali, a New York City-based journalist and contributing writer at The New York Times Magazine, explored these themes in a 2022 profile of Tlaib. After entering the U.S. House, Tlaib did not shy away from weighing in on the injustices facing Palestinians nor the United States' role in funding and vocally encouraging Israeli military operations.
Her addition to Congress offered a new platform to a growing pro-Palestinian movement in the United States that seeks to end the Israeli government's occupation of Palestinian territory and decades of military force against Palestinian people after an estimated 700,000 were forcibly displaced from the region during the establishment of the State of Israel after World War II.
Tlaib often roots her criticism of Israel's actions in the stories of her family, including her 90-year-old grandmother who lives in the West Bank. In 2019, she announced that she was canceling a planned trip to visit her grandmother after the Israeli government initially blocked her attempt to visit and later granted permission on humanitarian grounds. She stated that she still declined to visit because the Israeli government intended to use "oppressive" conditions to humiliate her.
As she spoke out, Tlaib also caused a lot of anger. That same year she received criticism from members of Congress and Israeli and pro-Israel leaders by stating that Palestinians helped to provide a safe haven for Jewish people after the Holocaust. At the time Rep. Liz Cheney, a Wyoming Republican, called on then-House Speaker Nancy Pelosi to take action on what she described as "vile" remarks. Others accused Tlaib of trying to rewrite history.
Many Republican members have not condemned antisemitic behavior by members of their own party. Former President Donald Trump met with a far-right white supremacist political commentator at Mar-a-Lago in 2022, and Rep. Marjorie Taylor Greene of Georgia, has stoked neo-Nazi conspiracy theories, among other controversies.
Faced with the contentious political climate on Israel and Palestine, Tlaib has expressed caution about being "the only" Palestinian American voice in Congress.
"I feel like no one wants to see me as anyone but Palestinian," Tlaib told Ali for the profile.
Tlaib was novel not only because of her Palestinian heritage, but also because of the political position she took on the issue of Palestinian-Israel relations. As Ali noted, when Tlaib joined Congress she was the only representative to publicly support a proposal to resolve the crisis with a peaceful, single Democratic state where Palestinians and Jewish people would both live with equal rights.
The White House stance has long been a two-state approach, with each group having its own territory.
Though the issue is deeply personal for Tlaib, it is also an extension of advocacy she has done on behalf of her constituents in Detroit. Prior to Congress, she served in the Michigan House of Representatives for five years. She was elected to Congress in 2018 to represent Michigan's 13th Congressional District, which was majority Black and one of the poorest districts in the country. She was reelected in 2022 to represent a district that is 46 percent Black. Throughout her campaigns and time in office, she has spoken out about issues like immigration enforcement, environmental justice and public health.
"When I was doing the reporting for this profile, most of the people I spoke to in Detroit, in Dearborn, did not really see her as Palestinian. They saw her as their representative who is from Detroit; someone who has been involved in the community from the get go," Ali told the 19th. "But that reality is missing from the larger public debate, because her image has been so intrinsically tied to the Palestinian cause."
The censure resolution this month cements that tie further. It came one month after a surprise October 7 attack on Israel by the militant group Hamas, which controls the Palestinian territory in Gaza. President Joe Biden has described the attack as "15 9/11s" based on Israel's population size; it claimed the lives of about 1,200 people, mostly Israelis. Many Jewish people have shared their fears that the world is on the edge of another Holocaust.
The Israeli military responded to the Hamas attack with repeated airstrikes in Gaza, leading to the loss of more than 11,000 Palestinian lives and sparking worldwide protests, which have included Jewish people, calling for a ceasefire and expressing solidarity with Palestinian rights.
The Biden administration has repeatedly expressed support for the Israeli government, though the White House asked for daily pauses on airstrikes, which Israel agreed to. Biden said on November 9 that there is "no possibility" of a ceasefire.
When Tlaib posted a video on November 3 showing protesters demanding a ceasefire and chanting "from the river to the sea," it followed weeks of mourning and a rising death toll in Gaza. The chant has been used for decades by many Palestinians and their supporters to call for an end to Israeli occupation of the region and an end to violence against Palestinian people. A segment of the Israeli and Jewish communities interpret the expression as a call for violent removal of Jewish people from the region.
Pro-Israel organizations like the Anti-Defamation League have categorized the phrase as hate speech because Hamas has co-opted it in recent years, but the expression long predates the formation of Hamas.
Tlaib defended her use of the phrase, stating in an MSNBC interview that she and other Free Palestine supporters have repeatedly called for the peaceful co-existence between the two groups.
The censure against her prompted public outcry and speculation about where the country stands on this century-old conflict that feels further away from resolution.
"While the censure does suggest a setback for Palestinian American rights and Palestinian rights on the Hill, I think what it speaks to even more loudly is a furthering disconnect between the American people and the representatives," said Ali, the journalist.
Maali of EMGAGE expressed similar thoughts, noting that more people today in the United States support Palestinian rights.
"A lot of people are talking about this in a way they've never talked about this before. They're researching it and you're seeing Gen Z and people under age 35 who are sympathetic to this cause," Maali said. "Now you're seeing TikTok videos of regular, everyday people explaining the perspective of the Palestinian people living under these conditions since 1948."