For over two decades, a growing body of research has found several associations between pesticides and issues in early childhood development, specifically for children born in farmworking communities.
What the research has found is that prenatal exposure to pesticides has been linked with neurodevelopmental issues like decreased cognition and lower IQ in childhood and an increase in ADHD and autism, said Carly Hyland, an epidemiologist at the University of California, Berkeley who has worked on a study of 600 pregnant farmworkers in California's Salinas Valley, and has followed the development of their children since the 1990s.
Studies have also found some associations between pesticide exposure and adverse respiratory outcomes like asthma, she said.
Despite these risks, pregnant farmworkers often can't afford to take unpaid time off, often working throughout their pregnancies and returning shortly after giving birth. The annual income for farmworkers is estimated to be just $25,000 to $30,000 a year, and the majority of workers are Latinx.
In recent years, lawyers with the Center for Worklife Law, a research and advocacy organization for worker protections, have been working to change that reality by helping pregnant farmworkers utilize a resource few knew was available to them: state funding to replace their income during their pregnancy.
California is part of a handful of states that offers a State Disability Insurance (SDI) program. The SDI, which most employees pay into, provides short-term disability insurance and paid family leave — paying part of a worker's wages when an employee needs to take time off of work.
What's unique to the California program is that farmworkers — regardless of citizenship status — who are exposed to pesticides can take time off during the pregnancy as a preventive measure if other accommodations aren't available, receiving 70 percent of their wages to make up for lost income. In 2025, that number goes up to 90 percent for low-wage workers.
But accessing the money — which has been available since the Pregnancy Discrimination Act was enacted in 1979 — hasn't been very straightforward. Dar a Luz, an initiative started by Worklife Law, aims to change that. Juliana Franco, a staff attorney with Worklife Law, said they launched the initiative in 2021 with the Central Coast Alliance United for a Sustainable Community (CAUSE), a grassroots advocacy organization, after hearing that farmworkers were being denied paid leave benefits through the state's disability insurance program.
"We did research into the purpose of the program and the legal definition of disability for these purposes and crafted an argument as to why the situation was already covered under the law," she said.
Usually short-term disability kicks in when the pregnant person is dealing with a complicated or high-risk pregnancy, or at a point closer to a person's due date, but in California, farmworkers who are exposed to pesticides can access it practically from the time they find out they are pregnant. "We like to say as early as a positive pregnancy test," Franco said.
The organization found that in farmwork, pregnancy falls within the definition of disability because in many cases workers' health or the health of their fetus is at risk with direct daily exposure to agricultural toxins.
But in order for farmworkers to be able to access these benefits, their health care provider has to certify their disability. This is where some of the barriers remain.
"With agricultural work, there are some providers that have a policy that if they know that their patient is a farmworker and the patient just found out they're pregnant, their practice is to recommend leave right away," Franco said.
But that's not true of all providers. Some think they are only allowed to certify up to four weeks before delivery if it's an uncomplicated pregnancy, or don't think pesticide exposures pose enough of a threat, Franco said.
Other health care providers have experienced their patients' claims being denied by EDD, something Liz Morris, the deputy director of WorkLife Law, says they are addressing with the agency.
EDD has also worked with Dar a Luz to develop training for health care providers to ensure they know how the program works, and has clarified on its website that farmworkers, if exposed to pesticides, should be able to make a claim. The EDD did not provide comment by deadline.
Once pregnant farmworkers are enrolled in SDI they are made aware of other benefits like the state's paid family leave program, which offers 70 percent of their weekly wages for eight weeks postpartum to bond with their baby.
"They can spend time with their child or for example, if one person needs to go back to work, the other parents can take that time off, to be with the baby so that the baby doesn't need to go to child care earlier," Franco said.
It's why the Dar a Luz initiative continues to raise awareness of the program in farmworker communities.
"Accessing preventative measures so that individuals can maintain a healthy pregnancy is absolutely essential to maternal and infant health," said Elizabeth Gedmark, vice president at A Better Balance, a nonprofit that advocates for paid family leave.
Only four other states even have a short-term disability program, Gedmark said, and while she wasn't aware of other programs that have this specific carveout, she said similar accommodations might be available in other states typically on a case-by-case basis. Several other states do offer other resources like paid family and medical leave programs, she said.
Morris said that her organization is looking into other state programs and whether similar funds could be utilized. "Even if it's not perfect, there may be accommodations available," she said.
And with the Pregnant Workers Fairness Act, which went into effect in June, workers across the country will have expanded rights to demand accommodations during their pregnancy, like the ability to ask for a temporary work placement if their current job is putting them at risk as well as job protected leave, Gedmark said.
Still there are many barriers to farmworkers exercising these rights. For undocumented workers there are fears associated with accessing government benefits as well as a language barrier. Many workers from countries like Guatemala speak Indigenous languages, and information usually isn't translated for them. This effectively shuts them out of a program that they contribute to with payroll taxes.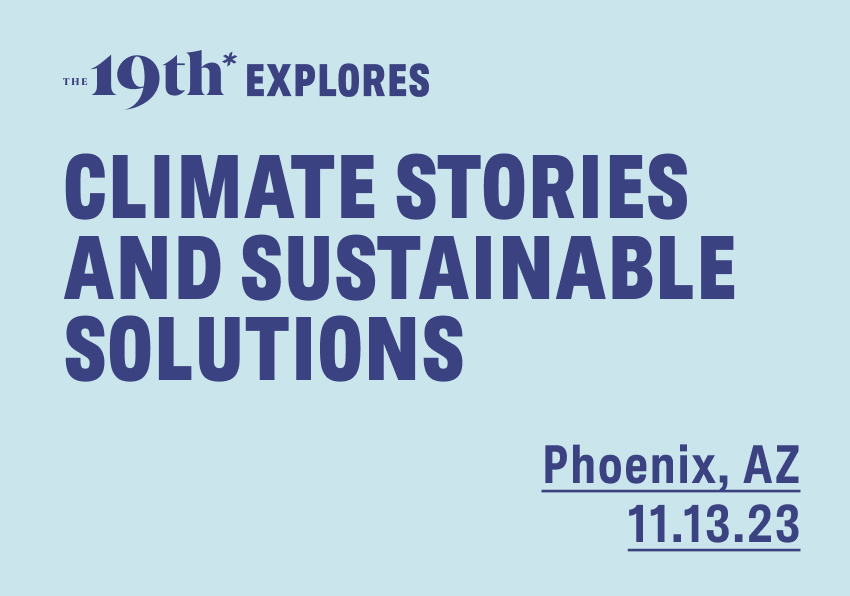 Originally aired on November 13, 2023
The 19th gathered leaders in the U.S. Southwest to highlight their work at the frontlines of tackling the climate emergency. 
There is also still a lot of training that needs to be done for health care providers to ensure that they are able to advocate for their patients. Hyland, the epidemiologist, who is on the health care advisory board for Dar a Luz, is hoping to work on a project to close that information gap with medical providers on issues like pesticide exposure.
The work of Dar a Luz could become increasingly important due to the climate crisis and the growing body of research linking extreme heat and wildfire smoke with poor pregnancy outcomes, she said.
"If you look at recommendations for example, during the wildfires, the top recommendations are stay indoors," she said. "[But farmworkers] have to be working outside in a physically demanding job in order to get paid. And so I think we do need to start really thinking about these particularly vulnerable populations. And within that, there's a lot of evidence that pregnant individuals are particularly vulnerable."
Monse Garcia-Jimenez, a community organizer with CAUSE, which has helped connect farmworker communities to the initiative, said she's hopeful that the work they are doing will lead to change in Santa Maria, the town where she grew up.
"I genuinely feel like this program and the work that we're doing is going to change health care and doctors and clinics and the way that they view farmworkers and pregnancies," she said. "Health in general, it starts when you're in the womb."