Editor's note: This article has been updated.
Your trusted source for contextualizing sports news. Sign up for our daily newsletter.
WNBA players have long lagged in earning power compared with the NBA, and that has often meant having to leave their families to take offseason work overseas, leaving them to navigate child care and secure enough funding and sponsorships to sustain their careers. To address that, two WNBA players — Breanna Stewart of the New York Liberty and Napheesa Collier of the Minnesota Lynx — are founding a new professional women's basketball league to give top players an option to play domestically in the offseason.
"We remain committed to the WNBA, however there's a problem that exists, which is players having to choose whether to play overseas to maximize earnings in the winter or stay home with family," Collier said on Twitter. "We've decided to create our own solution."
The league, called Unrivaled, will initially include 30 players in six franchises and feature "an innovative style" of 3-on-3 played on a shortened court with "more spacing, more scoring & shorter games," Collier said on Twitter.
The new league, which was first reported by ESPN on Thursday, is scheduled to run from January through March at a soundstage in Miami. Collier and Stewart said they founded it in large part as a response to the WNBA's new prioritization rules that will make it harder for players to play abroad in the offseason. Many women basketball players join overseas leagues in the offseason because they can make up to 10 times as much money in other countries — which drew widespread attention last year when Brittney Griner was detained at the end of her offseason in Russia.
Unrivaled would join another newly launched professional women's league, Athletes Unlimited Basketball, which completed its second season in March 2023.
Greg Bouris, undergraduate sport management program director at Adelphi University, said that it's exciting to see professional athletes taking the initiative to have more of a voice in their sport. This new women's basketball league is following a trend of women athletes encountering problems and coming up with their own solutions: A new professional women's soccer league and a new professional women's hockey league are also launching in 2024.
"It's great to see that the women here are taking the bull by the horns and saying, 'Hey, let's do our own thing,'" said Bouris, who also has decades of experience working with professional teams and associations. "The sports industry is very nuanced and unique in that the players are the product. This league lets them have the ultimate say on what this product is going to look like from a performance perspective and how it's presented to the public."
The WNBA's new prioritization rules, which are set to go into full effect next season, were a part of the 2020 collective bargaining agreement and require that players return from overseas by the start of training camp to be eligible for the season. However, the overseas season often runs through mid-May, making it difficult for WNBA players to play both domestically and abroad.
"We can't keep fighting [the WNBA's prioritization rule]," Stewart told ESPN. "It is a rule that takes away our choices, which should never be a thing, especially as women, but it is still a rule."
Mahogany "Mo" Green, the women's head basketball coach at Hamilton College in New York, praised the launch of the new league.
"I think that another option for women to play here in the States is a must," Green said. "We have multiple leagues for men's players. Why would we not offer women the same experience?"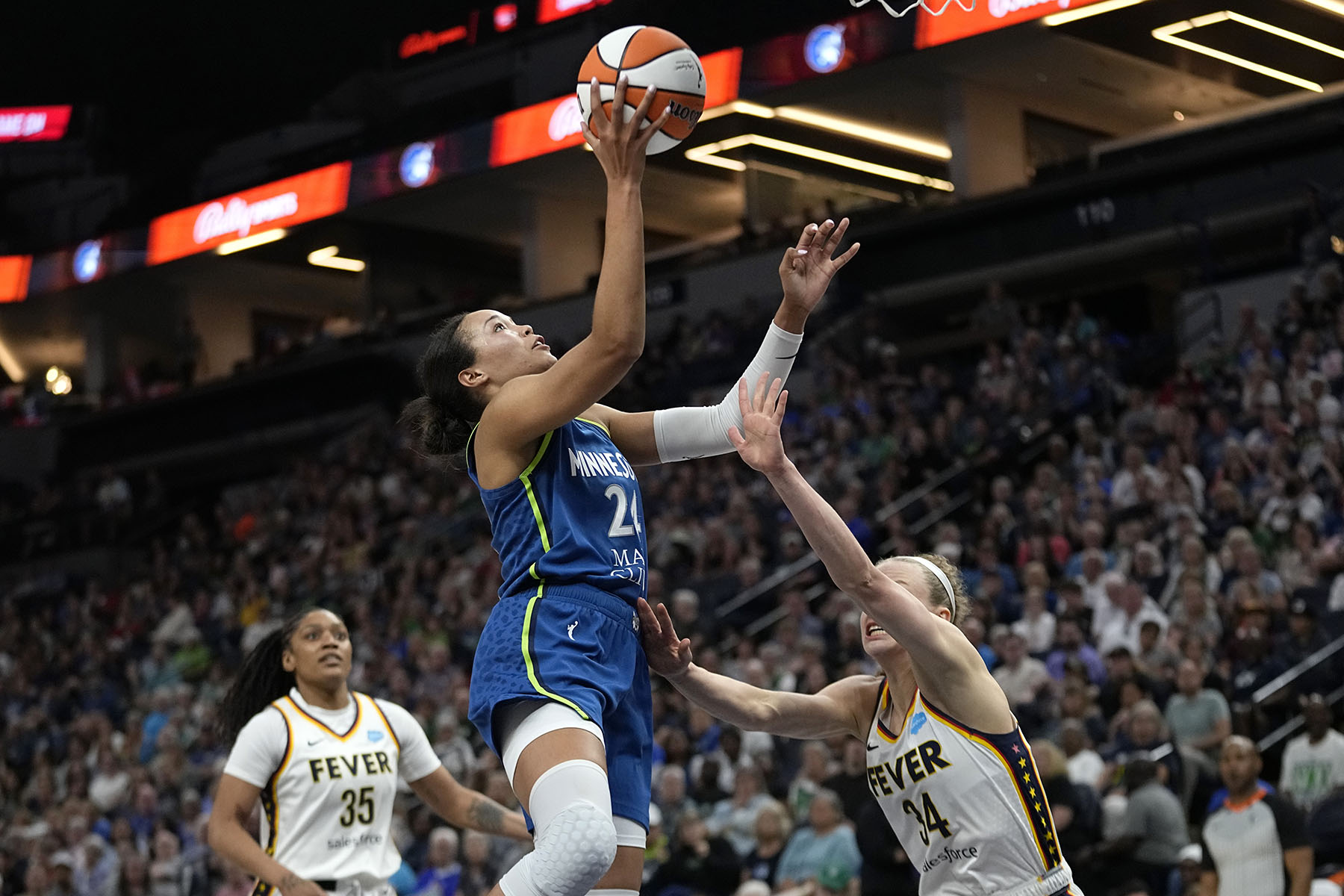 According to Spotrac data, the minimum WNBA salary was set at $62,285 this year, while the top-paid players earned a maximum of $234,936. The 2020 bargaining agreement set the average WNBA player's salary at six figures for the first time. Meanwhile, NBA players make a minimum of $1.4 million each season. In Unrivaled, each player will receive equity ownership with the league and earn salaries that are competitive to the WNBA, Collier said.
Many factors feed into the size of the pay gap between men and women basketball professionals.
From a business perspective, Bouris said women athletes still lag behind their male counterparts in terms of revenue, which includes sponsorships, ticket sales, merchandise licensing and broadcast reach. The competition for people's attention is increasingly intense as professional teams continue to extend their playing schedules. One of the biggest challenges that women athletes face, Bouris said, is staying in the spotlight.
However, there has been a rise in the popularity of women's sports. And with the emergence of streaming opportunities and boosts from social media platforms, Bouris said it's a good time for new leagues, like Unrivaled, to launch.
"We have seen a major shift here in attention, focus and popularity of women's sports," Bouris said. "Some will argue that it's taken a long time, but this train has been on that track chugging along — and in the WNBA's case for over 25 years. It is maturing a little bit as a sport, and we've seen more and more popularity, more and more media interest, and more and more sponsorship interest."
Jeremi Duru, professor of law and director of the sports institute at the American University Washington College of Law, said that this new league presents more opportunities for women athletes in the United States, which will ultimately lead to more achievement and success for women's sports as a whole.
"Inequity in professional sports is rooted in history," said Duru, who has written books about and worked at the intersection of sports, race and gender for two decades. "Women's athletic ambitions have been suppressed on all sorts of fronts and in all sorts of sports. What that's created is less involvement of women in professional athletics in this country than men."
Duru said he disagrees with the common argument that there isn't a viable market for women's sports because there is less public interest.
"What we're seeing over the last several decades — certainly with Title IX — is that when you provide the opportunity, the interest and achievement follows," Duru said. "Women's sport is blossoming, and it's blossoming because opportunities are being created."
Perceptions are still catching up, though. Collier told ESPN that a lot of young college players are saying that they would prefer to be in college than come to the WNBA: "Women's basketball's kind of the only place that that's happening. … So we definitely want to try to change that."
For Collier and Stewart, that begins with building a path to financial security that doesn't involve overseas travel. Griner's detention for much of 2022 offered a grim reminder of the problems WNBA players can run into overseas.
Mark Conrad, the director of the sports business initiative at Fordham University's Gabelli School of Business, said safety concerns, language barriers and the ever-present threat of racism are considerable challenges when playing abroad.
"Given what's happened with Brittney Griner, it's evident that safety abroad might be a concern for players," Conrad said. "But another thing that I don't think has been written about enough is that a good percentage of players who play abroad are African American. And the reception that some of these athletes get in other countries is a kind of open racism."
Conrad said there's also a lot of family-related considerations that arise when you have to spend months out of the country, particularly for those who are expecting children or have young families with schooling or child care needs.
Green, who has been the head women's basketball coach at Hamilton College for more than five years, said women shouldn't have to choose between being a mother or a professional basketball player.
"These women train and work just as hard as their male counterparts and deserve to have their families enjoy watching them play," Green said. "As a mother of two, I feel like I was blessed not to have to choose, but I love the fact that my young daughters get to watch their mother coach and be around positive young women they can look up to and say, 'I want to be like them one day.'"
Collier, who stopped playing overseas after she gave birth to her first child in 2022, said another primary motivation in founding the league stemmed from the difficulties players faced navigating child care overseas. Stewart told ESPN that the idea for the new league began to really materialize for her when she found out her wife was expecting their second child in the fall.
"Stewie and I both have daughters," Collier tweeted. "It's our responsibility to show them and every young girl that looks up to us that sometimes you don't have to wait your turn. You can either beg for a seat at the table or you can build your own table. We're building our own table."