Your trusted source for contextualizing politics news. Sign up for our daily newsletter.
Donald Trump called the investigation into his alleged $130,000 hush-money payment to adult film actor Stormy Daniels a "witch hunt." At a recent rally, the former president insulted her looks and implied that Daniels wasn't good looking enough to have an affair with — a line of attack he's used before on women who have accused him of sexual misconduct.
"That wouldn't be the one!" he told the crowd gathered in Waco, Texas, in late March, shortly before he was indicted. "There is no one. We have a great first lady." In the background, supporters held up signs reading, "Witch Hunt."
On Tuesday, as Trump pleaded not guilty to 34 felony counts of falsifying business records in the first degree in New York, his campaign sold "NOT GUILTY" T-shirts online with a fake mug shot for $47. They claimed to have raised millions in the days following his indictment.
The charges against Trump aren't about whether he had an affair with Daniels, but whether he falsified records to conceal criminal conduct, hiding damaging information ahead of the 2016 presidential election. But the investigation, and Trump's reaction, has put a spotlight on his history with women, one that sparked protests around the country after his 2017 inauguration and helped set the stage for the explosion of the #MeToo movement.
Trump has regularly spoken about women in crude terms — consistently deriding Hillary Clinton and calling her a "nasty woman," repeatedly calling women dogs, saying former Fox News host Megyn Kelly had "blood coming out of her wherever" after she moderated a debate, and attacking the looks of a woman GOP primary opponent. A month before the 2016 election, a tape surfaced in which Trump described grabbing women by their genitals. Days later, two women spoke out about Trump's alleged sexual misconduct. More followed, with accounts in multiple news outlets describing misconduct spanning decades. Trump has denied many of these allegations.
Trump's response to his recent charges mirrors his reaction to a long list of past instances of legal scrutiny, which gender experts say is not surprising — and shows how the former president's history of toxic masculinity might continue to play a role in his campaign for president.
"It's so ironic that he's using the gendered language of a 'witch hunt,'" said Juliet A. Williams, a professor of gender studies at the University of California, Los Angeles. "His point is to say, 'Obviously, it would be beyond straining credulity to think anyone would really care about my dalliance with a porn star, about the beliefs or views of the porn star … so this must be a partisan witch hunt.'"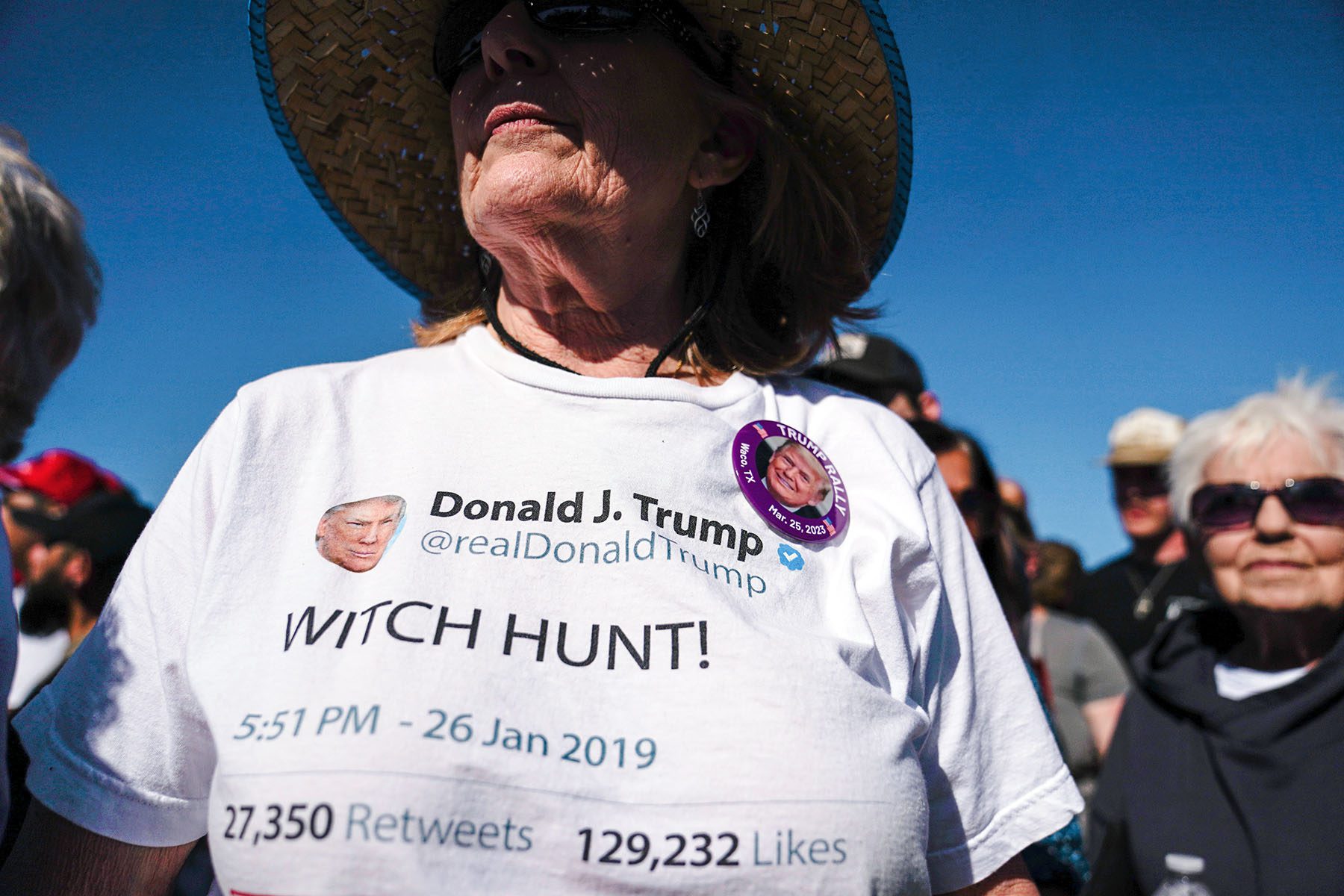 It's unclear whether such behavior will negatively impact this latest run, but past controversies have not rocked his standing among many of his supporters.
The case brought by Manhattan District Attorney Alvin Bragg isn't Trump's only legal peril. He faces investigations tied to accusations of election interference in Georgia during the 2020 election and mishandling of classified documents. Separately, the first of two civil defamation lawsuits filed by author E. Jean Carroll is scheduled to go to trial this month. Carroll claims Trump raped her in the mid-1990s. Trump has denied the allegation, and both Carroll and Trump are expected to testify in the trial.
Melissa Deckman, a political scientist and CEO of the Public Religion Research Institute, said any impact from the indictment will be the result of fatigue around his legal troubles — not because Republican primary voters perceive wrongdoing.
Among the Americans most likely to support Trump, views on morality and public figures have shifted in recent years. In 2011, 30 percent of White evangelicals said that "an elected official who commits an immoral act in their personal life can still behave ethically and fulfill their duties in their public and professional life." In 2020, the most recent year for which there is available data, 68 percent of White evangelicals agreed with the statement. A similar trend has played out among Republicans — the survey showed a shift from 36 percent in 2011 to 72 percent in 2020.
Deckman said many in his party ignored Trump's personal life and many controversies.
"Republicans coalesced around Trump, irrespective of the personal and morality issues, because the policies were more important," she said. "For many evangelicals it became a far more transactional relationship — 'we might essentially be willing to overlook those things about his past because when it comes to policies, he's going to fight on our behalf."
Kelly Dittmar, director of research at the Center for American Women and Politics, said it's possible that some of Trump's supporters are sympathetic toward the former president because he has primed them to believe he is a victim of unfair attacks. Dittmar pointed to PRRI data that showed 34 percent of Americans agreed that "these days, society seems to punish men just for acting like men."
"It's this idea that you're just trying to take this privileged White man down," she said. "Underlying that are feelings among many in his base that they are under attack in this 'woke' era — because they're White, because they're male, because they're privileged."
Still, Trump remains a unique candidate for the ways in which his history of controversies have not sunk his popularity. While the #MeToo movement helped lead Democrats to wins in the 2018 midterms, Trump's own behavior with women didn't play a huge part in his 2020 reelection bid, which was dominated by the pandemic and economy. Whether that's repeated in next year's primaries or a potential 2024 rematch with President Joe Biden remains to be seen.
Trump's trial on the New York charges may not start for a year, and could coincide with the start of Republican primary elections. The charges focus on his alleged payments to Daniels, but prosecutors also described hush-money payments to a former Playboy model and a doorman. It marks the first time a former president has ever been criminally charged.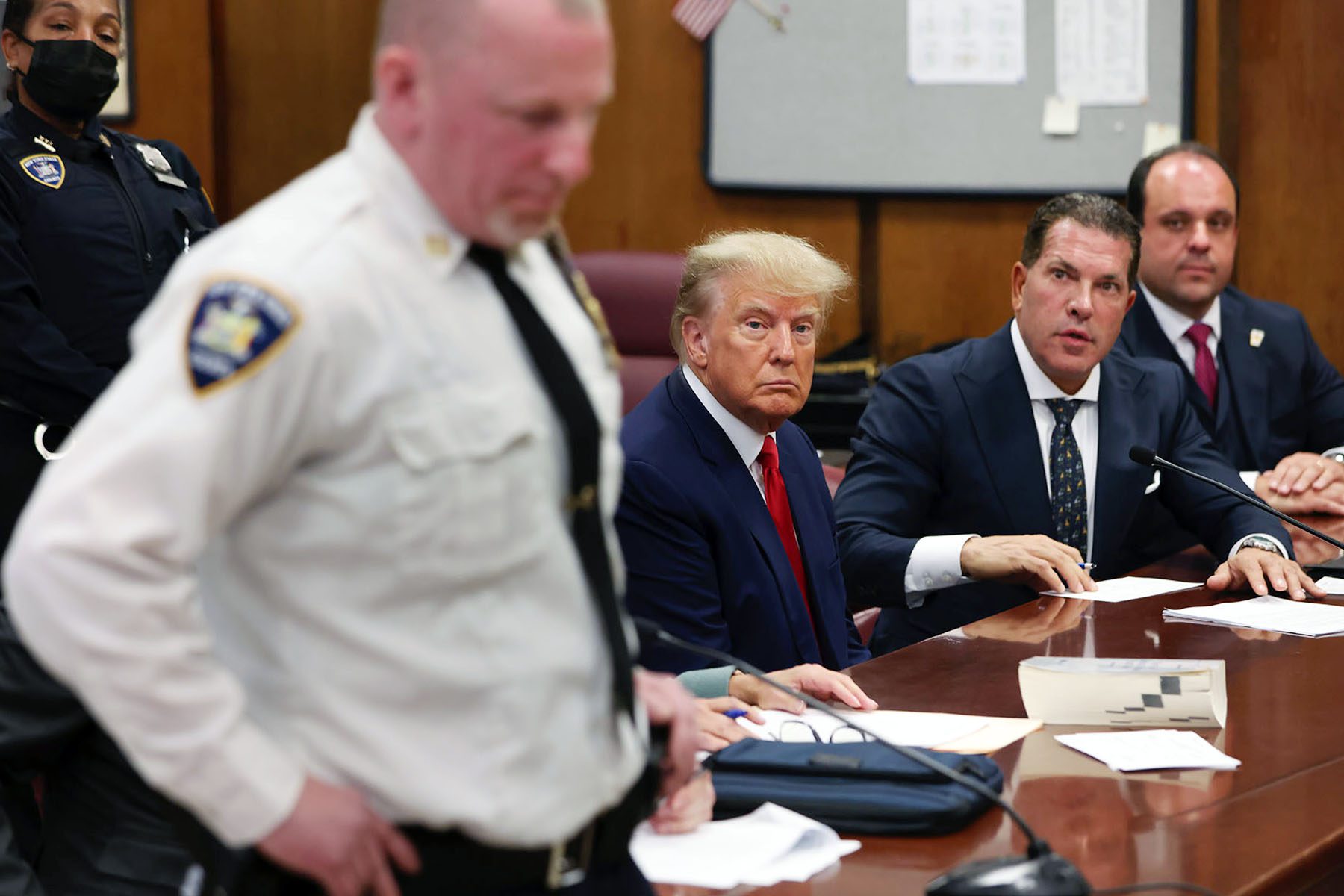 "These are felony crimes in New York state, no matter who you are," Bragg said of the charges Tuesday. "We cannot and will not normalize serious criminal conduct."
Williams drew a connection to the conduct of former Democratic President Bill Clinton, who had an extramarital relationship in the 1990s with then-White House intern Monica Lewinsky that he tried to cover up. He also paid $850,000 to settle a sexual harassment lawsuit brought by Paula Jones, a former Arkansas state employee. Clinton denied wrongdoing and his legal settlement did not include an admission of guilt
"It's remarkable that in decades of U.S. history, with all the complexities of governance and the law and cultural change, that these two presidents are likely to face their most long standing and possibly most trenchant legal challenges having to do with sexual misbehavior," she said. "It just can't be a coincidence."
It's a connection Trump supporters are drawing, too.
"Some people are already saying, 'Yeah, the Clinton-Lewinsky affair is the relevant implicit reference point, and if Clinton could get away with it, then it would be unfair partisanship if Trump did not get away with it now," she said.
Deckman noted the irony in such comparisons.
"A lot of these evangelical leaders in the late 1990s lambasted Bill Clinton for having an affair in the White House. And so I think that's why many people took note of the sudden and drastic change [in polling]," Deckman said.
She added: "I think more Americans in general have been increasingly willing to disregard some immoral actions and overlook that sort of thing. But really, among White evangelicals and Trump, it seems to be that all has been forgiven in lots of ways as long as you're standing with them in terms of the policy."
There's not a lot of legal precedent for the charges brought against Trump. Former U.S. Sen. John Edwards, a Democrat who ran for president in 2008, was indicted by a federal grand jury in 2011 on charges of violating campaign finance laws tied to an extramarital affair. Edwards was ultimately acquitted on one count and a jury could not reach a verdict on other charges. The federal government declined to retry Edwards.
Williams said these cases involve powerful men who somehow let their guard down when it came to women and sex. It's a level of confidence that is more prevalent in men.
"They think there's an invincibility or a cloak of entitlement," she said.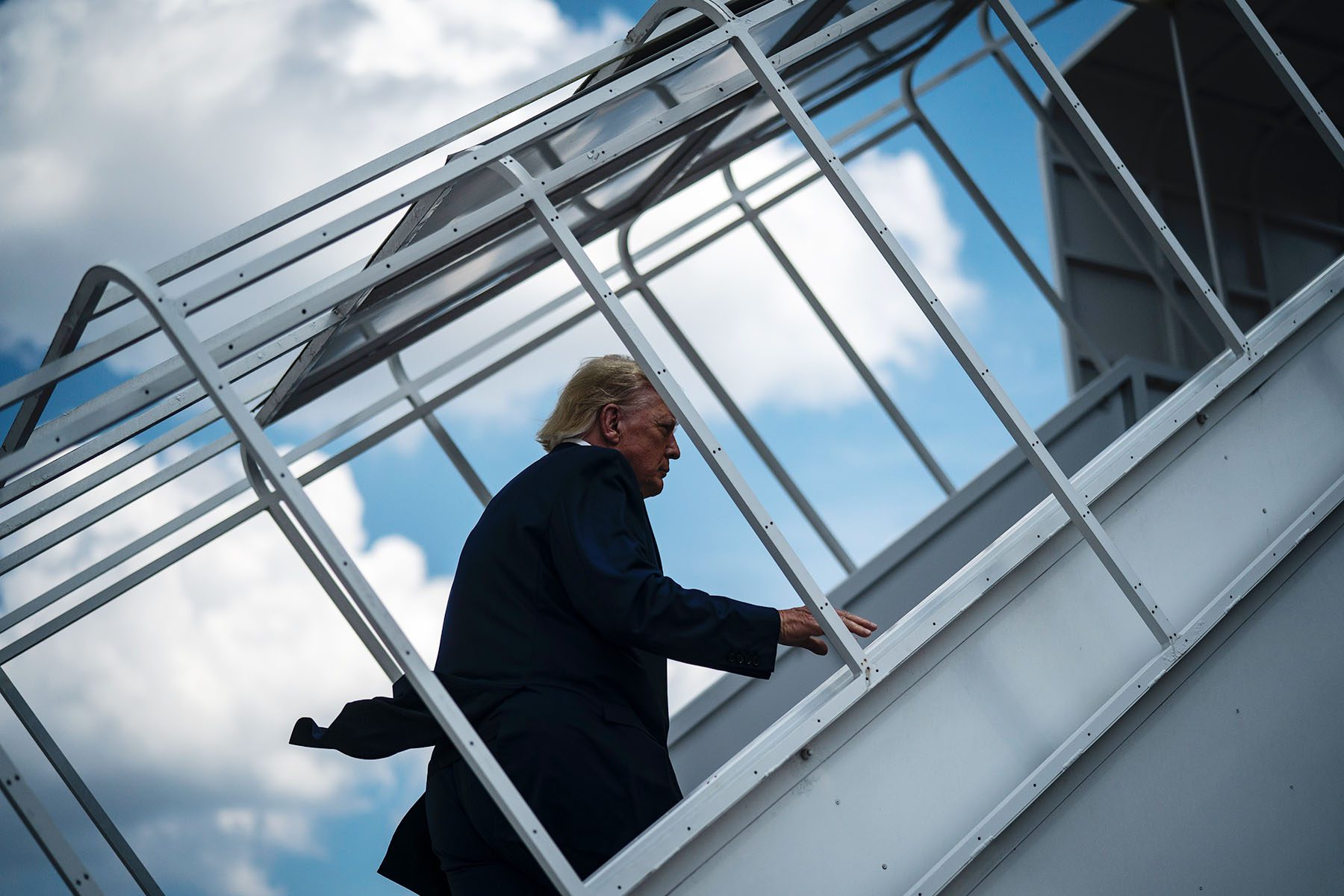 Dittmar pointed out that in the media, Daniels is usually identified with her work as an adult film star, which may delegitimize her experiences to the public.
"There's a discounting of her and a disbelief of her, because of how we characterize women who engage in that work," she said.
Williams said Trump's efforts to get back into the White House come as issues involving sexual harassment, abortion access and gender identity are boiling to the surface. Several popular Republicans who are considering a bid for president have emphasized policy priorities like restricting transgender people's rights and banning teachings about sexual identity and orientation in schools.
"He represents the culture wars and a simmering resentment, if not contempt, for women, that's very much in the shadow of the activism that began in the 1960s and continues to this day," she said.
Williams said Trump's attitudes toward women and feminism are a central aspect of what he's selling to voters. It's a dynamic that was key to his 2016 campaign, as he encouraged his supporters to chant "lock her up" about Hillary Clinton.
"That is very, very much part of his brand and has to be accounted for in the reception of news that he has these involvements with women in various ways," she said. "The racism and the sexism — that's part of the public messaging. That's not a revelation that undermines the portrait of his character."