We're answering the "how" and "why" of politics news. Subscribe to our daily newsletter.
The White House is hosting a first-of-its-kind summit of Jewish women leaders on Thursday to mark Women's History Month.
The summit will feature several prominent White House officials and over 70 Jewish women leaders from around the country, including the "heads of the major Jewish organizations that support gender equity, education, Jewish life, and civic engagement efforts," the White House told The 19th exclusively.
Second Gentleman Douglas Emhoff; Anne Neuberger, deputy national security adviser for cyber and Emerging technology; Latifa Lyles, special assistant to the president for gender policy; and Rosie Hidalgo, senior adviser on gender-based violence and special assistant to the president, will also be in attendance, according to the White House. 
"Through an all-of-government approach, the White House is leading efforts to advance gender equity – from protecting reproductive health care, to building economic security for women and families, to preventing and responding to gender-based violence, and fighting for women's human rights around the world," the White House said. They pointed to the White House's National Strategy on Gender, on which the Gender Policy Council recently released a progress report.
The summit marks another high-profile event for Emhoff, a lawyer who is the first man and first Jewish person to hold his position. He's used his platform in office to promote both the White House's gender equity initiatives and its response to rising anti-Semitism and anti-Semitic hate crimes.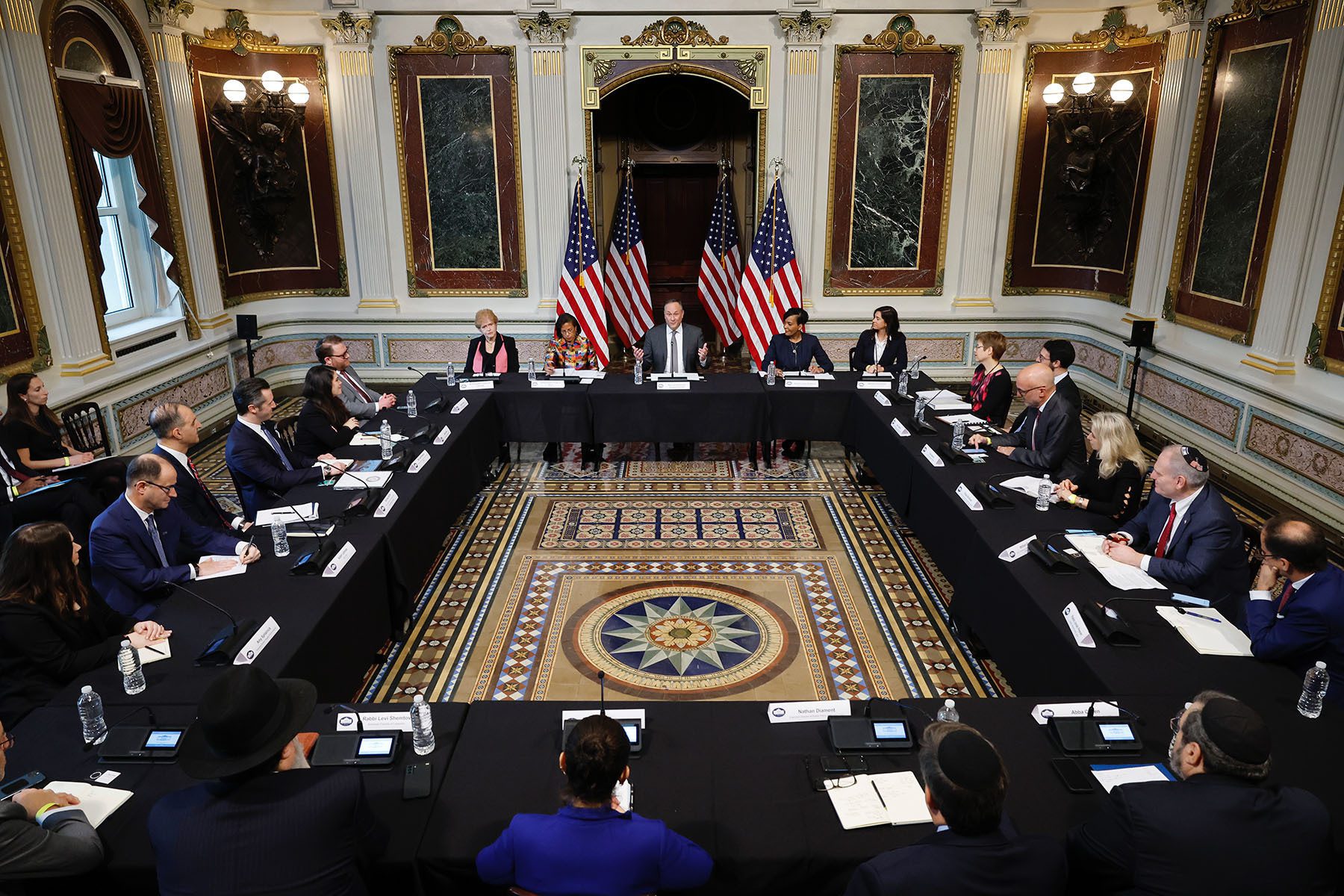 In December, Emhoff led a roundtable of Jewish leaders and organizations hosted at the White House to address what he called "an epidemic of hate" facing Jewish people in America. The roundtable took place just days after former President Donald Trump dined with rapper Ye and White nationalist Nick Fuentes at Mar-a-Lago in Florida over Thanksgiving.
"We cannot normalize this," Emhoff said at the event. "We all have an obligation to condemn these vile acts. We must not stay silent. There is no either/or. There are no two sides. Everyone must be against this."
As the number of anti-Semtitic hate crimes and incidents have risen across the country, so have threats against Jewish leaders and Jewish women in public office. Michigan Attorney General Dana Nessel, the first Jewish and openly LGBTQ+ person elected to the position, tweeted on Thursday that she was a target of a Michigan man the FBI arrested for making threats against Jewish officials in Michigan.
"The FBI has confirmed I was a target of the heavily armed defendant in this matter. It is my sincere hope that the federal authorities take this offense just as seriously as my Hate Crimes & Domestic Terrorism Unit takes plots to murder elected officials," Nessel wrote.
"Every day, Jewish Michiganders are faced with the growing threat of antisemitism," Marla Linderman Richelew, interim chair of the Michigan Democratic Jewish Caucus, said in a Monday statement. "The threats directed at Attorney General Nessel and all Jewish elected officials are unacceptable and all too common."
The White House did not provide specific names of invited participants, but the event is expected to focus on stakeholders and community leaders and not elected officials.
The timing of the White House's summit, first reported Tuesday by Jewish Insider, coincides not only with International Women's Day but also with the Jewish holiday of Purim, observed on March 6 and 7 in 2023. Purim celebrates a story of Jewish survival and perseverance as told in the Book of Esther. Queen Esther herself plays a key role in saving the Jewish people of Persia from a plot to violently wipe them out from the area.
The White House said Purim "provides an opportunity to reflect upon Queen Esther's story and celebrate her bravery and perseverance" and the holiday falling in the same week of International Women's Day in 2023 "reinforces the focus on women's rights that is present in both holidays."
In his time in office, Emhoff has attended several roundtables and listening sessions on gender equity and reproductive rights and paid a visit to Tools & Tiaras, a Queens nonprofit that educates girls in trades, in July. He also delivered remarks at an event commemorating the 30th anniversary of the Family and Medical Leave Act (FMLA) at the White House in early February.