We're telling the untold stories of women, women of color and LGBTQ+ people. Subscribe to our daily newsletter.
Szilvia Molnar's debut novel, "The Nursery," paints the early days of motherhood as an inevitable loss of control of body and mind.
The unnamed narrator has a baby, comes home from the hospital — and then is terrified to leave her house ever again. All the while, the narrator becomes aware of the presence of an alter ego, whom she names Miffo, taking over. Through quiet, precise and direct prose, Molnar invites the reader into the claustrophobic landscape that is the mind of a new mother, asking them to consider what birthing parents are still so rarely saying out loud about the realities of what childbirth does to a person.
Alternating between the present — the immediate days after the narrator gives birth — and flashbacks to life before motherhood, the narrator's new daily life is mapped out in painstaking detail, but with markers of the passage of time erased. The reader simply exists in the extreme loneliness of the narrator's head as she feels Miffo's presence growing. Once a translator of Swedish literature, the narrator finds herself wondering what any words mean at all in her post-birth reality, a place where her fear of hurting herself or her baby, or of ever being able to take an uninterrupted shower, again all are given equal weight. In this new world, reentry to society seems impossible to imagine.
As the narrator tries to find her way through the day-to-day of feces, breastmilk, her bleeding vagina and hemorrhoids, she becomes increasingly afraid of the outside world and how she will ever find her way back into it. The novel is an unapologetic treatise on the intense time just after birth when a parent becomes feral in their longing for sleep, food and time — and there's no promise given of any kind of true return to "normal."
Molnar — who is from Budapest, was raised in Sweden, and now lives in Austin, Texas — spoke with The 19th about her choice to write a novel about the bodily fluids and mental anguish of new motherhood, and what conversations remain unheard when it comes to discussing the choice to become a parent.
This conversation has been edited for length and clarity.
Jennifer Gerson: Throughout the book, the narrator wonders if something has ever been described in literature before — the act of changing a diaper, what it means to hold a baby for hours and hours on end, the ice packs on your vagina in the mesh underwear, the Google searches in the middle of the night about size of breast flanges. It really brings to the fore how much of the physical and day-to-day of motherhood is absent in literature. What was it about motherhood that you felt like needed this kind of treatment?
Szilvia Molnar: I was going through the experience of being pregnant and giving birth for the first time a few years ago. Right after giving birth, I felt this hunger for books that talked about the experience. Throughout my pregnancy I had been reading mostly nonfiction books — all the getting-ready-for-it things — and many of them were really good. But this kind of thing just wasn't there.
I wanted the comfort of experiencing motherhood through literature. I also wanted to write this for other people who would want the same, whether they have gone through it or are looking to go through it, and are curious about what exactly happens on a kind of very visceral level. So, this was a way to partially comfort myself by using fiction in this way, and also wanting to share this side of the experience as a way of helping others.
What felt important to you about calling attention to the loneliness of postpartum life, especially in the early days and weeks of it?
It was interesting to me to have started this project before the pandemic. Some of the pandemic loneliness is weaved into this book — this claustrophobic idea of we couldn't go outside, and maybe we wanted to and maybe at times we didn't want to, and there was some kind of freedom in that decision being made for you.
When you have gone through giving birth, sometimes you can feel the pressure of immediately needing to go outside with the baby, and be presentable and automatically know how to nurse outside in public and navigate the logistics of living in whatever kind of city you are living in. I wanted to talk about the stress and pressure that comes along with that.
One thing you explore in your novel is the idea of the tension that can exist after just giving birth between needing support and feeling like even when people around you are being helpful, you still don't feel supported. How do you explain what falls through the cracks when we talk about what birthing parents need?
I was just reading Clancy Martin's new book "How to Not Kill Yourself" — it's a very intense title but a really beautiful book dealing with the idea of suicidal thoughts. I think that in adulthood, whether or not you choose to be a mother, just living is very difficult. Going through life is very difficult, and whether it is receiving support through art or through family and friends and community or through mental health services, I think it is very important that we keep staying on the road and fighting for support in whatever shape it takes.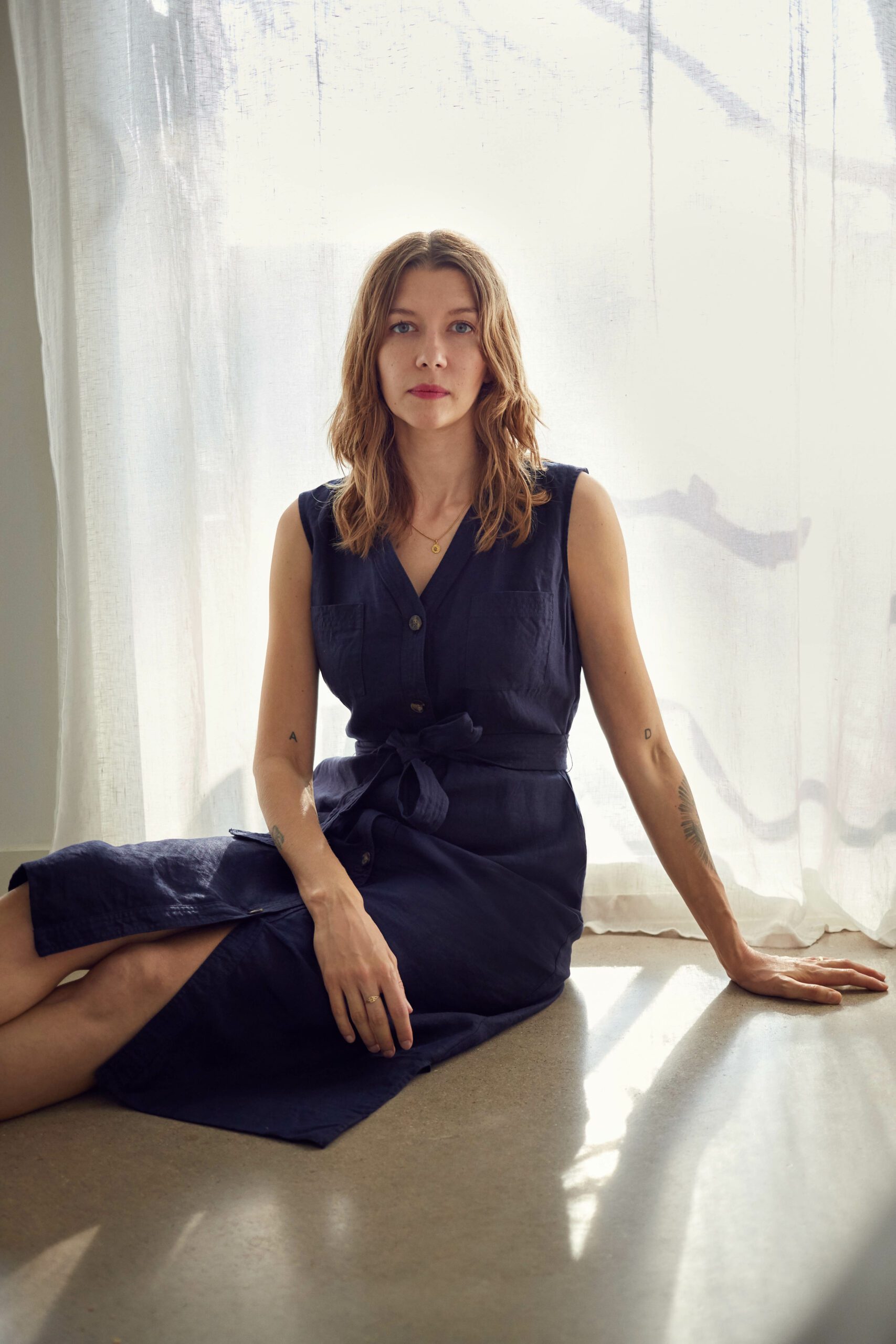 When I first started writing the novel, I knew so many fewer mothers than I know now. Deciding to have children has introduced me to new women. I wish I had gotten more of these mother figures in the past and I am thankful I have them now, because as a new mom you are very tender. It is really lovely to connect with other mothers going through the same experience, but it is also nice to be introduced to people who have moved on from that experience. I think about things very differently today than I did four years ago, because time and life change constantly.
How has becoming a mother changed how you think about yourself as a writer and artist?
I don't put as much pressure on myself as I did in the past, and when I get the chance to do something, I'm not precious about it either. I value the time I have to work more, so I feel like even if I get just an hour a day, I use it better than I did in the past.
Submission is a word I have been leaning in toward more. In the past, if I wanted to go to a certain place to devote time to writing and then your child gets sick and you have to scramble throughout the week or change your plans, it used to bring me a lot of anger. But now, it's sort of just submitting to whatever comes. That has made things a little bit easier.
What kind of choices do you feel like birthing parents do and do not have, from the point of pregnancy forward?
I am very allergic to this very American notion of women "having it all," because for anybody to have it all, you're going to have to accept that if you are doing one thing, then you cannot do another thing — whether it's having a career or being a CEO of a company or having four children. There is only so much time and so many resources that you have. I was definitely interested in that tension because I was also personally struggling with that as soon as my child arrived. I didn't understand that now I had other things that I wasn't able to do.
I thought it would be really fascinating to explore that in fiction because [the narrator] doesn't have grand plans to return to a bombastic career. She just wants to sit on her stoop and have a cup of coffee and watch people go by, and I thought that having a woman like that as a protagonist was important, to show that those kinds of wants are just as valuable as returning to a company that you own. I thought there was so much beauty in talking about that whatever choices you want to make, whether big or small, there is value to them if they are important to you.
What other things do you think most need to be talked about frankly when it comes to the realities of what it means to raise children?
I think the physical aspect is really important to not shy away from, the fact that there is no bouncing back. Unless I had all the money in the world and a couple of personal trainers, there is no way and no amount of time that my body is going to 'bounce back' in any way. I felt like I didn't understand that — why didn't any of the books that I had been reading to prepare myself for birth mention that? Why was that something just taken for granted and undisclosed to me? I think it is really important to reveal this because then women can feel more prepared to decide, "Maybe that's not for me," which I think is totally fine to do.
There's this writer Louisa Hall who has a new book coming out this summer called "Reproduction." It's a novel about a woman who is trying to get pregnant but she is also very interested in Mary Shelley's "Frankenstein," and it kind of weaves her journey of becoming a mother to the story of Frankenstein. She has something like four straight pages on how contractions feel. It's just an incredibly beautiful way of describing it.
I personally never felt like I fully understood the healing aspect of giving birth — that it can be something that on a physical level can take weeks or months or even years, but also the sort of mental healing you are required to go through. I wanted to understand what it means for somebody to not want to go outside into the world ever again, and what she needs in order to pull her out again.
I had a few early reviews of my book say that they would warn new mothers against reading it, and that, to me, is exactly the point. I'm very fascinated by the fact that so many people think what I have written would be so terrible for new mothers to know.
---
Molnar's recommended reading
If you are looking for more novels that ask questions about the very idea and nature of motherhood, here are a few that Molnar recommends.
"The Hero of this Book" by Elizabeth McCracken
"It is so smart and tender, funny and devastating, somehow magically all at once. It's a beautiful story about a woman who has just lost her mother and is walking through London thinking back on her relationship with her mother and her upbringing."
"Ducks, Newburyport" by Lucy Ellman
"It's a big brick of a book that's written as one long sentence. It's about a housewife who is baking cakes and trying to accept the Trump administration. It's very ambitious and very epic."
"Girl, Woman, Other" by Bernadine Evaristo
"It is so ambitious and inventive, captivating and emotional."