For Women's History Month, we're letting women tell their stories in their own words through thoughtful conversations. Subscribe to our daily newsletter.
In 1997, Moira Shea and her guide dog Beau made history when they became the first blind woman and guide dog team on the Senate floor. In doing so, Shea, who was working as an aide, opened doors for disabled congressional staff and elected officials. 
This milestone remains little discussed, but the presence of disability in the Capitol is not new, in part due to the stand Shea took. Sen. John Fetterman recently required disability accommodation after his stroke. But still, there is some distance to go. Sen. Tammy Duckworth, who uses a wheelchair, had to shelter-in-place during the insurrection on January 6, 2021, because it was not possible for her to use the same evacuation routes as her colleagues.
Shea is retired now and lives in Washington, D.C., with her husband and her current guide dog, Cormac. She does some advocacy on behalf of Leader Dogs for the Blind, which trained and provided her current guide dog.
For this Women's History Month, The 19th interviewed Shea about the groundbreaking stand she took and about what she feels are the most pressing issues facing people with disabilities, particularly those who are blind and low vision, today.
Sara Luterman: You grew up before there was an Americans with Disabilities Act. The world you lived in was different from the world I grew up in as a disabled person. What was that like?
Moira Shea: I have a condition called Usher syndrome, which causes deaf-blindness. I have a cochlear implant. I had a slow progressive loss of vision. I think I was pretty much fine until college. And I never thought of myself as a person with a disability until I got a guide dog. That's when I started being treated differently.
I got my undergraduate at American University in economics and international relations. I started working for the federal government in 1977. My parents encouraged me to work for the government because of the Rehabilitation Act — it has [a] protected provision for people with disabilities. So that's what got me through. Initially, all I needed was high contrast on my computer. I had no issues performing my job. I went to the Harvard Kennedy School of Government after and had no issues there either. But as I got older, it got more difficult. It was difficult making sure documents I got were accessible to [screen-reading software]. I'd get a 200-page document to review in three hours, and I'd have to spend the first hour just getting an accessible format.
I started working for the International Labor Affairs Bureau at the Department of Labor. And then I went to the International Trade Administration at Commerce. And then from there, I went to the Department of Energy. Then I got my Brookings fellowship and I worked in the Senate for two years, under the Brookings program. I worked with the National Council on Disability for a year because I wanted to get a better sense of my civil rights. Everything is different for people with disabilities — education, work, housing, employment. And then I worked for Connie Morella for three years in the House. She was a moderate Republican, really terrific. My last job was with Health and Human Services in the Office of the Assistant Secretary for Preparedness and Response.
When was the first time you attempted to bring your guide dog onto the Senate floor?
The first time I tried taking my guide dog on the Senate floor was before working for Sen. [Ron] Wyden. I worked for Sen. Wendell Ford, a Democrat from Kentucky, in the 90s. He was the minority whip at the time. The issue first came up in Ford's office. I had written an amendment to a defense authorization bill and he hot-wired a vote.
Instead of going on the floor, Sen. Ford announced permission for me to come on. He did it electronically — that's what hot-wired means. And one senator objected. And I couldn't find out who it was. It was an anonymous holdout. So the chief of staff said, "We can't get you on the floor because of the guide dog." I tried to compromise. So I said, "Well, what about a cane?" Well, a cane is not allowed on the Senate floor because a senator was attacked by another senator with a cane and he nearly died.
You mean the caning of Sen. Charles Sumner? That was before the Civil War!
Yeah.
That's not even the same kind of cane. White canes are lightweight and collapsible.
Exactly. So I said, "Well, how am I going to get on the floor?" and they said, "Someone will escort you." And I told them, "No, that's not an option for me. I need to do it myself."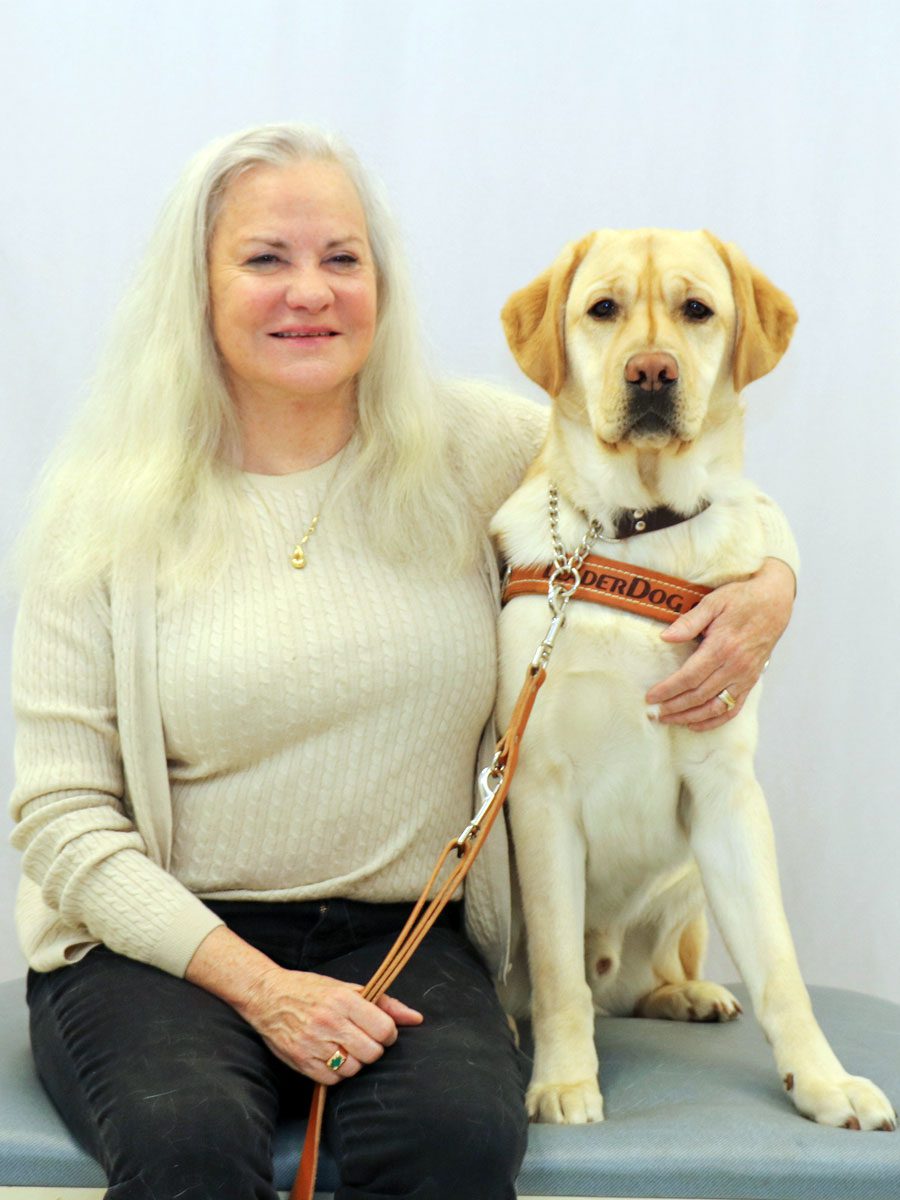 I tried going to the Congressional Compliance Office about it and they tried to get me to sign a non-disclosure agreement about the incident. I refused to sign it. I went all over the place trying to get the issue solved. I went to the Congressional Research Service, and they couldn't come up with an agreement.
I was with Ford on a one-year institution working fellowship. And then it dawned on me that they were just waiting for my fellowship to end so the issue would go away. So I submitted a letter of resignation. They weren't crazy about that. We did reach a compromise where Sen. Ford put into the congressional record a resolution to amend the Senate rules. I thought, at least I have this in writing that this lack of accessibility is a problem that needs to be taken care of. It's in the record. There's proof it happened.
And then I went back to working at the Department of Energy. My boss at the Department of Energy knew about this issue. He also knew about the provision in the Defense Authorization Act, which they were pushing for. He liked the work I was doing. And he said I should go work in the Senate for another year. But at that point, Ford's office didn't want to keep me on, and I didn't want to go back there.
But I had previously done some work with Sen. Wyden's office and his energy staff person. So I called them up, and he invited me to be a fellow in their office. I went to interview with Sen. Wyden. It was his first year in the Senate, and he asked me if I had any questions. So I told him about not being able to go onto the Senate floor because of my guide dog. I asked, "Will you support me on this?" And he said yes.
I went to work for Sen. Wyden. I was working on a provision on nuclear energy policy, involving regulating the transportation of waste. [Wyden] went on the floor, and he asked me to join him. It was normal to ask a fellow, and 99.9 percent of the time, there's no objection.
Sen. Harry Reid was on the floor. And he said, "I do not object, but on behalf of a colleague, I have to raise an objection." He was speaking on behalf of Sen. [Robert] Byrd, who objected. And then Sen. Wyden read a speech, which I wrote, saying that the Senate was in violation of the intent and spirit of the [Americans with Disabilities Act] and that I was being discriminated against. I have a service dog. And then all hell broke loose. It was on all of the evening network news. It was on CNN.
So the next morning, I think Republican Senate Majority Leader Trent Lott got out of his car, and he told his staff to fix it, because it was snowballing. I came up with a compromise to get me on the floor as soon as possible. It was a case-by-case review by the sergeant-at-arms, but with the intention that the Senate rules would be amended to let people with disabilities on the floor with canes, walkers, dogs, etc. There was pushback on assistive technology, which Sen. Byrd again, objected to. But he got overruled. And that was pretty much it.
Were you the first blind or disabled staffer that you were aware of? Or were there other people with disabilities that you knew working on the Hill back then?
I did meet another staffer who had visual impairments but not a guide dog.
I felt that there should be people with disabilities doing disability policy on the Hill because nobody else gets it. I set up a nonprofit called the Visually Impaired Students Congressional Internship program. For four years, I had visually impaired college students coming to D.C. We set them up in the dormitory at American University. We provided mobility and orientation training for the Metro and how to find offices.
I made sure that technology was set up in the office, and I got them their office assignments with the senators. Eventually I transferred it to another nonprofit, and they expanded it to all disabilities.
There's actually a woman who uses a guide dog working on the Hill right now. She worked for Sen. [Bob] Casey's office, from Pennsylvania. Now she's working for Sen. Tammy Duckworth. Her name is Stephanie DeLuca.
What do you think the biggest issue is for people with disabilities right now? What would you like to see Congress tackle?
I think the biggest issue right now, which I would like to see Congress deal with and I have been pulling my hair out about, is traveling with service dogs on airplanes — the Air Carrier Access Act. They used to lump emotional support dogs and service dogs, they did not use the [Americans with Disabilities Act] definition of a service dog. And then they rewrote it. Now I'm required to fill out a form with the Department of Transportation. It's really a stupid form. You have to take it with you. The airlines all have different processes. They don't work together. You have to have an ID number for your dog. Blind people, we're not paper friendly. The forms sometimes aren't accessible. I had to ask my husband to help me fill out the form.
I had a friend who wanted to visit her father in New York, because he's on his deathbed, and she wasn't able to fly up because she couldn't get the approval [for her guide dog]. It's not right.
They also say you have to keep the dog within your footprint. But the space between the seats has gotten smaller and smaller, so the dog can't fit anymore. It used to be that the bulkhead would be automatic for people with disabilities and small kids. But now it's "premium economy" and it's something you have to pay extra for. It's not accessible.
How are you liking retirement?
I don't like it in January and February. I was in Florida [in January] visiting friends and . . . [in February] to attend a meeting. Maybe I just don't like winter. My husband is still working. When all of my friends retire, they move away.
It was so long ago, but I loved working on the Hill. It was like being on a college campus. You'd meet a lot of people back then. Very congenial, very friendly. You were constantly learning, dealing with different issues and you just learned so much. I really, really enjoyed it.