Over the past 50 years, Americans United for Life has filed more than 200 legal briefs, and helped create at least 400 anti-abortion bills in more than 40 states by writing model legislation, consulting with state legislators and defending their own laws and other anti-abortion statutes in court.
Now, with the U.S. Supreme Court's decision in Dobbs v. Jackson Women's Health Organization overturning its 1973 ruling in Roe v. Wade, the nonprofit law firm has seen its biggest victory.
Americans United for Life (AUL), didn't write the Mississippi legislation that led to the Dobbs case. But the friend-of-the-court brief it filed in the case was one of 89 that it has filed in various anti-abortion cases, including every claim that made it to the Supreme Court.
AUL's dual-front approach of writing and defending legislation has proved an effective one that could become even more impactful as GOP-controlled state legislatures move to enact restrictive abortion laws now that access will be determined by states, experts said.
Abortion law expert Mary Ziegler told The 19th that AUL is known as the home of the movement's "legal elite."
AUL "was founded to be the law firm of the pro-life movement — at one point, that was the tagline of the organization," said Katie Glenn, who until recently was AUL's government affairs counsel.
AUL is a nonprofit law firm and advocacy group that was founded by a group of academics and theologists in 1971, two years before Roe established the constitutional right to an abortion before fetal viability.
Initially, the group was based in Chicago, where its founders — a group of theologists, academics and lawyers — brought a case they hoped would be Roe, albeit with a different outcome.
After the Supreme Court took and decided Roe instead, AUL's founders "felt like this needs to be something that someone is doing full time," Glenn said. Their thinking, she said, was that it can't be a handful of lawyers doing this as their pro-bono work; there needs to be a dedicated response."
Clarke Forsythe, AUL's senior counsel, has been with the group since the mid 1980s, and is known as a thought leader within the anti-abortion movement whose books and writing have been cited in major court decisions, including by Justice Samuel Alito in the Dobbs decision. Helen Alvaré, who sits on the board of advisors, has shaped anti-abortion jurisprudence as an academic and as a lawyer and communications strategist for the U.S. Conference of Catholic Bishops.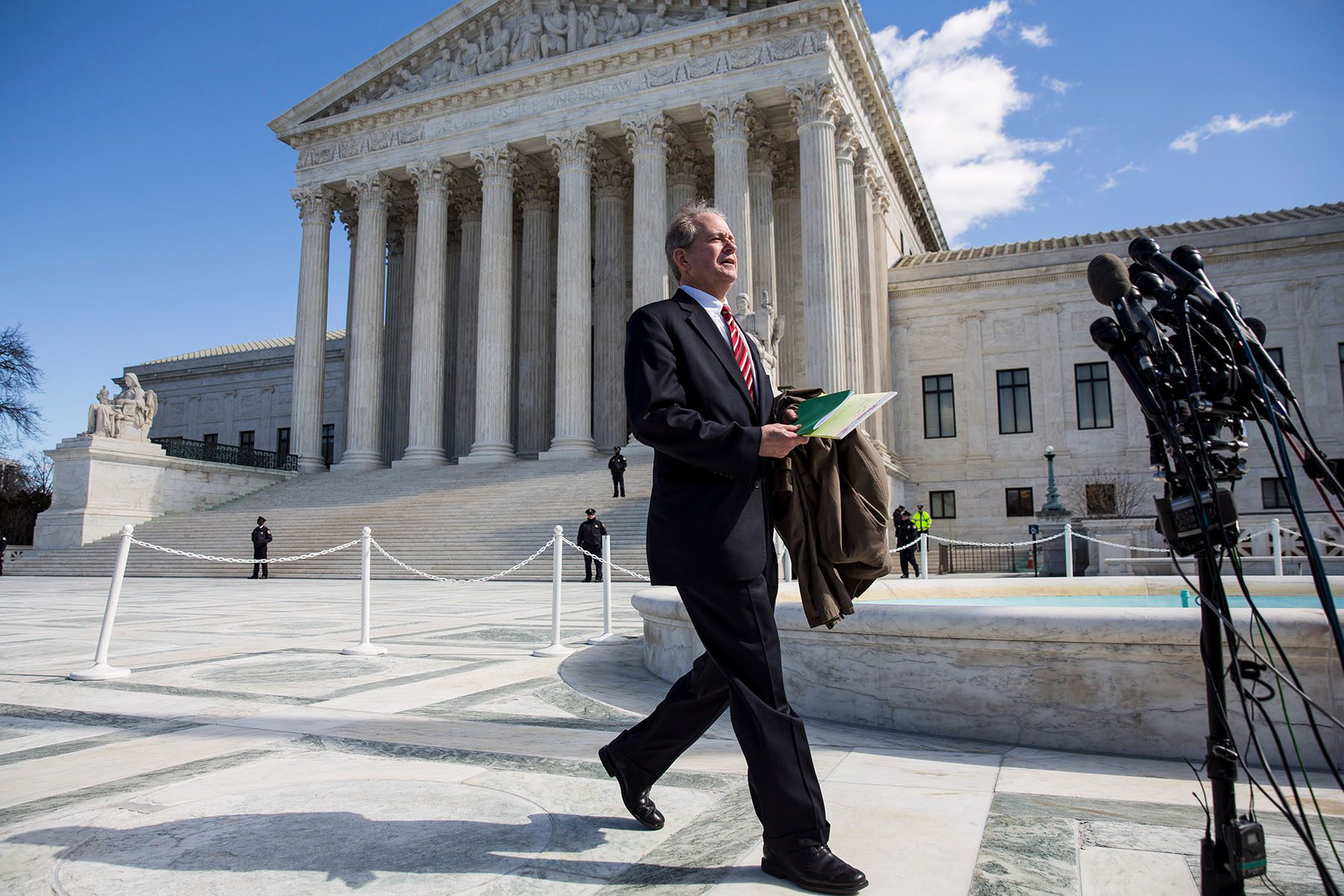 AUL is organized as a 501(c)3 nonprofit legal defense fund that does not have to disclose its funders, and its annual revenue has hovered around $3 million in recent years. The group's attorneys either write or consult on bills introduced by state legislators. During statehouse hearings, they act as witnesses themselves, or find doctors and other experts to testify on behalf of proposed laws.
If laws are challenged once enacted, AUL attorneys bolster the defense efforts of state attorneys general by filing friend-of-the-court briefs — legal arguments filed by groups and individuals interested in the outcome but not involved in the underlying case. AUL does the same for laws that were not written in-house and offered by other groups and lawmakers who oppose abortion access.
"AUL is also, I would say, one of the major players — maybe the major player — in creating model legislation that [state] legislatures would copy," Ziegler said.
Glenn said that is because AUL realized that it was "not good enough to just pick and choose which bills are going to court, and then writing amicus briefs. We really needed to engage in the legislative process, and getting legislation passed."
Two cases the Supreme Court decided in 2016 and 2020, Whole Women's Health v. Hellerstedt and June Medical Services vs. Russo, show AUL's holistic approach, from bill writing to court litigation. Both cases involved challenges to so-called "Targeted Regulation of Abortion Providers," or TRAP, laws enacted by Texas and Louisiana, respectively.
Texas enacted a law in 2013 that required abortion doctors have hospital admitting privileges at a hospital within 30 miles and mandated that abortion clinics must meet the standards adopted for ambulatory surgical centers. Half of the state's abortion clinics closed. The Supreme Court found in Whole Women's Health v. Hellerstedt that "neither of these provisions offers medical benefits sufficient to justify the burdens upon access that each imposes," known in abortion law as the "undue burden" standard, which has existed since the early 1990s.
Louisiana, meanwhile, began holding legislative hearings on a bill similar to Texas' law as it was being challenged in the courts. At the time, there were five abortion clinics in Louisiana, and six abortion doctors. A district court decided it would place an "undue burden" on patients seeking abortion care because if the law went into effect, it would result in the state having one clinic and one doctor. It, too, ended up before the Supreme Court in the June Medical case. Five justices agreed the law should be overturned, with liberal Justice Stephen Breyer writing Louisiana's statute was "almost word-for-word identical" to the Texas law.
AUL also developed the model bill text underpinning the two statutes. AUL filed friend-of-the-court briefs in both.
"It looks like the same law because it is the same law," said Nicole Huberfeld, a professor of health law at Boston University.
"AUL has had remarkable success, I can see the success of their strategy very clearly," she added.
The Supreme Court's rulings in Hellerstedt and June Medical were wins for AUL's foes. Planned Parenthood at the time of the Hellerstedt decision called it "the biggest Supreme Court victory for abortion access in decades," and it was seen as strengthening the undue burden standard. But in June Medical, that standard was again relaxed. AUL attorneys said in memo to supporters that the ruling represented "disappointment and opportunity." Chief Justice John Roberts, who voted to uphold the law in Hellerstedt, was the deciding vote to overturn it in June Medical. But it was important Roberts wrote his own opinion instead of joining the one written by Breyer for the court's liberal justices, they said.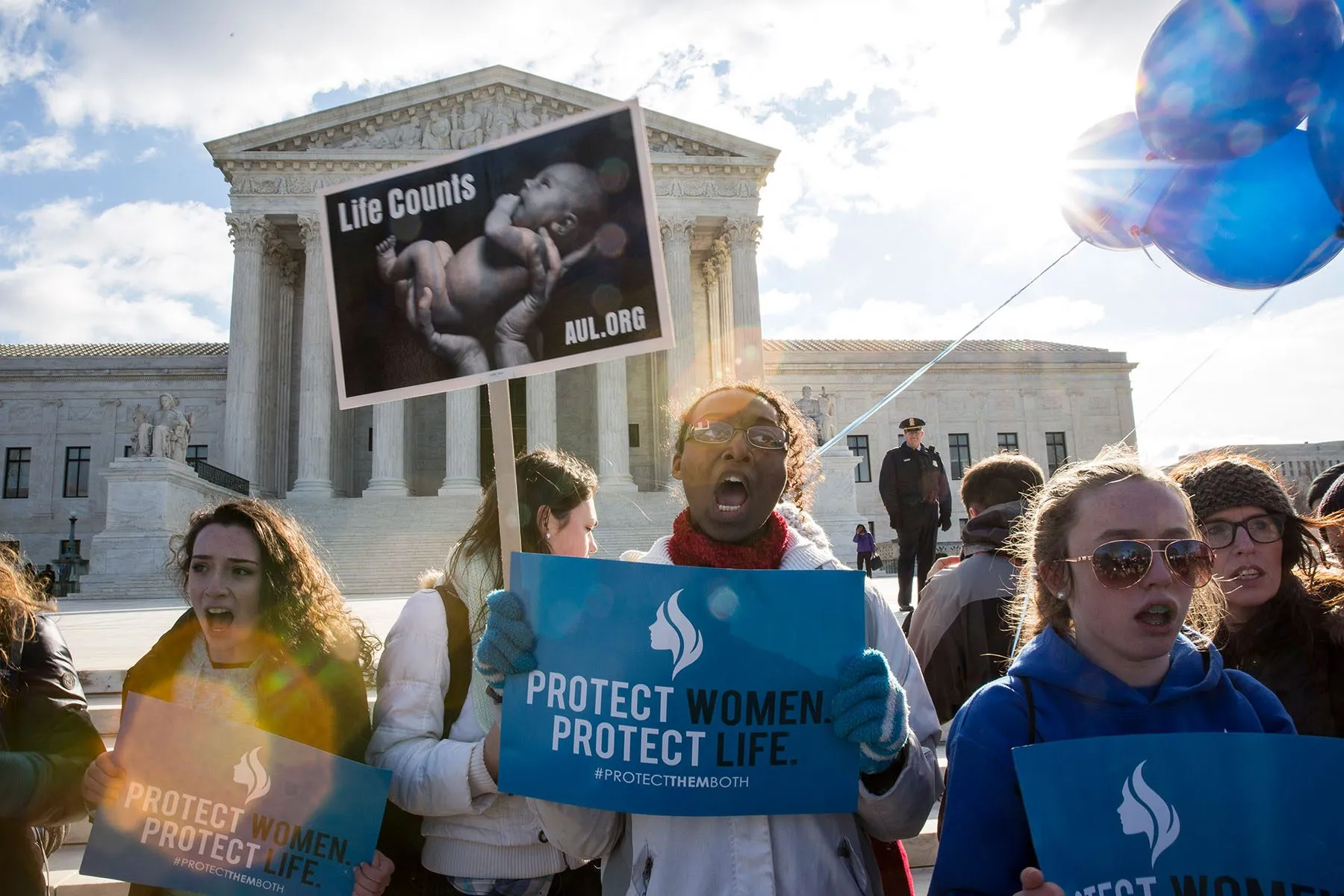 "Contrary to public media reports, June Medical was not a resounding victory for abortion advocates," AUL attorneys wrote. "The positions of a majority of the court in June Medical provide a clear road map to the states for winning future abortion cases."
The Mississippi law in the Dobbs case — a 15-week abortion ban with exceptions for health and severe fetal abnormalities — was not a copy-and-paste of AUL model legislation. AUL nevertheless touted its 2018 enactment in an annual report to supporters. Their litigation strategy includes defending laws they did not write that align with the group's mission by filing amicus briefs with the courts. AUL lawyers were also instrumental in shaping the anti-abortion jurisprudence the court ultimately used to overturn Roe in the Dobbs case.
"This was a historic moment and exceeded our expectations," the group said Friday in a celebratory message to supporters. "Americans United For Life filed a brief in Roe v. Wade over 50 years ago, and have been fighting ever since to protect the human right to life. The Dobbs decision is better than we could have hoped for!"
---
AUL occupies a unique spot in the anti-abortion movement. It brings in less operating revenue than the National Right to Life Committee, or Susan B. Anthony List (SBA List), which are organized as 501(c)4 nonprofit social welfare organizations, and to which donations are not tax deductible. But, according to Ziegler, AUL is "more discretely focused on litigation and on model legislation" than its anti-abortion counterparts, and its legal expertise has allowed it to have an outsized impact.
Glenn agreed that what differentiates AUL from other grassroots organizations is that "it's always been small, and focused on making the strongest legal argument, whether it's weighing in on an amicus brief, or the actual drafting and the passage of it, or after the fact."
The National Right to Life Committee does some public interest litigation, as AUL does, and they also develop some model laws. But the bulk of their impact is in the direct lobbying of lawmakers, and outside spending on influence campaigns. Since 1998, Right to Life and its direct affiliates have spent more than $11 million on federal lobbying, and since 2000, they have spent more than $12 million on ads and other communications, according to government records tracked by OpenSecrets.
SBA List, meanwhile, which was formed as a counterweight to EMILY's List, which backs Democratic women candidates who support abortion access, has focused most of its energy on backing anti-abortion candidates. During the 2020 election cycle, they raised and spent more than $1.5 million, and nearly all of it went to Republicans. Trump, and Sens. Joni Ernst of Iowa and Steve Daines of Montana, who were both in competitive reelection races, were among those who received the most support.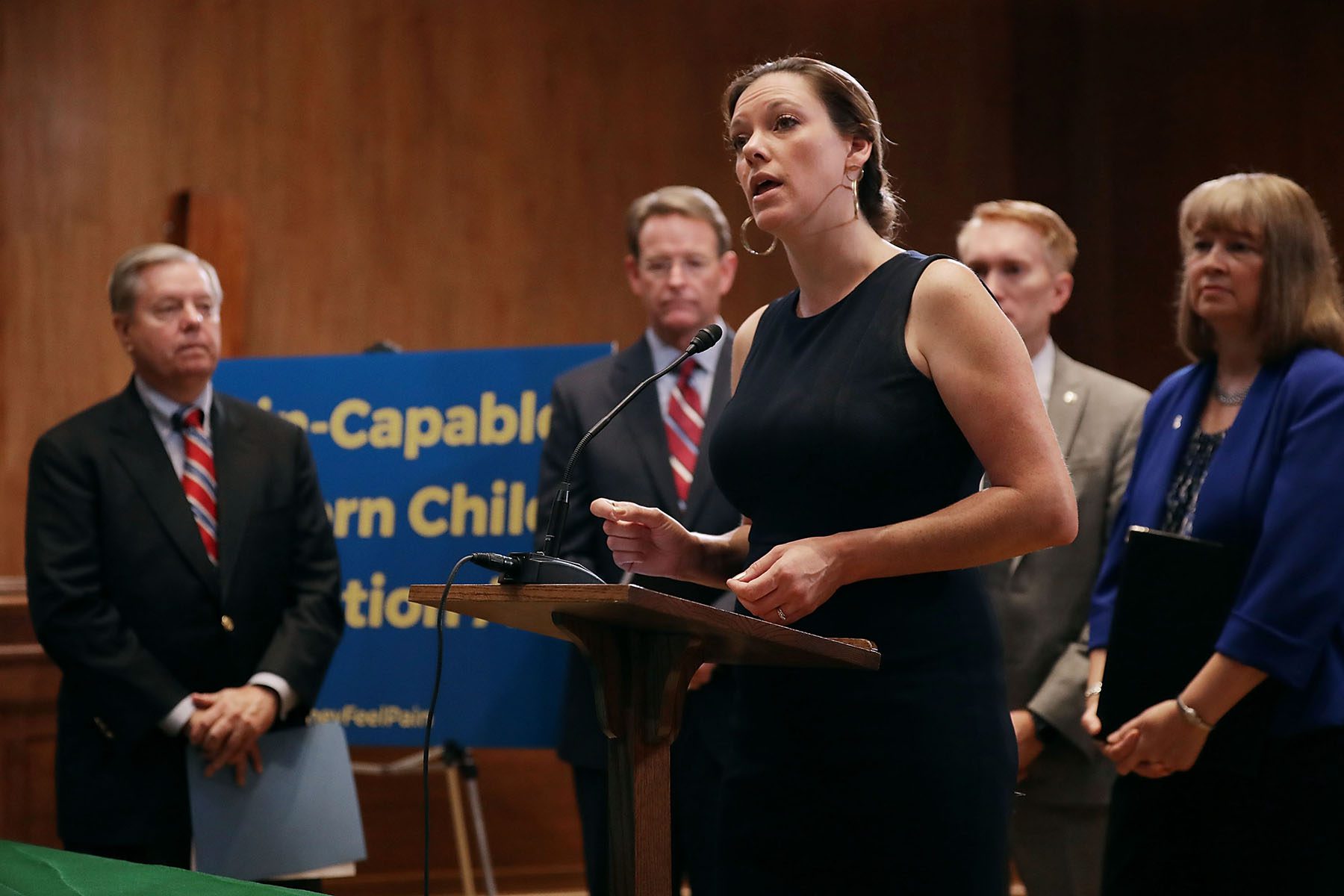 Erika Bachiochi, an anti-abortion scholar at the Ethics & Public Policy Center, a Judeo-Christian advocacy group, said AUL was "greatly respected by pretty much everyone" in the anti-abortion movement.
Ziegler has studied how AUL, in the 1980s and even more in the 1990s, "brought a series of cases designed to chip away at Roe and make it seem increasingly incoherent" by adopting the incrementalist approach of the NAACP during the civil rights movement, whose "legal savvy led them to wait patiently for the right moment to strike," she wrote in a Politico story last year with Robert Tsai, a law professor at Boston University.
AUL also drove, beginning in the early 1990s, the anti-abortion movement's focus on a legal theory known as the "women-protective" argument, which posits that women must be protected from the ill effects of abortions, whether by increasing clinic standards, or mandating services such as pre-abortion counseling. TRAP laws like those in the Hellerstedt and June Medical cases also fall into this category.
The anti-abortion movement's adoption of women-protective arguments was a response to the abortion-rights movement's focus on the rights of the person seeking the abortion and gender equality. Previously, anti-abortion groups had typically focused on the protection of the fetus. That changed after the Supreme Court's 1992 ruling in Planned Parenthood v. Casey, which reaffirmed the right to seek an abortion but said states could restrict care so long as it did not place an undue burden on patients.
Neither side of the debate was happy with the decision: the anti-abortion groups believed it was a missed opportunity for the court to overturn Roe; and the abortion-rights movement correctly anticipated it opened the door to the type of incremental restrictions AUL has pursued in the 30 years since.
The focus on women-protective arguments informed AUL's development of new model laws. Another example is their proposed Pregnant Woman's Protection Act, which would make it legal for a pregnant person to "use force to protect her unborn child when she reasonably believes that unlawful force is threatening her unborn child." But, as AUL cautioned in a 2011 memo, states that introduced it needed to be sure to "faithfully follow the model language in order to avoid legal issues and/or public relations problems." "Unfortunately, some of the proposed language [in state bills] strayed from AUL's model and generated significant controversy," an AUL attorney wrote.
Women-protective arguments feature in friend-of-the-court briefs filed in almost every major abortion case since Casey, including a Dobbs brief filed by 240 "pro-life feminists," including some affiliated with AUL, that argues legal abortion makes it harder for women to achieve equality in the workplace and elsewhere. Alvaré and Bachiochi were among those who authored the brief.
Experts said AUL's influence on abortion law, both in the courts and in states, is unlikely to wane now that Roe has fallen. As AUL noted in a Dobbs Q&A, the court's decision means "the battle for the human right to life [will] return to each state." AUL is poised to offer both model bills states can quickly enact and the assistance to defend them in any subsequent court challenges.
Glenn predicted the post-Dobbs period would be similar to the period after the court decided Casey, when there was a legal scramble to figure out which state restrictions would not present an "undue burden" to access in the court's eyes. "We've been talking about 'how do we even change our thinking about what is possible?'" Glenn said.
As Boston University's Huberfeld put it: "it will be a war of state laws."
"This isn't going to settle anything," she added.