Oklahoma's legislature has voted to ban all abortions, with narrow exceptions if the abortion is necessary to save the pregnant person's life.
The bill now heads to the desk of Gov. Kevin Stitt, who has previously vowed to sign all anti-abortion bills. If signed, it would take effect in late August, 90 days after the legislature has adjourned.
The ban, known as Senate Bill 612, was initially passed by the state Senate last year. The House unexpectedly took up the bill on Tuesday morning. Only one Republican voted against the measure.
The move came as a surprise. Last month, the legislature had pushed forward two different abortion bans — a six-week ban and a total ban, both inspired by Texas' Senate Bill 8. Like the Texas law, both of the bills Oklahoma passed last month relied on a civil litigation structure, in which private citizens sued to enforce it.
SB 612, however, criminalizes the provision of abortion outright. A total abortion ban appears to violate the protections established by Roe v. Wade, the 1973 Supreme Court case that guaranteed the right to an abortion up until a fetus can live outside the womb. Since 1973, no state has successfully enforced a total ban on the procedure.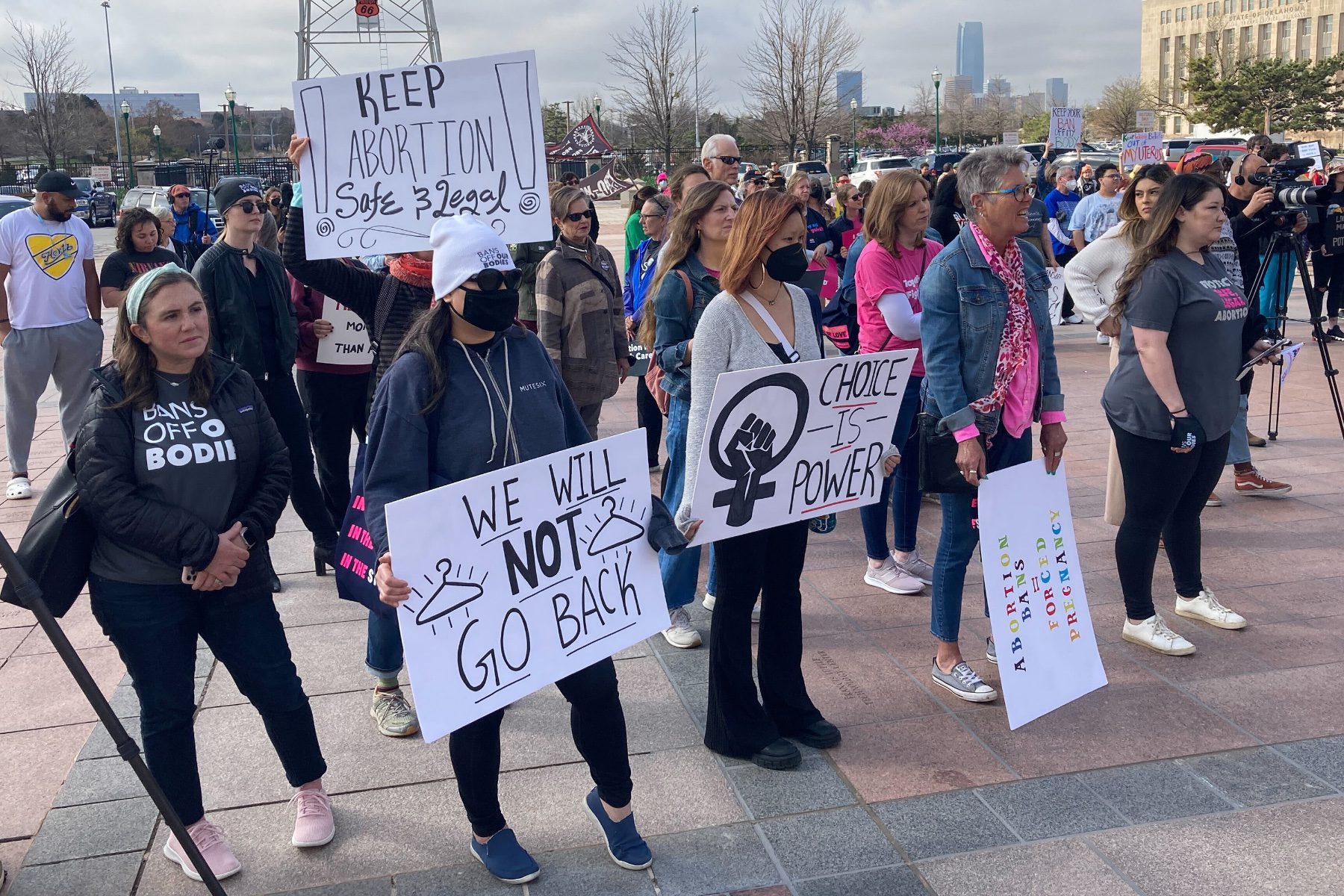 But by the time the law takes effect, that could have changed. This June, the Supreme Court is expected to rule on Dobbs v. Jackson Women's Health Organization, a case that examines the constitutionality of a 15-week abortion ban. Many observers believe the court, which has a large conservative majority, will use that case to overturn Roe v. Wade, allowing states to restrict access to the procedure as much as they wish.
It's not immediately clear if Oklahoma's abortion providers — Trust Women and Planned Parenthood — will challenge the ban in court. But if legal challenges are filed, they are more likely to appear in the Oklahoma State Supreme Court, which has recently blocked other state abortion bans.
Even after passing SB 612, the Oklahoma legislature has not abandoned its other proposed bans on the procedure. On Wednesday, a House committee will deliberate a Texas-inspired bill that would prohibit abortions after six weeks of pregnancy. That bill has already passed the state Senate. If enacted, it would take effect immediately.
Trust Women, which runs clinics in Oklahoma City and Wichita, Kansas, said it would continue to provide abortions for now.
"Trust Women's clinic in Oklahoma City will remain open so long as we can still be of service to the people of Oklahoma," said Rebecca Tong, co-executive director of Trust Women. "We will not be deterred from providing compassionate health care to our patients — many of whom are our neighbors, colleagues and family."
Since this past September, when Texas virtually eliminated in-state access to most abortions, Oklahoma has emerged as a critical access point for care. About 1,500 Texans have traveled out of state for abortions each month since September, per data from the Texas Policy Evaluation Project. Almost half of those people — 45 percent — went to Oklahoma. The trip costs hundreds to thousands of dollars, and some patients reported forgoing groceries or falling behind on rent to pay for the journey.
If care is unavailable in Oklahoma, the next closest options would be Arkansas, Kansas, Colorado and New Mexico. But Arkansas has a "trigger law" on the books that could theoretically ban all abortions if Roe is overturned. And in Kansas, voters are weighing a constitutional amendment that would weaken abortion protections.
Clinicians in New Mexico and Colorado fear they will not be able to absorb all the patients traveling from Oklahoma and Texas who may come seeking care.
Already, patients in those states are facing longer wait times for abortion appointments — sometimes two or three weeks — because clinics have already been overwhelmed treating out-of-state patients from Texas.
"It's going to have such a regional impact. I am just terrified for our patients, and again it signifies to us how swiftly we need to move in terms of increasing capacity," said Dr. Kristina Tocce, the medical director of Planned Parenthood of the Rocky Mountains, which operates clinics in Colorado, New Mexico and Las Vegas. 
Planned Parenthood of the Rocky Mountains is working to expand capacity so that they can see more out-of-state patients, including those from Oklahoma. But the uncertainty over just how big an influx they might see, especially as more states weigh abortion bans and restrictions, makes it difficult to plan.  
And still she worries they won't be able to reach every patient, particularly those who cannot afford to travel the hundreds of miles to her clinics.
"This is not just going to affect the patients of Texas who are traveling to Oklahoma, but also every Oklahoma patient and patients in the surrounding area that traveled to Oklahoma," she said. "Everyone gets displaced and affected by this."