At the 66th annual United Nations Commission on the Status of Women, a two-week convening of UN delegates from across the globe, the urgency of the climate crisis and its unique intersection with gender was centered from the start.
"The world is on fire," UN Women Executive Director Sima Bahous said in her opening remarks Monday." It impacts every corner of our globe, and threatens peace, food security and sustainable development from the Pacific to the Arctic. As with all crises, climate change also exacts its highest price from women and girls. Especially from those who are already being left behind."
Every year the commission gathers to discuss the state of gender inequality in the world at its headquarters in New York City. This year the theme is focused on women's rights in the context of our increasingly volatile planet.
Just last month, the Intergovernmental Panel on Climate Change released a report emphasizing the ways in which the climate crisis will impact the most vulnerable — calling out gender explicitly throughout its findings. For the first time, the report dedicated a section to the health implications climate change will have on pregnant people, particularly as it impacts the most vulnerable. It also called for a gender-inclusive response to climate change.
Seemin Qayum, the policy advisor on sustainable development at UN Women, said "it's high time" that we view these issues collectively. Previous UN environmental summits have all incorporated gender to some extent, "but we haven't had, until now, a comprehensive treatment of all of these things together," Qayum said. "That's why I think that this is particularly significant and why this year's priority theme has attracted so much attention."
For many women's rights groups, the commission feels like one of the last chances to influence global climate policy before it's too late and to advocate for solutions that would advance gender equality and center women in frontline communities.
The main focus of the commission will be to negotiate what are known as "agreed conclusions," or recommendations that member states including the United States are saying they'll adhere to in order to combat gender inequality. Like most agreements that come out of the United Nations, they are nonbinding, but they are important tools for advocates on the ground. "It becomes part of what we call the normative framework that the UN sets up," said Kathryn Tobin, senior program manager for WEDO, a global women's advocacy organization. "It becomes an anchor that especially civil society groups can use to hold their governments to account."
WEDO and thousands of people from other NGOS and nonprofits from around the world also attend the commission, hosting side events to push their own agendas and meeting with delegations to ensure their perspectives are included in the agreed conclusions.
This year feels particularly high stakes after what many feminist advocacy groups saw as a failure of wealthy countries to commit funding to address the urgency of climate change last November at COP26, the United Nation's annual climate change conference, which was held in Glasgow, Scotland.
"It isn't possible to talk about achieving women's rights in a vacuum that does not consider the environmental and also the related economic impacts of the climate crisis," said Tobin, whose organization works with an alliance of other advocacy groups called the Women's Rights Caucus.
Tobin's organization is pushing for the United States and other countries responsible for a large share of carbon emissions to pay developing countries for "loss and damages." It harkens to similar commitments countries including the United States have already made, but not yet carried out, Tobin said.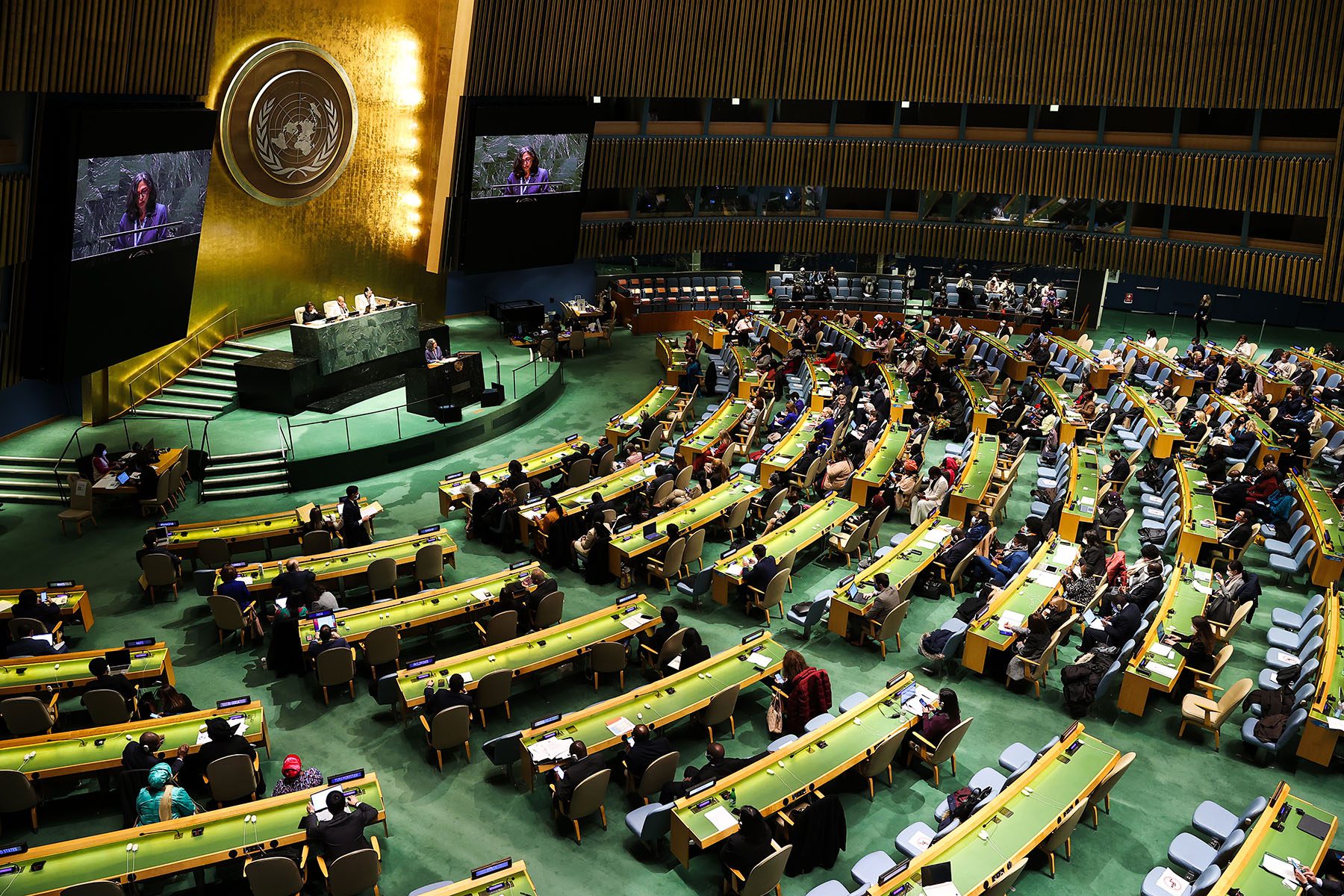 "For example, there's the principle of common but differentiated responsibilities which says, 'Yes, all the governments of the world are committed to this, but we acknowledge that there are differences in responsibility and finances,'" she said. "Rich countries should actually be paying into a fund that goes to 'Global South' frontline countries … that are already experiencing the effects directly."
By 2020 rich countries were supposed to collectively pay $100 billion annually to the rest of the world to adapt to the climate crisis, and they fell $20 billion short of that commitment.
Patricia Wattimena, the climate justice program officer for the Asia Pacific Forum on Women, Law and Development, a leading network of feminist advocates representing 30 countries, said the kinds of destruction being wrought in places like her home country of Indonesia aren't just financial.
"For Indigenous women it's a loss of culture, loss of graveyards, loss of sacred sites which means loss of identity," said Wattimena, who is Indigenous and also participating at the commission. "Loss of identity means ethnocide. It means you are gone forever, you are washed out."
Just as frontline communities in the United States are asking to be centered in a just transition, Wattimena's organization is asking for the same consideration on a global scale at the commission.
"What we are seeing in climate financing is that a lot of funding is going to climate adaptation, mitigation and strategies at the national level," she said.
These top down approaches further marginalize women and people of color. For example, offsetting carbon emissions through large scale tree planting initiatives have led to land grabs in places like Thailand displacing Indigenous people, said Wattimena, who is based in Chiang Mai. Focusing instead on women-led community based solutions can protect the environment, she said. 
"I think it is very important to put women, especially rural Indigenous women, at the front and center of the climate solution," she said, adding that Indigenous communities steward land that contains 80 percent of our global biodiversity, even though they make up just 5 percent of the population.
But they also should be prioritized because they suffer disproportionately from the climate crisis, she said. Gender-based violence increases after a disaster in the form of sexual exploitation and domestic abuse; when infrastructure is damaged, it's women who face the repercussions disproportionately. "They are at the frontline of these struggles," Wattimena said. "It's a war."
People who identify as LGBTQ+ face further marginalization, Sahar Moazami, wrote in an email. Moazami, who is the UN program officer for Outright International, a human rights group that advocates for LGBTQ+ people, said that securing access to housing, medical care and social services after a natural disaster is complicated for people whose gender does not match their identification documents. They hope the agreed conclusions will ultimately emphasize these disparate impacts "on women and girls in all their diversity" and" recognize the multiple and intersecting forms of discrimination and violence that people face that amplify their vulnerability in the crisis."
Tobin said the road to negotiate these agreements will be a highly contentious task, often lasting hours into the night and sometimes until the early morning of the final day of the conference, with delegations tweaking wording at the last minute.
She fears that governments of developed countries will focus only on efforts to promote gender equality without committing to making significant investments in combating climate change equitably: "The unwillingness of governments to grapple with that connection and with that reality is disappointing," she said. "But it is something we are not going to let them get away with."