With legislation shoring up abortion access unlikely to pass Congress and the Supreme Court poised to scale back protections, the Biden administration appears unlikely to fulfill its promises to expand and protect abortion access — unless, as some advocates are calling for him to do, he uses executive powers.
Abortion rights, while hardly a signature issue for President Joe Biden, were a major component of the National Strategy on Gender Equity and Equality, a list of policy goals and commitments released in October by the administration. In that document, the White House vowed to "protect the constitutional right to safe and legal abortion established in Roe v. Wade."
That commitment included "supporting the repeal of the Hyde Amendment," which bars the use of federal funds to pay for an abortion. In practice, the Hyde Amendment prevents most states' programs for Medicaid — the federal-state health insurance plan that covers low-income people — from covering abortion, which can cost hundreds of dollars out of pocket.
Theoretically, the administration has taken steps in the direction of maintaining abortion access. It submitted a budget to Congress last May that would repeal the Hyde Amendment, though in Washington, the president's budget is treated more as a signal of priorities than a serious policy proposal. It also endorsed the Women's Health Protection Act, a bill that would codify Roe v. Wade protections. 
But the impact has been minimal. While both proposals have passed the U.S. House of Representatives, they have little chance of success in the Senate. Passing legislation such as the Women's Health Protection Act requires 60 votes. Meanwhile, all 50 Democrats would need to unite to repeal the Hyde Amendment. Neither of those appears likely to happen.
The Senate is evenly split between the parties, but Democrats control the chamber because Vice President Kamala Harris has the tie-breaking vote. Two Democratic senators — Joe Manchin of West Virginia and Bob Casey of Pennsylvania — are generally unfriendly toward legislation that expands abortion access and declined to sign on in support of the Women's Health Protection Act. Democrats' margin has for now become even slimmer, with Sen. Ben Ray Luján, of New Mexico, temporarily incapacitated after a stroke.
Meanwhile, Biden has said little publicly about the White House's stance on abortion rights.
The White House did not respond to multiple requests for updates on how or when it hopes to move forward with either effort. But the looming midterm elections mean the window to pass either bill into law may be growing narrower. Democrats are considered at great risk of losing their slim governing majorities in both the House and Senate this November, though some believe a ruling by the Supreme Court that restricts abortion access could mobilize their voters.
Some experts suggested that, given the limited possibilities in Congress, the administration should use executive power.
"Legislative fixes are nonstarters, and every second that's spent trying to work on legislation is a second that's not being spent trying to affect access on the ground," said David Cohen, a professor at Drexel University's Kline School of Law, who focuses on constitutional law and gender. "I don't think anyone thinks legislation is going to happen, and if they do they're living in a fantasy world."
There are a few avenues the White House could take, suggested Mary Ziegler, a law professor at Florida State University who studies abortion. In particular, she said, the Biden administration should rely on the the Food and Drug Administration to issue regulations that expand access to medication abortion, a two-pill regimen that people can use to safely end a pregnancy at home up until 10 weeks.
"The most significant thing the Biden administration has done is through the FDA, and the most significant things the Biden administration will be able to do going forward are through the FDA," she said.
Already, the administration has moved in that direction.This past December, the agency loosened regulations on how one of the medication abortion pills — a drug known as mifepristone — is dispensed. Previously, the agency held that the mifepristone must be administered in-person, even though medical groups have long said that the pill can be safely taken at home.
The FDA's move — initially prompted by the COVID-19 pandemic and made permanent in December — allowed for medication abortion pills to be prescribed virtually and sent to patients through the mail, eliminating numerous barriers for patients who do not have the time or resources to travel to a licensed clinic or health care facility.
But without more White House action, the impact will probably be limited. So far, 19 states have laws in place that require physicians to dispense mifepristone in-person, essentially rejecting the FDA guidance. More state legislatures are preparing similar legislation. The administration could attempt to overrule those state laws, Ziegler and others said, challenging them in court and arguing that the FDA regulations, as a representation of federal law, preempt state ones.
There is no precedent for using FDA guidance to overrule state limitations on medication abortion. But it's an argument that at least has a chance of succeeding in courts, legal experts said.
"There is some support for the idea that states cannot ban FDA-approved medication," said Greer Donley, an assistant professor at the University of Pittsburgh Law School, who specializes in laws surrounding medication abortion access. "This is a novel legal argument. Maybe it would mean states cannot ban the sale of medication abortion, which would mean states must allow abortion up to 10 weeks."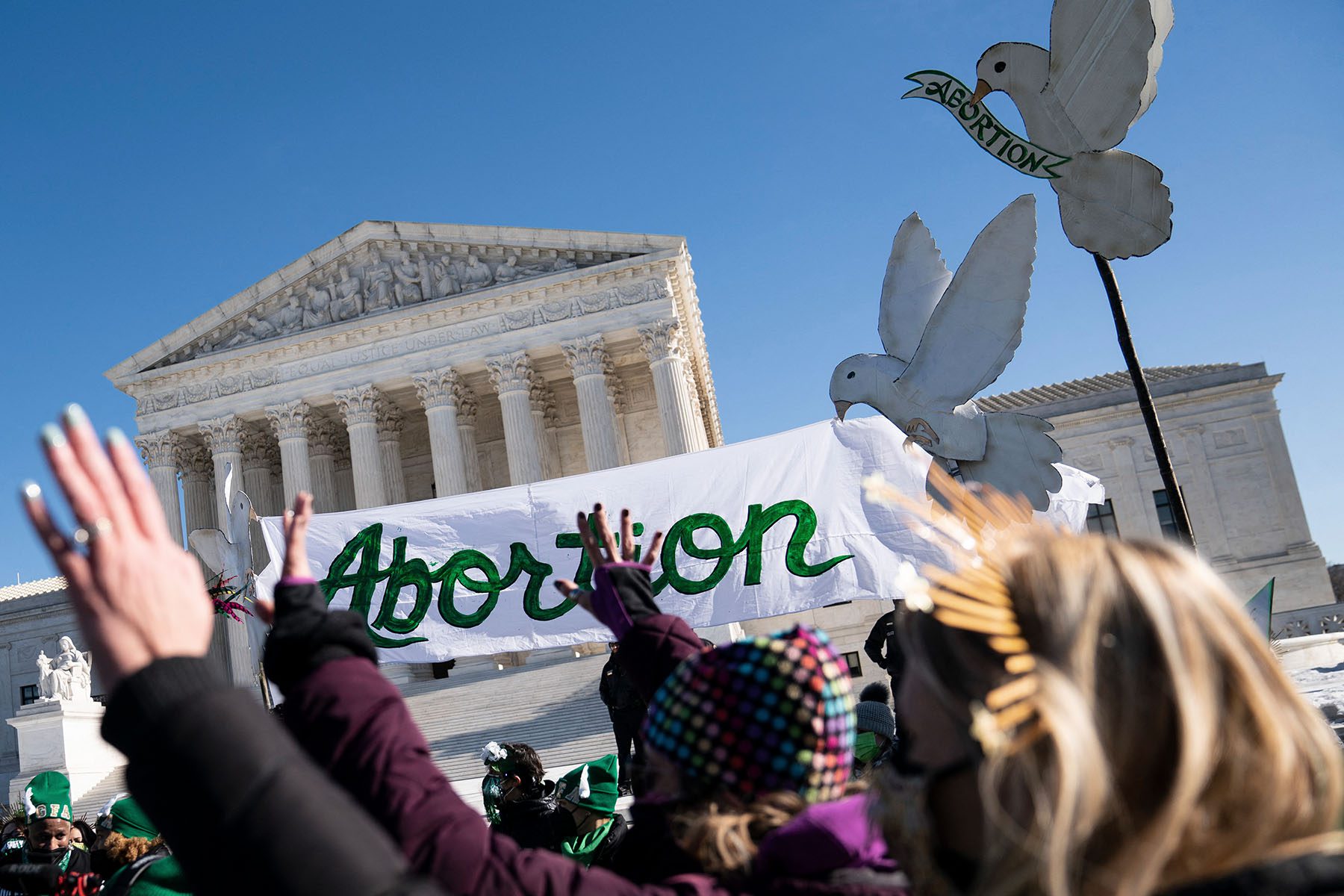 That could take on new relevance if the Supreme Court does use its major abortion case — Dobbs v. Jackson Women's Health Organization — to overturn or severely weaken Roe v. Wade, an outcome legal observers say is highly likely. Such a ruling would eliminate the federal abortion rights guarantee and could allow states to ban abortion entirely. A decision in the case is expected this summer.
If such an argument withstood legal challenges, it could render toothless any state law that attempted to ban abortion prior to 10 weeks of pregnancy.
"If the Supreme Court does overrule Roe, there is more urgency for the Biden administration to pursue arguments like this," Donley added.
There are other strategies the administration could explore, experts said. The Department of Health and Human Services could encourage states to use their own Medicaid funds — which are not governed by the Hyde Amendment — to cover abortion services, though it's not clear how much impact that would have.
Cohen also suggested looking at whether the government could lease federal land to abortion clinics. In theory, those clinics could then operate within the borders of a state that has limited or even banned abortion. Since they would not be on state property, those clinics could be exempt from the state's abortion laws and instead governed by only federal statute. (Similar approaches could be tried on reservation land, if tribal leaders also sought to maintain abortion access.)
Again, he added, it's not guaranteed that such an approach would survive a court challenge. But it's not out of the question, either.
"It is possible that clinics can operate on federal lands without having to follow state law. That has to be explored. The federal government needs to push the envelope," Cohen said. "It's not a slam-dunk legal argument, but these are the kinds of things that need to be tried."