When the U.S. Senate returned to Washington last week after its winter recess, Democrat Joe Manchin of West Virginia poured cold water on the prospects for the Build Back Better plan, a sweeping $1.75 trillion Democratic economic proposal with numerous measures designed to support working women.
"There is no negotiation going on at this time," Manchin told reporters January 4.
The Senate has turned its attention to voting rights in the near term. But White House spokesperson Jen Psaki told reporters this week that Build Back Better "conversations are continuing behind the scenes at a staff level" — an assertion that is backed up by a dozen interviews The 19th conducted with congressional staffers, advocacy groups and other stakeholders. Both Manchin and his staff are participating in those conversations, they said.
Manchin's statements on Build Back Better are closely followed as he, along with Sen. Kyrsten Sinema of Arizona, are both moderate Democrats who have objected to various components of the plan approved by the House in November. To get it over the finish line, Senate Democrats are aiming to use a process known as reconciliation, a once-a-year maneuver that requires a simple majority in the evenly divided, 100-seat Senate instead of the usual 60-vote filibuster threshold. To pass, it will need support from both Manchin and Sinema.
The starting point for the next round of negotiations is a package focused on previously proposed climate provisions, subsidized child care that caps contributions for most families at 7 percent of their income, and universal pre-K — all things for which Manchin has expressed some level of support, according to those familiar with the status of negotiations. It looks similar to a proposal Manchin pitched to the White House in December before he told Fox News that he had "tried everything humanly possible" to support the Build Back Better plan Democrats were negotiating but could not.
The child care and pre-K components would be funded for a longer period of time than in the White House's proposal — a decade, instead of six years — likely necessitating the removal of other components, such as paid leave or an extended, expanded child tax credit to remain under the agreed-upon $1.75 trillion price tag. Manchin previously expressed reservations that both paid leave and the child tax credit could be abused, and the latter is a main reason why Senate negotiations fell apart in December, those familiar with the process said.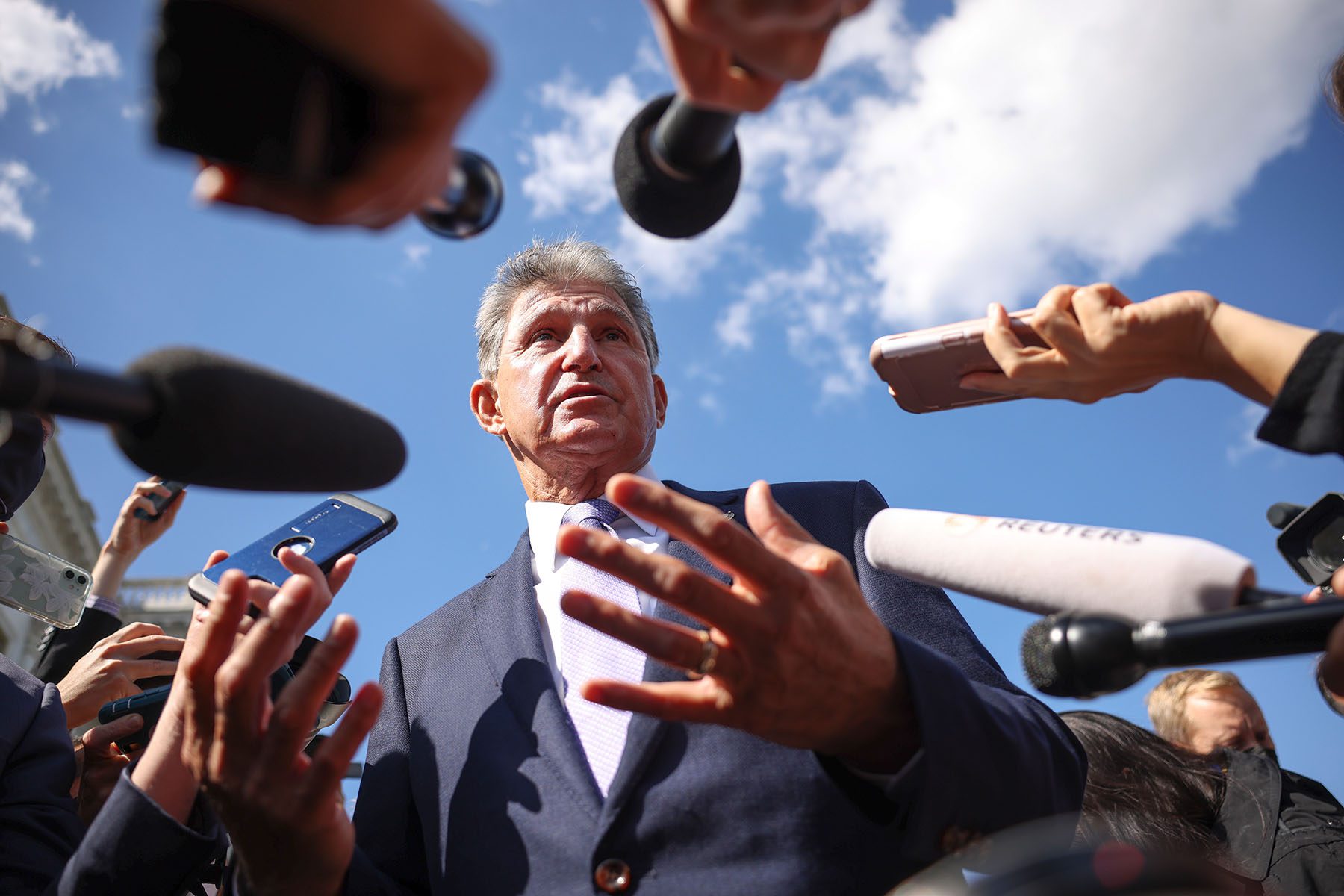 Still being negotiated are health care components that could, among other things, extend expanded subsidies for purchasing Affordable Care Act plans that were in the coronavirus relief package signed into law last year. The fates of funding for home-based care for the elderly and people with disabilities and investments in higher education are less clear.
"I can confidently say that Build Back Better is not dead. We know folks in the White House and on the Hill are continuing to work together to move this forward, as are groups on the outside that have been consistently fighting," Danielle Melfi, the executive director of Building Back Together, an outside group formed to support President Joe Biden's domestic agenda.
"Conversations are ongoing to get this across the finish line," Melfi added, though she did not weigh in on Manchin's role specifically.
Senate Majority Leader Chuck Schumer plans to hold a vote by next week on changing filibuster rules to carve out election bills. Multiple Democratic senators have expressed opposition to the change, so that effort is likely to fail. The ideal deadline to pass election-related legislation would likely be by March 1, when Texas holds the first primary of the 2022 midterm elections cycle. Build Back Better negotiators told The 19th that they anticipated public focus to return to the economic proposal in March and April.
"We can walk and chew gum at the same time," Psaki told reporters last week, "And I can assure you that we are in touch with a range of senators and their staffs and committee staff about Build Back Better, even as we're working with Leader Schumer about getting voting rights done."
Democrats say they have not given up on extending the expanded child tax credit that expired at the end of 2021 — Psaki reiterated that Biden sees it as a "key priority" that could cut childhood poverty by as much as 40 percent annually. Privately, key Democrats acknowledge that they may need to pursue another extension as part of a future COVID-19 relief bill or as a stand-alone piece of legislation if they cannot get Manchin on board.
A Manchin spokesperson told The 19th that he "has clearly articulated his policy concerns with Build Back Better, which are rooted in rising inflation, the ongoing pandemic and the geopolitical uncertainty around the world" and that he "continues to look for ways to improve the lives of every American."