Editor's note: This article has been updated throughout.

President Joe Biden is poised to follow through on his campaign promise to nominate the first Black woman to the Supreme Court, as Justice Stephen Breyer announced he would retire at the end of this term if his successor has been named.
Breyer and Biden appeared at the White House together on Thursday, where the president reaffirmed his intention to nominate a Black woman to the Supreme Court.
"I've made no decision except the one person I will nominate will be someone with extraordinary qualifications, character, experience and integrity," Biden said. "And that person will be the first Black woman ever nominated to the United States Supreme Court. It's long overdue."
Black women constitute just about 3 percent of the federal judiciary, and no Black woman has ever been nominated to the Supreme Court, prompting a growing push from advocacy groups for Biden to fulfill what they see as long overdue.
"Appointing a Black woman to the Supreme Court is the next and necessary step towards a truer form of democracy and ensuring that our unique experiences and perspectives are represented," Kimberly Tignor, a cohort member of the progressive She Will Rise campaign for a Black woman on the Supreme Court, previously told The 19th.
In modern years, the 13 U.S. Courts of Appeals have been a stepping stone to the Supreme Court, and the source of 13 of the last 14 confirmed justices. The president has nominated more Black women — eight — to those courts, the second highest in the country, than any other administration. Five have been confirmed so far.
One of those women is Ketanji Brown Jackson, who sits on the U.S. Court of Appeals for the D.C. Circuit and is widely seen as a top prospect for Biden's first Supreme Court nomination. Other Black women circulated as potential picks include California Supreme Court Justice Leondra Kruger, and J. Michelle Childs, a judge on the United States District Court for the District of South Carolina.
Jackson, who was confirmed in June, is a former public defender. She previously clerked for Breyer, served on President Barack Obama's Sentencing Commission and was named on Obama's Supreme Court shortlist in 2016.
Just 40 of 793 "active," or full-time federal judges are Black women, according to data provided by the Administrative Office of the U.S. Courts. Black women have long faced barriers at every level when it comes to reaching these positions, said Dr. Taneisha Means, a professor of political science at Vassar College.
They are underrepresented in high-profile legal clerkships, an important stepping stone in the profession. For those who are able to gain this coveted experience, "getting on the radar of people who have the ear of the president and who can recommend people for federal judicial appointments is a major challenge for Black women," Means said.
Previous experience as a federal judge has grown in importance for Supreme Court nominees.
"For the past few decades most of them have come from the lower federal courts," Means said. "If there are not enough Black woman judges who are district and appellate level judges, then we won't have a Black woman in the States or in the Supreme Court."
During Biden's first year in office, diversifying the federal bench has been a key priority. Of the 42 Biden judicial nominees confirmed so far, 78 percent are women and about 57 percent are people of color. If the remaining three of his Black women circuit court nominees are confirmed, he will have doubled the total number to ever serve on federal appellate courts in U.S. history from eight to 16.
The diversity of Biden's judicial appointments could set the stage for more diverse Supreme Court nominees in the future. The LGBTQ Victory Institute, which is dedicated to elevating openly queer people in government, issued a statement Wednesday calling on him to nominate a Black LGBTQ+ woman justice.
In more than 200 years, the makeup of the nation's highest court has been largely homogenous. Only five women have ever been named Supreme Court justices, with the most recent being Justice Amy Coney Barrett in 2020. In his successful 1980 presidential campaign, Republican Ronald Reagan promised to nominate the first woman to the Supreme Court. As president, he chose Sandra Day O'Connor, who served from 1981 until she retired in 2006. In 2009, Obama nominee Justice Sonia Sotomayor became the first and only woman of color to be confirmed to the high court.
The only other current justice who is a person of color is Clarence Thomas, who is Black and who was nominated by Republican President George H.W. Bush in 1991. Three justices are women: Sotomayor, Coney Barrett and Justice Elena Kagan, nominated by Obama. The overwhelming majority of them come from similar education and work backgrounds, leading a growing number of people to call for wider representation.
"In some ways, it's the least diverse court we've ever had because most of the justices, with the exception of at Coney Barrett, went to the same handful of uber elite law schools, and they grew in New York, or D.C., or right outside of there," said Renee Knake Jefferson, a professor at the University of Houston Law Center. "They've had these really narrow life experiences. So take, for example, Sandra Day O'Connor. She had been an Arizona state court judge, she had been a legislator, so a very different background than what we have seen more traditionally in recent nominations."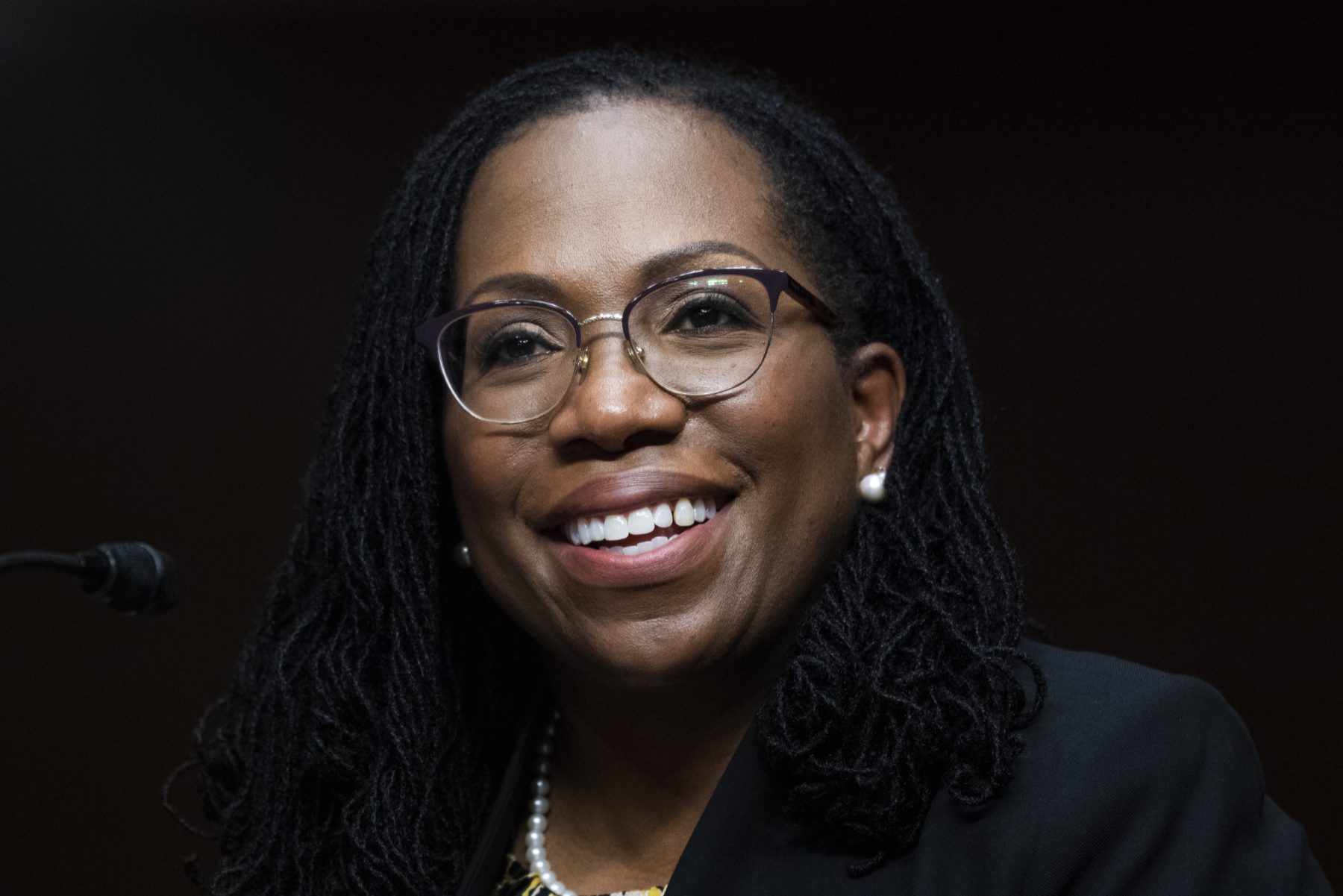 As a Washington, D.C.-born — though Miami raised — Harvard University graduate, Jackson does align with the traditional background of other Supreme Court justices in some ways, but beyond her racial and gender diversity, she would be the first public defender elevated to the Supreme Court if she is nominated and confirmed, according to Demand Justice, a progressive group that advocates for diverse judicial appointments. Biden has nominated more judges from public defender backgrounds than any other president; 15 have been confirmed.
But even with the credentials that accompany the Black women such as Jackson who are nominated to a federal judgeship, Means' research indicates these nominees face longer delays by the Senate before they are confirmed and are seen as more partisan or radical than white nominees. These factors may all come into play with the Black women Biden picks for the highest court.
The age of any potential nominees will undoubtedly be another consideration for Biden's team given that the Supreme Court is a lifetime appointment. The five most recent Supreme Court nominees have been between 48 and 55 years old at the time they were confirmed.
Biden's campaign promise to nominate a Black woman to the Supreme Court came at a critical time in the Democratic primary. He made the vow at the end of the February 25, 2020, debate in Charleston, South Carolina. Biden went into that debate without a win in the previous three primary contests, needing strong support in the first primary state with a large Black electorate.
"I'm looking forward to making sure there's a Black woman on the Supreme Court, to make sure we in fact get every representation," Biden said then. Rep. Jim Clyburn, the House majority whip and a powerful figure in South Carolina politics, endorsed Biden the next day, a move that helped propel him to a primary victory in that state and then the nomination. Clyburn has said Biden's promise was key to getting his backing.
White House spokesperson Jen Psaki said at a White House news conference Wednesday that Biden plans to follow through on the promise to name a Black woman to the court. She did not confirm that Breyer plans to retire.
Presidents typically have dedicated staffers who handle vetting and recommending nominees to the courts. When a Supreme Court vacancy arises via a justice's retirement or death, the president often consults with senators from their party before announcing a nomination. At that point, the name is sent to the Senate Judiciary Committee, which begins collecting documents, records and background information from law enforcement to prepare for one or more days of confirmation hearings. Witnesses who both support and oppose the nominee as well as the nominee themself answer questions about their judicial record. After the hearings conclude, the committee votes to recommend the full Senate confirm the nominee, reject them, or with no recommendation either way. The full Senate will then debate the nomination before proceeding to a vote.
As of 2017, Supreme Court nominees are confirmed by a simple majority in the evenly split 100-seat Senate.