During last week's Supreme Court oral arguments on Dobbs v. Jackson Women's Health Organization — a case that could have an outsize impact on abortion access in the country — Justice Amy Coney Barrett repeatedly asked about safe haven laws, or policies that allow parents to surrender their children soon after birth without negative legal consequences.
She presented safe haven laws as a way to alleviate the "burdens of parenting" and "obligations of motherhood" discussed in Roe v. Wade, the 1973 case that guaranteed the constitutional right to an abortion. "Why don't the safe haven laws take care of that problem?" Barrett asked during oral arguments.
Barrett could have gleaned the idea from Mississippi's request for the court to hear the case. The filing argues that because there are laws addressing issues like pregnancy discrimination and family leave that "facilitate the ability of women to pursue both career success and a rich family life," they are no longer burdened in the way that they were when Roe was decided. The filing presents safe haven laws as another legal development that challenges the premises of previous rulings on abortion.
Advocates for safe haven laws, with a variety of personal viewpoints on abortion, were surprised to hear them discussed in a case about abortion or as a way to reduce the burden of parenting. Their use is extraordinarily rare: Only a handful of babies are relinquished through them every year. Other forms of relinquishment — fostering and adoption, the latter of which was also brought up by Barrett — are more widely used. Safe haven laws are seen as harm reduction measures for parents in the most desperate of circumstances.
Anthony Michael Kreis, an assistant professor of law at Georgia State University, argues that Barrett's view ignores the risks of pregnancy itself, physical and mental.
"There's health care costs. There's the emotional toll. … The assumption that [relinquishing a baby] is all rainbows, sunshine and butterflies because we have [safe haven laws] … makes no sense," he said. "People don't just drop a child off and go on with their lives."
The first American safe haven law was enacted in 1999, but the concept of anonymously, legally surrendering a child is much older than that. In fact, it can be traced back to ancient Rome, if not earlier, according to Dr. Sara McDougall, an associate professor of history at the John Jay College of Criminal Justice.
"You would abandon a child and hope someone found it. There was no stigma. You didn't have to be private about it," McDougall, who has written extensively on the history of abortion, adoption and infanticide, told The 19th.
The arrival of Christianity in the first century shifted attitudes in Rome significantly, however. Church leaders argued that if a child is abandoned, effort should be made to ensure the child does not die from exposure. The survival of the infant had not been prioritized or especially considered in ancient Rome. This concern was present at the highest echelons of the Catholic Church. According to legend, Pope Innocent III dreamt that fishermen drew drowned infants out of the Tiber River in their nets. He institutionalized "foundling wheels" in Italy in 1198. Using a foundling wheel, an infant in a crib could be set in the opening of a church or hospital. Then, a wooden wheel would be rotated so that the abandoned child would be moved inside and not left exposed. Foundling wheels eventually spread throughout Europe.
After 13 infants were found in disturbing circumstances, three dead, Texas passed the country's first safe haven law in 1999. The law allows new parents to leave infants with employees at designated safe places such as fire stations or hospitals.
Safe haven laws now exist in all 50 states, Washington, D.C., and Puerto Rico, but there are typically only a handful of cases per year, experts told The 19th. 
Still, the laws are not without controversy. Nebraska's safe haven law, which was passed in 2001, did not specify a maximum age for relinquishing children, and a spate of abandonments in 2008 sparked reform. In one case, a single father went to a hospital in Omaha and surrendered nine of his 10 children — who were between the ages of 1 and 17 — saying he could not care for them after his wife died. The law has since been reformed, and now specifies that only infants up to a month old may be surrendered without risk of arrest for abandonment. 
Safe haven laws are not generally presented as alternatives to abortion when advocates have pushed them forward. Instead, safe haven laws are intended to offer a safer option for new parents in extreme crisis, according to Monica Kelsey, a former volunteer firefighter and the founder of Safe Haven Baby Boxes. Those parents might otherwise leave an infant somewhere dangerous, like public restrooms, dumpsters or the side of the road, said Kelsey, who is also a national expert on safe haven laws.
Safe Haven Baby Boxes, installed at fire stations and hospitals in six states, provide temperature-controlled, anonymous drop-off points — essentially, contemporary foundling wheels. When the hatch on the box is closed, Emergency Medical Services are notified immediately. Safe Haven Baby Boxes also operates a National Safe Haven Crisis line, which informs parents considering relinquishing new babies on the safest legal pathways.
"Women who chose to use safe haven laws have already chosen life for their child … An adoption plan is a better option. A parenting plan is a better option. [Relinquishing under a safe haven law] is only a good option if it's the only option the mother has left," Kelsey told The 19th.
Kelsey describes herself on her website as a "pro-life speaker." But she sees safe haven laws as a separate issue entirely. "My goal is that we give women every option available to them to utilize, to make a good choice for them and their baby," Kelsey told The 19th. In 2018 she told US News: "This isn't a pro-life or pro-choice issue. These children are alive, they're living."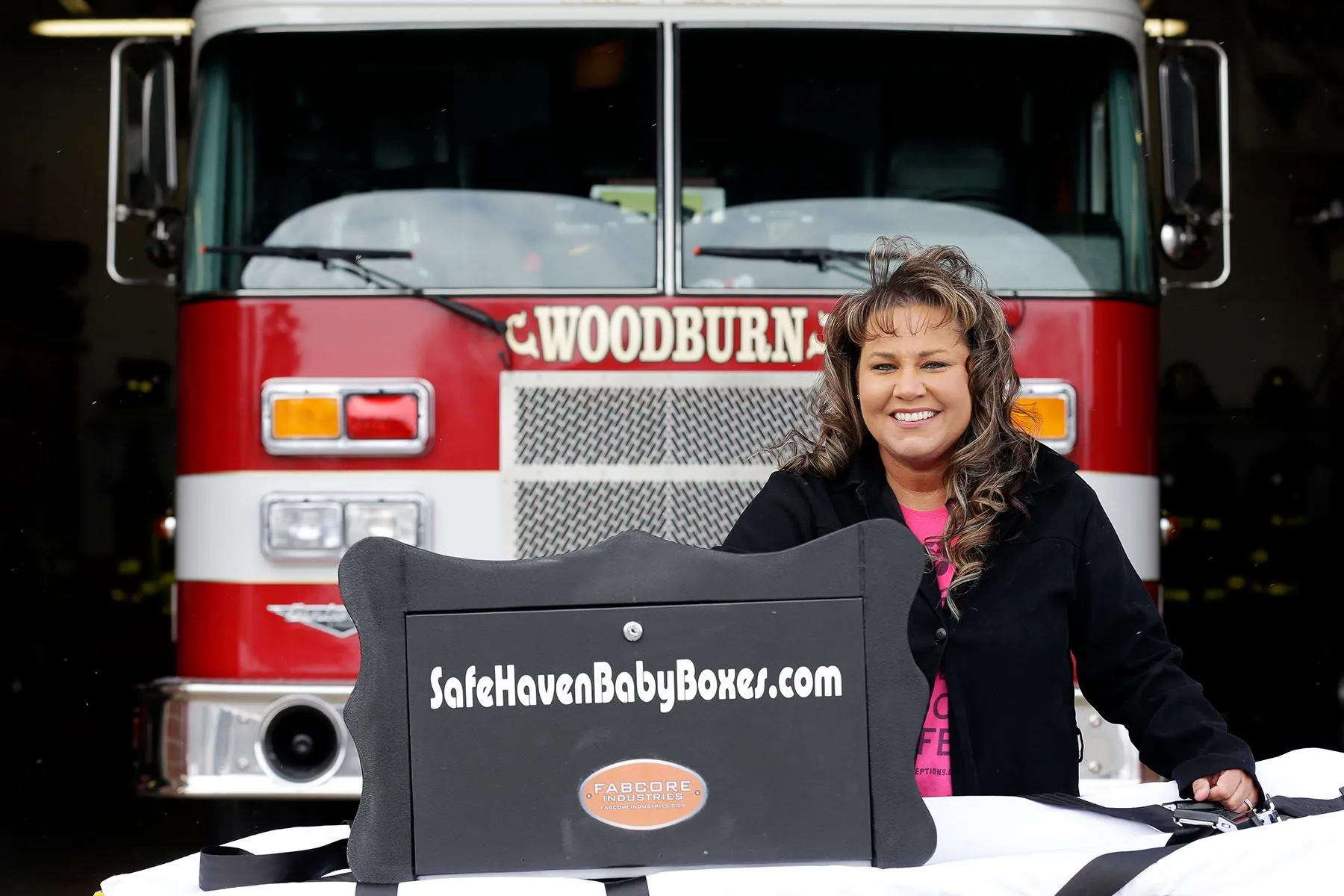 Kreis shares Kelsey's view of the law's purpose and necessity. He helped reform initial problems in his state's safe haven law.
"[Georgia's law] was very limited in terms of the places a parent could bring an infant. It also required the relinquishing parent to provide identifying information, which was a deterrent," Kreis explained. For Kreis, who describes himself as "unabashedly pro-choice," functional safe haven laws are part and parcel with gender equality.
"I've always firmly believed that more options for women in bad situations are better," he said. "In my ideal world, we have robust access to reproductive health care across the board for women. And those who find themselves in a position where they've just given birth to a child and don't feel like they have an out, I think that's an important measure to give, too," Kreis said.
Many of Kreis's colleagues in reforming the bill were anti-abortion, but he does not see that as evidence that safe haven laws have an anti-abortion purpose. He was outraged by Barrett questioning about safe haven laws at oral arguments.
"I find [Barrett's] invocation of safe haven laws to be obnoxious and egregiously offensive," he told The 19th. "What the safe haven laws are supposed to do is help women who find themselves in a bad situation when it's far too late. … The idea that you could just part with an infant, that's not based in reality," Kreis said.