The world of elite women's wheelchair basketball was shaken this month, as public accusations of emotional abuse eventually led to the resignation of the head coach of the women's Paralympic team.
On December 7, the National Wheelchair Basketball Association announced that Lawrence "Trooper" Johnson would continue as head coach of the U.S. women's wheelchair basketball team after leading them through the 2020 Paralympics.
In swift succession, four current and former members of Team USA posted on Instagram alleging that Johnson, who had also previously also served as an assistant coach for the national team, had engaged in emotional and verbal abuse and "emotional misconduct." Ali Ibanez, a member of the team that won the bronze in Tokyo, wrote that her experiences with basketball were "tainted with feelings of fear." Josie Aslakson, a teammate of Ibanez, described being "quieted, demeaned, and manipulated." Another team member, Kaitlyn Eaton, wrote, "I can no longer stay quiet. I need to speak my truth."
Three days after the initial announcement, Johnson resigned. In a National Wheelchair Basketball Association (NWBA) press release, he described the outcry on social media as a "vicious character attack" after "31 years of dedication" to the U.S. national team. Since the renewed allegations, an investigation into Johnson's conduct has been opened by SafeSport, a nonprofit dedicated to combating abuse in athletics. It is not the first time Johnson has come under scrutiny; a 2018 investigation conducted internally determined no wrongdoing.
The 19th spoke with six former and current members of Team USA about Johnson's coaching. All of the women described their time under Johnson's coaching as "toxic." They said they were called "fat," "slow" and "lazy," and that multiple complaints to leadership about Johnson's conduct had been ignored and dismissed. They described an environment in which they were berated by their coach for perceived shortcomings and slights.
"[By the time I left] I had decided I hated basketball. I've been playing since I was 4. It's not something I expected," Morgan Wood, a former team captain and point guard, told The 19th. "I've played for hard coaches. … That doesn't bother me. But what Trooper did, that bothered me," Wood said.
The NWBA voicemail at the main office was full when The 19th called for comment.
Most elite players and former players interviewed had heard of Johnson before joining the national team. Johnson is a two-time Paralympic medalist and member of the National Wheelchair Basketball Hall of Fame.
In his book "Wheelchair Warrior," Melvin Juette, who played with Johnson in the Paralympics, described Johnson as "the type of player who brings out the best in others, whether you're playing with him or against him. He plays so hard and so relentlessly that you have to raise your game a notch to keep up with him."
This is in stark contrast to descriptions of his coaching from the national team, which players described as an environment that slowly ground down their self-esteem and sense of worth.
Abby Dunkin won a gold medal with Team USA at the 2016 Olympics in Rio de Janeiro, when Johnson was an assistant coach. While she did not compete in the Tokyo Paralympics, she did train with the team while Johnson was head coach. One incident in particular that stood out to Dunkin and other players was what they described as a "weight loss competition."
In a 2018 email to the team announcing the contest, reviewed by The 19th, Johnson wrote: "Think of yourself as a racecar. They're the most powerfully efficient cars in the field… There is no excess weight and every element is tuned for performance. That is what we need from each of you." Johnson wrote that he would look at reduction of skinfold totals and decrease in waist measurement, as well as "specific gains in [players'] strength test."
Johnson is adamant that what occurred was not a weight loss competition. Instead, he says the competition was meant to "reward gains in [overall fitness and conditioning]," adding that the contest was developed with the team nutritionist, the team athletic trainer and both assistant coaches. He remembers one of the team captains asking for clarification about the purpose of the contest, but says he did not receive any additional concerns after that.
Still, Dunkin expressed concerns about the coach's approach. In particular, Dunkin worried about the impact on younger girls, who may be less confident in themselves and their bodies. The youngest player on the team was 14.
"I understand that when you're competing on the elite level, you want to be in the best shape possible," Dunkin said. "But at the same time, you have a team of young women and girls with disabilities."
The existing research is limited by small sample sizes, but anywhere from 15 to 62 percent of women competing in college sports have reported struggling with insufficient caloric intake and excessive exercise. The issue is common enough that there is a name for it: Relative energy deficiency in sports syndrome, better known as RED-S syndrome. Athletes struggling with the condition experience disordered eating, osteoporosis and loss of menstruation. In 2019, former champion track athlete Mary Cain made a video op-ed for The New York Times, delineating how men coaches and expectations at the elite level destroyed her body and career.
In another training session, Johnson asked players to hold a basketball with their arms outstretched for as long as they could manage. The position was painful and, one by one, girls and women on the team would drop the ball.
According to Eaton, there was immense social pressure to push beyond physical limits in order to impress Johnson.
"Some of these girls held the ball out for as long as 40 minutes. Afterward, they couldn't move their arms. They couldn't push their wheelchairs back to the dorm or get up and out of bed the next morning," she said.
Johnson also remembers the exercise. He compared it to exercises done when he competed in non-disabled sports. "They were competing against each other, just like they were during the pull-up test, 12-minute push, shooting test, bench press and more," he said. "It wasn't a punishment, and they could have stopped at any time."
For manual wheelchair users, the use of their arms is everything. Without their arms, they can no longer move freely. "We use our upper bodies for everything," said Stephanie Wheeler, a former board member of the National Wheelchair Basketball Association and previously a Team USA coach herself. "Not just to play our sport, but to be able to have healthy lives outside the sport. If we sustain shoulder injuries that significantly impacts our quality of life."
When Johnson's renewal was announced, Wheeler resigned in protest, citing the complaints made by players. Johnson was an assistant coach, assigned to her by the NWBA, during her tenure leading the team from 2016 to 2018.
"I am giving my full support to our athletes. They deserve to be listened to, and their concerns to be directly addressed to the NWBA," Wheeler wrote in a letter publicly posted to multiple social media platforms.
In an email to The 19th, Johnson explained that he held the women's national team to a different, higher standard. "As coach of the national team, we are trying to get athletes to be the best in the world. We are constantly pushing them to work outside their comfort zone and push past their perceived limits… I pushed them to understand that if you want the respect of representing your country, you need to earn it."
"Some of them felt they were simply entitled to wear the jersey," he continued. "I only wanted to hold them to the same standards as their Olympic counterparts, because equality was what they asked for."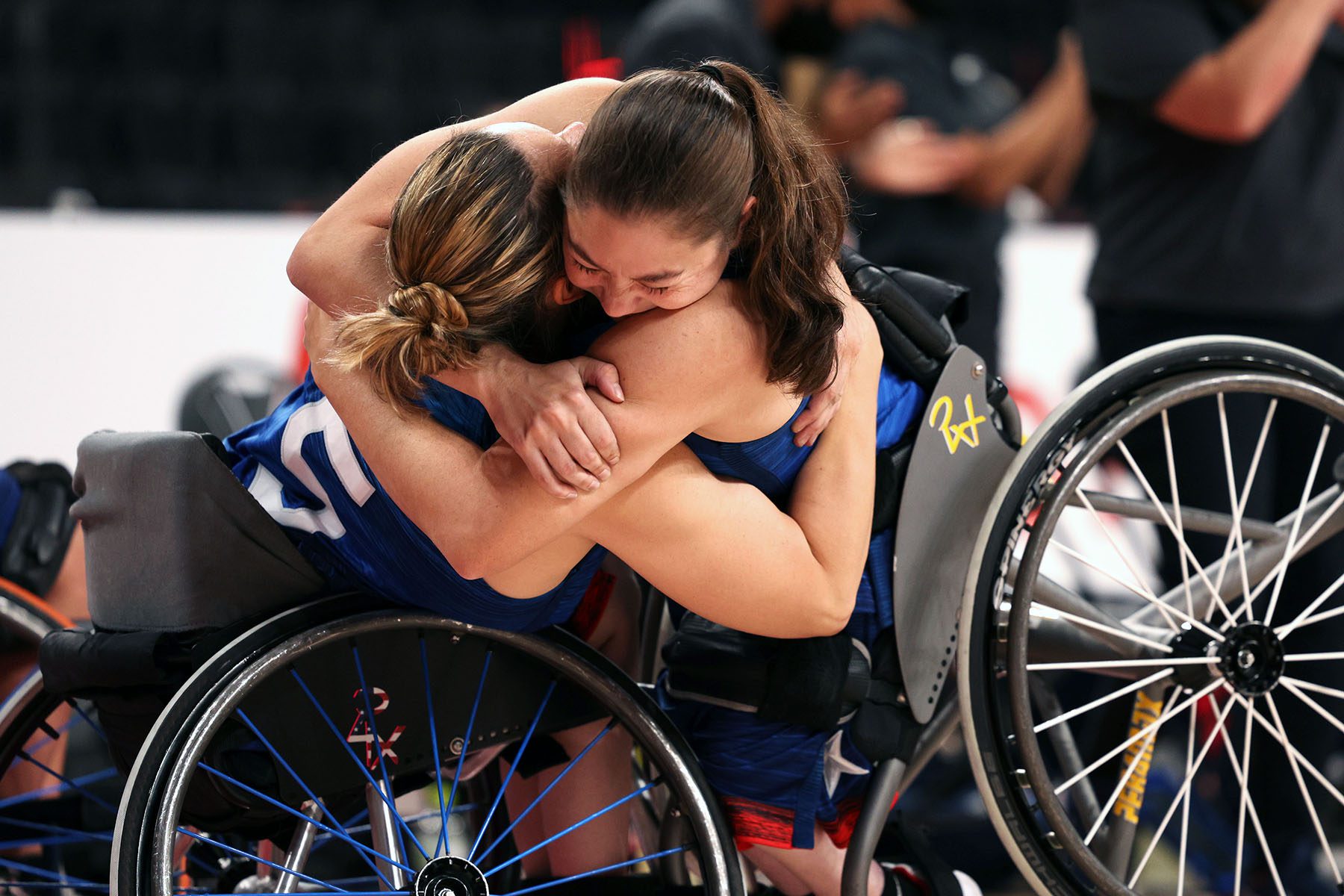 Brian Gearity is a professor at University of Denver and an expert on misconduct and abuse involving coaches. In an unpublished study presented at a conference recently, Gearity and his co-authors surveyed athletes over the age of 18 to reflect on their experiences of abuse in sports. The study covers a wide range of abuse — physical, sexual and emotional. Over 60 percent reported experiencing some kind of abuse.
Gearity points out that some coaches will attempt to justify abuse as a natural result of seeking excellence. They see themselves as tough, rather than abusive.
"Coaches say things like that they have high expectations and standards. They start to rationalize and justify. We have this way of understanding that abuse is necessary for enhanced performance. And that's absolutely absurd," he said.
Gearity said that anxiety and depression in athletes and former athletes were correlated with the amount of abuse they feel they experienced. "We continue to allow [abusive behavior]. We have coaches that think it's normal and desirable," Gearity said. Players usually have little recourse. "They're at such a disadvantage because if they complain the coach can just kick them off the team and make their life hell," he continued.
Gearity also said gaps between how coaches perceive their own behavior and how athletes perceive that behavior are common. "[Abusive] coaches will see themselves as better leaders, very fair and caring, and the athletes don't," he told The 19th.
There is some disagreement about how many complaints were made about Johnson. An internal investigation into Johnson's conduct was opened in 2018 after a letter signed by multiple players alleged that Johnson created an environment for players that was "degrading, manipulative, malignant, unhealthy and disrespectful." At the time, investigators determined nothing untoward occurred. During an open forum, the NWBA asserted they were only aware of two: one from 2018 and the most recent complaint made after players posted their experiences on social media. Others have said they made multiple complaints that were simply disregarded.
Said former player Dunkin: "We've all been speaking up and speaking out, but nobody's been listening."
After the investigation stemming from the 2018 complaint, the NWBA said it would provide additional oversight and work with Johnson to improve his communication skills. In an email sent to the 2018 women's national team, Dan Byrnes, a former NWBA official, wrote: "It is our hope that people will no longer perpetuate a story line that reflects an ethical issue when our fact-finding feedback process revealed the opposite."
Wheeler was also not aware of more complaints, but she does not believe that is an indication that no misconduct occurred. "I think [after 2018] a lot of athletes just sort of put their heads down and did the best they could to get through that period," she said.
"There was nothing I would consider abuse that I know of or that was told to me," she told The 19th. She does, however, remember him shouting at her over decisions he did not agree with, in ways she did not feel were appropriate. In one particularly heated instance, she said, "he threatened to quit" if Wheeler didn't go along with him.
When asked why so many former players have been stepping forward with accusations of abuse and misconduct, Johnson said, "I wish I knew the answer … I think they wanted a change. I believe they wanted a female coach and someone who is their friend. I hope she can set their friendship aside and be as demanding as Team USA deserves."
Less than a week after Johnson stepped down, the NWBA announced Christina Schwab, another former Paralympian, as the team's new coach. Wheeler is one of only three women head coaches (now including Schwab) in the history of the team, which was founded in 1968.
Wheeler praised the new head coach.
"Christina was a teammate of mine. She's a phenomenal coach and a phenomenal person," Wheeler said. However, she will remain on the outside. "I do not feel the [National Wheelchair Basketball League] is in a place where I feel comfortable aligning myself with them." While she is pleased by Schwab's new role, she believes that the National Wheelchair Basketball League has more systemic issues to address in terms of transparency, process and accountability.