"Excuse me, I can't hear you. Speak up."
This was some of Hillary Clinton's first advice to Huma Abedin, then a 21-year-old intern, on her first day at the White House. For the next two decades, through a successful Senate election, a high-profile term in the State Department and two failed presidential campaigns, the two women's lives became inextricably linked in a world of power and policy that remains dominated by men.
Clinton's story is well known. Now, Abedin is speaking up. Following the publication of her memoir "Both/And," Abedin — who began keeping a low profile as she faced problems in her marriage to the former representative Anthony Weiner about a decade ago — sat down with Clinton on Thursday at the 92nd Street Y in New York for a candid conversation about what it was like being a woman in the White House, surviving scandal and the importance of empowering other women. The conversation was moderated by Samantha Barry, editor-in-chief of Glamour. 
"I decided to write my own story, because I feel like for most of my professional life, somebody else has told my story," said Abedin, a daughter of Indian and Pakistani immigrants. "And as a result, they've been writing my history. So I took it back."
Abedin was one of Clinton's top aides at the State Department, and the two reflected on the feeling that their work put them in an unusual space for women on the world stage.
"Madeleine Albright and Condi Rice and I joke about the three of us being honorary men," Clinton said, referring to her two women predecessors as secretary of state. Other world leaders recognized them instantly as representatives of the United States."But for a lot of women who traveled with me," she added, "they had a much more interesting and more candid experience."
On multiple occasions, Clinton recalled meeting with leaders speaking Arabic or Urdu, communicating through a translator. She would bring Abedin — who is fluent in Arabic — into the room where she would fade into the background, overlooked by many because she was a woman. A leader would talk at length, sometimes agitated, and then the translator would say something like: "And he hopes you have a pleasant stay."
Abedin would later brief Clinton on what was actually said.
"One of my favorites was going into one of these meetings with Arab leaders," Abedin said. "And [Clinton's] reading her very formal talking points, you know, some bill being passed in Congress. And this president leans over to his aide and says, 'What the heck is she talking about?' in Arabic."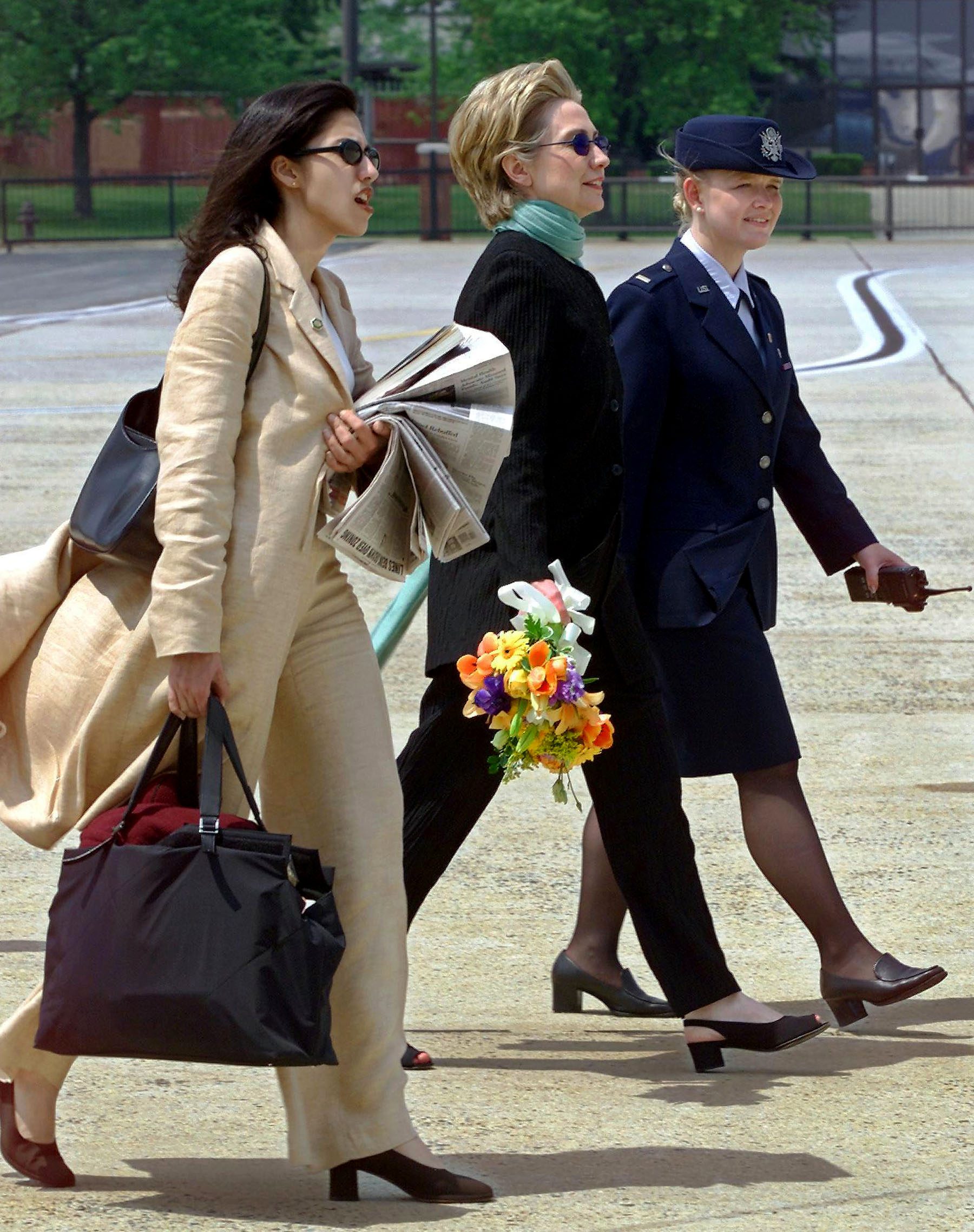 Over the past decade, Abedin's professional achievements were overshadowed by troubles in her personal life. Like Clinton, she is not a stranger to scandal and conspiracy. Abedin was there when former President Bill Clinton admitted to his affair with then-intern Monica Lewinsky. She was still working alongside Clinton when her own marriage to Weiner began to unravel. 
Over the course of five years, Weiner was caught sharing lewd photos of himself to women on social media and texting explicit messages to an underage girl. And when emails found on Weiner's laptop prompted former FBI Director James Comey to reopen an investigation into Clinton's emails just 10 days before the 2016 election, Abedin was certain that her time working with Clinton was over.
But it wasn't. Despite many calls to fire the aide whose husband's scandal potentially cost her the presidency, Clinton refused. She was angry and bewildered, but Clinton felt sorry for her aide and all that she had gone through with her husband.
"What did she have to do with what happened?" Clinton asked. She told Abedin that she wouldn't fire her because it wasn't the right thing to do.
Though she said she will carry Clinton's 2016 presidential loss to her grave, Abedin said she is learning to stop living in anger. After years of trauma and shock, Abedin went back to her family's home in Saudi Arabia and in 2018 visited Mecca, the holiest location for Muslims. There, she found a way to be optimistic again despite pain and hardship.
Throughout her travels with Clinton, Abedin said she met many Muslim women, from Iraq to Macedonia, who reminded her of the matriarchs in her own family who shaped her life. Her new memoir starts and ends with the women in her family. "Honoring the past, understanding history, helps us decide how to make decisions for the future," she said.
More recently, Abedin has been focusing on evacuating women from Afghanistan, particularly those on the "Taliban kill list" — a list of about 1,000 women that are being hunted by the extremist group, Clinton said.
"I know some of these women," Clinton said to Abedin. "And they are incredible and indomitable and hope someday to be able to go back and try to do what your mother and your mother's family enabled her to do: to get an education, stand against tradition and now oppression."
When asked what was next for her, Abedin said she doesn't plan on running for office but hopes to go back to being invisible and out of the limelight, where she has been for so long. Abedin's memoir is a story about politics and public service, and at times a rare glimpse into the inner workings of the White House. But it's more than that, Clinton said.
"It's also about falling in love and being so blissfully happy and getting married and having a baby who is adored, and then having it all come crashing down," Clinton said. "And how do you get up from all of that? It's a choice… And I hope that a lot of people, particularly young women, will find something in her story that gives them that sense of possibility for themselves."