A bill that would ban K-12 transgender students from playing on sports teams that match their gender identity passed through a full House vote in the Texas legislature late Thursday night, marking a notable advancement in anti-trans legislation in the state.
HB25, introduced by Republican Rep. Valoree Swanson at the start of the third special session, is one of the few anti-trans bills in the Texas House to make it through a full vote instead of dying in committee. Gov. Greg Abbott and Lt. Gov Dan Patrick, both Republicans, have stressed that restricting trans students' access to sports is a top priority in the state's multiple special sessions.
HB25 now heads to the Texas Senate, where it is expected to pass.
For trans Texans and their families, months of battling the bills have left them exhausted and fearful that this legislative cycle will never end, as the state has introduced the most bills targeting youth this year.
"It's just been a living nightmare," said Hillary Moore-Embry, who lives in the Houston area.
Moore-Embry and their family, including their transgender son, plan to move to Colorado after Christmas to get away from the record number of anti-trans bills in Texas. Moore-Embry and their husband are willing to take on a greater cost of living and uproot themselves from the town they both grew up in to protect their son and his mental health.
Although their son doesn't play sports, absorbing the rhetoric and debate over the bills by lawmakers — many of whom do not publicly acknowledge transgender as a possible gender identity while debating the bills — has taken a toll on his mental health, Moore-Embry said.
Lisa Stanton, the mother of 10-year-old Maya Stanton, who is trans, is also considering moving, though the family is unsure where they'd go if they left Houston.
"There's an overwhelming sense of fatigue and burnout from this, mixed in with a little resignation and defeat today," said Lisa Stanton, who burst into tears after being asked how the family is coping.
"We're trying to put on a brave face for our kids, but it's really hard," she said.
Stanton said she is not hopeful about the future of similar bills being fought over in the state, as multiple companion bills to HB25 have been introduced for the third special session.
"Let's say … they leave us alone for a little bit. It's just the next legislative session, it's going to be all over again," she said.
HB25 goes beyond current rules issued by Texas' regulatory body for high school athletics, which already requires trans students to join single-gender sports teams according to what is on their birth certificate — but allows them to compete under legally updated birth certificates. That rule would allow a student to compete after transitioning and changing the gender marker on their birth certificate.
Parents that The 19th spoke with are concerned about enforcement of HB25 and do not understand how schools could know whether a birth certificate has been legally modified — under the stipulations that HB25 allows — or not.
At Thursday's hearing, opponents of the bill also pushed for more explanation.
The process for verifying a student's birth certificate under these circumstances is ultimately up to schools and their districts, instead of Texas' regulatory body, the Texas Tribune reports.
The University Interscholastic League, which oversees extracurricular competitions for the state's public schools, did not respond to a request for comment on the bill.
Debate at Thursday's hearing frequently devolved into arguments over basic definitions of what being transgender and cisgender means, and whether transgender girls are actually boys. Swanson said on the floor that she did not recognize "cisgender" as a valid description.
When asked by an opposing lawmaker about potential negative effects against trans youth caused by the bill, Swanson deferred back to some of those arguments.
"We don't want to cause harm to anyone. … The only way we can do that is to decide by biological sex," said Rep. Valoree Swanson during Thursday's hearing.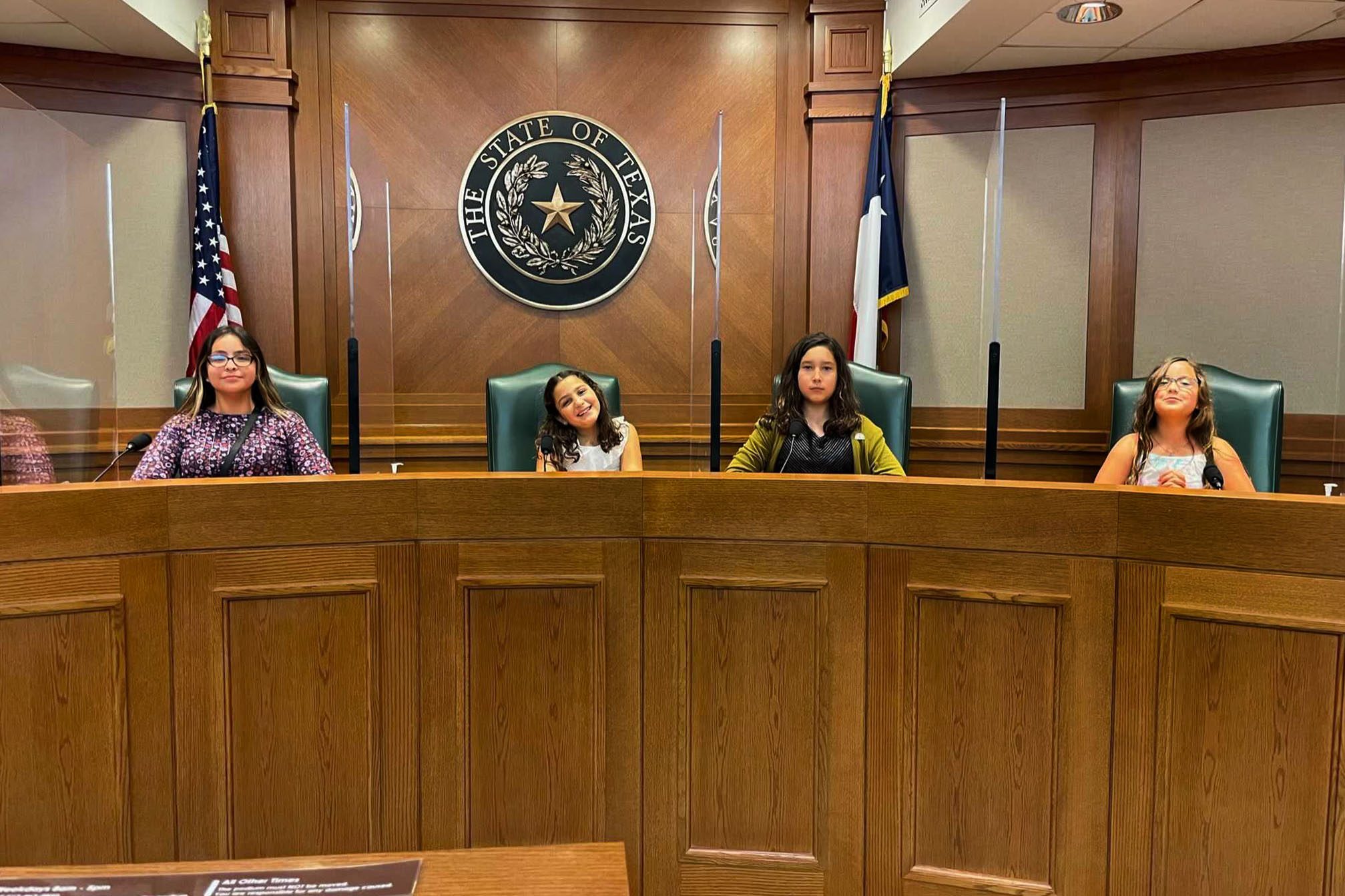 "She already has caused harm," Stanton said in response, in an interview with The 19th. Compared with 10 months ago, when her daughter first testified against similar legislation in Texas, Maya is now experiencing new levels of anxiety and fear, she said.
"Last night, she had to sleep in my bed," Stanton said. "She's like, 'Are we going to move? Why are they doing this to me? Why do they hate me?'"
Rachel Gonzales, who has testified against anti-trans legislation in Texas over the past five years, often alongside their 11-year-old daughter Libby, said this moment felt different to them.
"I've never hit a point in my life where I've been like, I don't know if I can show up again," they said. "There's no end in sight."
Gonzales, no stranger to traveling to the state capitol from their home in Dallas to protest bills, said that this year has brought heightened vitriol inside the halls that they have not seen before. 
"This year is worse in that people are emboldened at a real next level," they said.
Stanton said supporters of the bills have spit on her and her daughter when they travel to the capitol to testify. Gonzales described supporters telling their family that they are child abusers who are dismembering their kids by allowing them to transition.
A record number of bills targeting trans youth have been introduced across the country this year, with Texas bringing the most. Only a handful of the bills have passed through state legislatures so far, but advocates have been raising alarms that rhetoric surrounding the effort will expose trans people to more violence.
Bills targeting trans athletes have successfully swung through the Texas Senate three times this year before stalling in the House, the Texas Tribune reports. Now that the House has the votes to pass a sports bill, advocates fear more consequential legislation could be incoming.
Other bills previously introduced in the Texas legislature year have aimed to classify gender-affirming treatments like hormones and surgeries as child abuse and ban puberty blockers provided by a physician. Some of these bills have previously died in the House, although the efforts to classify gender-affirming treatment for minors as child abuse have been reintroduced for the current special session.
Rev. Remington Johnson, who served as an interim pastor at Hope United Church until this spring and has testified five times this year at the Texas Capitol against anti-trans bills, said although she's proud of what advocates have done over the past year, she is wary of the future.
"I am concerned of what other bills, specifically health care anti-trans bills for youth, that might get a hearing this session or next," she said over text.