82-year-old Wally Funk has logged over 19,600 flying hours and taught more than 3,000 people to fly. But despite passing tests for spaceflight, she had never made it to space — until now.
On July 20, Funk joined Jeff Bezos, the richest person on the planet; his brother Mark Bezos; and 18-year-old Oliver Daemen in a rocket built by Bezos's company Blue Origin. The four-person crew lifted off from a site in West Texas and launched more than 62 miles into the sky, crossing the internationally recognized boundary between Earth and space.
"It's dark up here!" Funk could be heard saying amid the cheering and laughing of her fellow crew members while in space.
The launch lasted a little over 10 minutes.
"I've been waiting a long time to finally get up there," Funk said at a post-flight press conference. "And I've done a lot of astronaut training through the world — Russia, America — and I could always beat the guys on what they were doing because I was always stronger."
Funk got her pilot's license when she was 17. At 21, she went through the Woman in Space Program, a privately funded project designed by Dr. William Lovelace. In the end, 13 women — including Funk — passed the same physical examinations developed for NASA's selection process. The women never made it to space, however, because NASA required all astronauts to be graduates of military jet test piloting programs and have engineering degrees.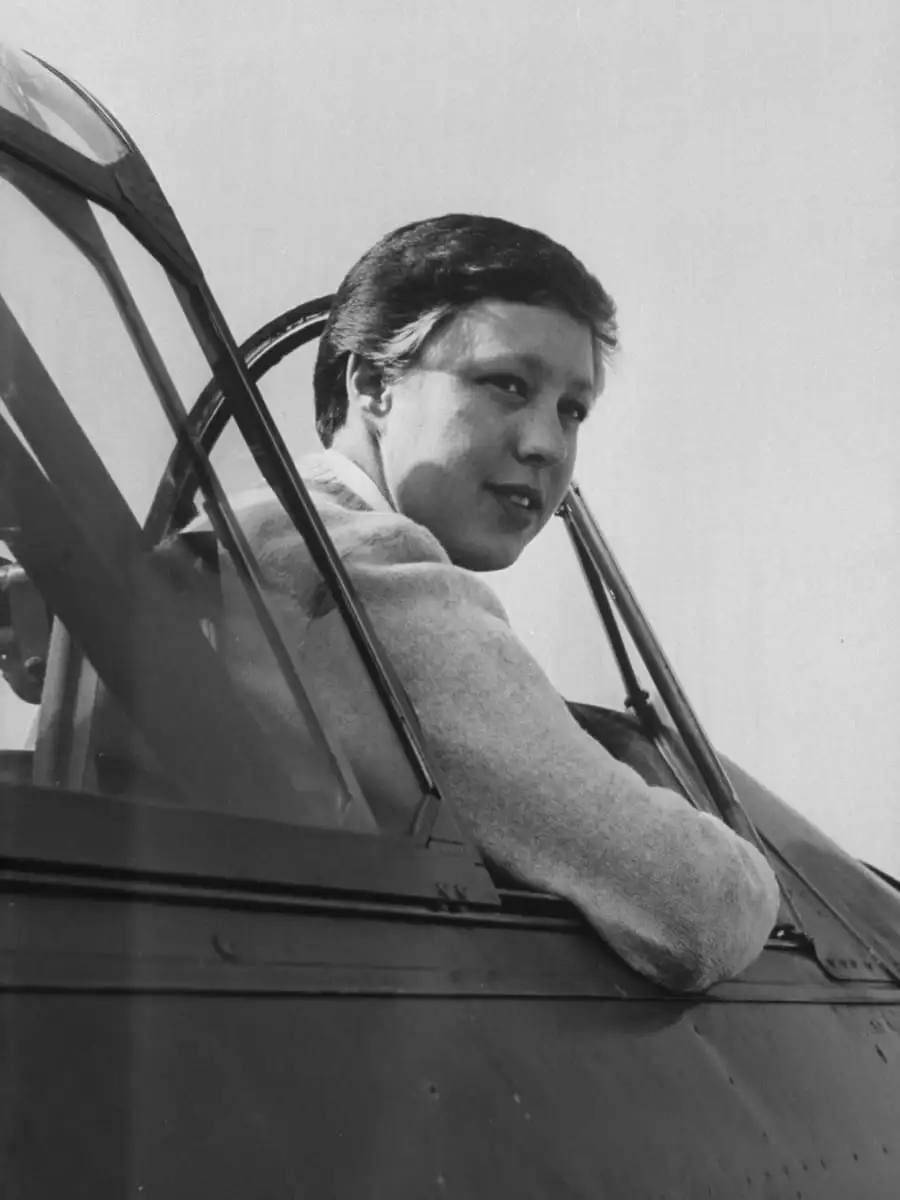 It wasn't until 1983 when the United States sent its first woman, Sally Ride, into space. Since then, 65 women have flown in space, according to NASA.
As she watched the rocket enter space, Jacque Boyd, a pilot and decades-long friend of Funk, said she first cried and then celebrated.
"What everyone saw yesterday — the enthusiasm and positivity — that's 100 percent Wally," Boyd said.
Boyd met Funk more than three decades ago through the Ninety-Nines, an international organization of licensed women pilots founded in part by Amelia Earhart in 1929. Almost all of the women astronauts who are pilots are current or former members.
"Wally used to keep a van in my hangar when I lived at a little airport just north of Fort Worth," said Boyd, who also wrote a doctoral dissertation about aerospace education and taught at the university level. "It started with aviation, but then the relationship blossomed into a friendship beyond piloting. We talk on the phone about once a week. She just is a wonder."
Boyd said Funk has long dreamed of going to space, and she didn't ever give up on it. Funk's perseverance and fulfillment of that dream is "such an inspiration" for young women and young people of every race, nationality and gender, she added.
"I think in some ways, women and minorities are just forging ahead, and the door's open and you can't shut it," Boyd said.
"Quite frankly, I think with women of my age, if we wanted to do it badly enough, we always found a way to do it," said Boyd, who recently turned 70. "You kind of looked the other way and forgot about the idiots that were the naysayers. You just did what it was that you were going to do to get where you wanted to be."
In an industry long dominated by men, women are making their marks as engineers, leaders and astronauts. Last year, Kathy Leuders became the head of the agency's human spaceflight division, shattering a glass ceiling in the industry.
In March, 29-year-old Hayley Arcenaux was selected to participate in a commercial spaceflight aboard a SpaceX rocket, becoming the youngest American and first pediatric cancer patient to reach space. NASA has also announced its plan to put the first woman on the moon by 2024, as part of its Artemis program.