Severiano "Seve" Christian has often felt like they need to choose between applying lipstick and securing a vote for a critical LGBTQ+ bill. They've already decided they won't give up doing their nails — It's just therapeutic — but Christian does worry what lawmakers might think of a matte lip.
"It's become a calculated risk assessment since I've gotten here," they said of the California Capitol in Sacramento. "I have to consider sometimes, 'is this person … going to take me seriously?' When I'm trying to be myself, they might think that I'm just trying to make a political statement."
As a California legislative aide, Christian always prioritizes the bill. At just 25, they have become one of the most consequential but least known LGBTQ+ policy minds in the country.
California leads the nation on intersex rights, ending abuse against transgender people in prison, data collection on queer communities and progressive policies on HIV/AIDS prevention. Over the past two years, the bulk of that policy has stemmed from state Sen. Scott Wiener's desk, and as the primary legislative aide taking up LGBTQ+ for Wiener, Christian has worked on nearly all of it. They have helped bridge the divide between the California Department of Corrections and Rehabilitation and LGBTQ+ advocates on model policy for the treatment of incarcerated people; they have delved into the nuances of best practices of intersex health care, fighting what has become a years-long battle to end what advocates say are traumatic and unnecessary surgeries done on kids under age 6.
Their work has been impactful and critical. But Christian didn't expect to end up in Sacramento. Their journey into politics was anything but assured or ordinary.
Christian grew up in Ukiah, California, in Mendocino County. They struggled in school, grappling with anger and frustration in part because Christian couldn't express their gender. In second grade, they lost out on a part as a hula dancer in a school play.
"I remember specifically being told that boys don't do that," Christian said. "I was like, 'Well, screw that,' but in my second grade verbiage. I totally threw a conniption fit about it."
When they were 10, their family moved to Dairyville, an unincorporated community north of Sacramento. Dairyville, which was Whiter and more rural than their past homes, presented new obstacles. In Dairyville, where Christian was among few Latinx people, they felt the sting of racism intensely. Their peers called them "ghetto." They struggled to fit in.
"I always had this, like, there's this structure around me, I don't have a vocabulary for it," Christian said. At first, Christian attributed that to being a person of color. Later, in high school, their queer identity would add to that pain.
"I was a horrible high school student," they said. "I was always in trouble. I got really bad grades."
Christian's high school newspaper voted them "most likely to be homeless." That image stuck with them when they were weighing going to college at California State University, Chico, something they never imagined would be possible as a young person because they didn't have role models who went to college.
"One of my high school counselors told me you need to be realistic about getting into college," they said. "I had just gotten so many messages about how hard it was to get into college. I didn't see it within the realm of possibility."
The image of that superlative would resurface again when they were briefly unhoused and sleeping on a couch during undergrad.
"I was like, gosh, I'm becoming what they said I would," they recalled. "But now I feel like I've pulled myself out of the gutters to become something that a 17-year-old me would be so stoked on."
In college, Christian finally found community through LGBTQ+ organizing on campus, helping people in the community with gender and name changes, organizing a trans conference and navigating coming out through the campus' Gender and Sexuality Equity Center. The young person whose rage seemed to foreclose their future now saw avenues for real work opening. In 2017, with a dual major in comparative religion and gender/multicultural studies, they applied for the Equality California Institute Comcast fellowship, offered by the statewide LGBTQ+ organization. 
Tami Martin, who ran the program, remembered that Christian had a surprising understanding of institutional injustice at a young age.
"In their application materials, they noted they want to help influence institutionalized structures of power and help to improve the lives of marginalized people whose identities might be unfairly politicized," Martin said.
Christian describes the fellowship as a lightbulb moment. They weren't working on LGBTQ+ issues, but working as a legislative aide, helping to pass legislation, felt like it could be their life's work.
"That was kind of my 'Devil Wears Prada' moment," Christian said. "It was so stressful, but I liked it. I knew then and there that this was the path I wanted."
Christian continued that work for Assemblymember David Chiu, helping to draft policy and talking points, gather research and work with constituents to build support for bills. That work gave Christian their first experience in working directly on queer policy and led to another job. Wiener was hiring a consultant for the state Senate's LGBTQ Caucus consultant. The role would be similar to a legislative aide position, but the aide would be serving all of the out senators, working on policy with lawmakers and community members. Another aide recommended Christian.
"We met, and I immediately had a very good vibe," Wiener recalled.
Just a year later, in 2019, Wiener hired Christian to work on his own staff.
With help from Christian, Wiener's office has put forth some of the most compelling LGBTQ+ legislation in the nation. For the past two years, the San Francisco senator has tried to make California the first to ban controversial infant intersex surgeries. Wiener asked Christian to lead the effort to build support for the bill. It meant serving as an intermediary between intersex advocates and skeptical lawmakers, trying to hammer out policy that would satisfy medical groups without compromising the intent of the bill.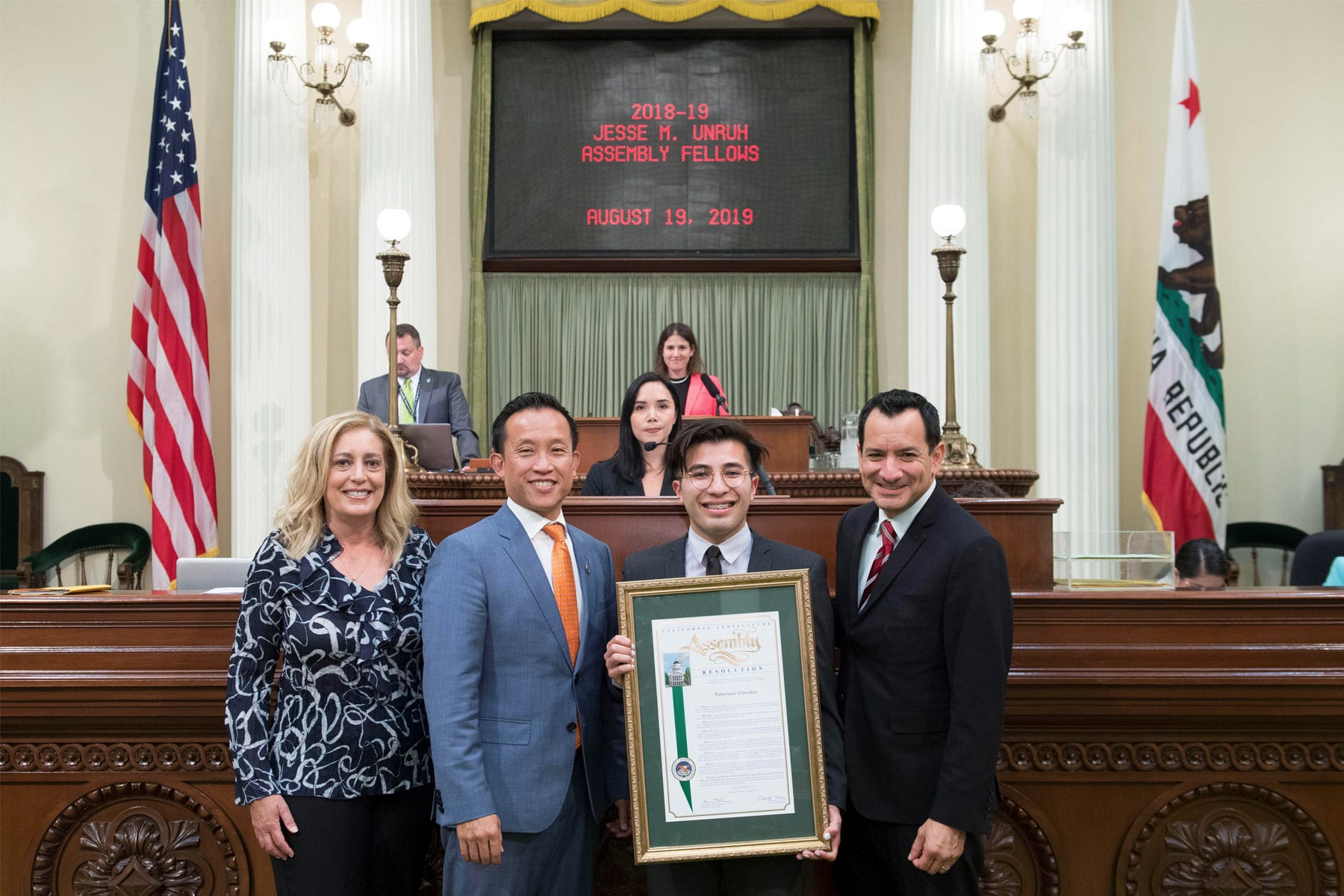 Christian wasn't always sure they were the right fit for the task. They weren't intersex. Still, as a nonbinary person, they knew what it meant to fight for bodily autonomy. And Wiener also knew that Christian, who might come off as pleasant and unassuming, would exhaust every option to win support for the bill.
"At one point, he was like, 'You're the right person for this bill, you're relentless,'" Christian recalled.
Wiener describes Christian as a "velvet hammer." They are ceaselessly magnanimous, but equally tenacious about getting their way.
"Seve, they're a very fast learner," Wiener said. "And they've very quickly learned how to combine being polite and being insistent and doing it really well."
In 2019, no hospital had come out against the operations assigning sex to babies born with variations in sex characteristics outside the binary of male or female. Intersex activists had been protesting the surgeries for 24 years, calling them painful, traumatizing and medically unnecessary.
Like so many times before when it came to LGBTQ+ rights, California was leading the way on the issue. In 2019, Wiener introduced a bill to ban the surgeries. It drew widespread praise, but quickly died in committee. Still, momentum for the movement was growing.
In August 2020, Lurie Children's Hospital in Chicago became the first U.S. hospital to announce it would stop performing pediatric intersex surgeries. That October, Boston Children's Hospital also suspended its most controversial intersex surgeries.
When Wiener reintroduced the bill this January, the climate for the legislation had shifted. But the bill never gained traction, and Wiener was again forced to shelve it. But this time, mainstream media outlets characterized it as a human rights issue.
Still, Christian felt the loss deeply. They recognized that building support might be a long game, but as a nonbinary person, watching a bill that advocated for self-determined gender fail hit them really hard.
"I understand and am realistic about it," they said. "And then I thought about the origins and, I'm like, 'Oh my god, this is a problem of colonialism, and how will we ever change that?'"
Still, they had other wins. In January, a bill introduced by Wiener took effect, mandating state prisons to house transgender people in safer conditions and honor their genders took effect. Last year, the state passed a bill requiring data collection on COVID-19 rates among LGBTQ+ people, a bill Christian drafted with Equality California. Wiener's office led the charge to secure a posthumous pardon for the gay civil rights pioneer Bayard Rustin last year.
All of these strides are happening during what the Human Rights Campaign has deemed the single worst stretch for anti-LGBTQ+ legislation in history. In an unprecedented push to regulate the bodies and lives of transgender youth, more than 30 states are considering anti-transgender legislation this year.
But in California, Christian's work is making an impact. Having spent the pandemic churning out policy from a two-bedroom apartment they share with a roommate and a cat in Sacramento, they say the job feels almost surreal at times.
"I won't lie. I have an existential freak-out about it every so often," they said. "I have moments where I am literally terrified that I'm going to be setting a blueprint for the country."
Christian wrestles with imposter syndrome. They are keenly aware that as one of the most progressive states in the nation, California often sets the tone on LGBTQ+ rights for the nation. The Movement Advancement Project, which scores states on their LGBTQ+ policies, gives California its highest ranking.
They also know that most of that policy is coming from Wiener's office, and by extension, from their own desk.
"I still feel like I've tricked people into thinking I'm competent or something," they admitted.
But Wiener sees deep value in Christian's work, and not just because they are dogged and skilled, he said. Christian brings a personal perspective to queer issues that Wiener says he needs. Christian's history and experiences as a young, gender non-conforming person of color reflect the communities Wiener says he is trying to serve.
"Having gender diversity in the office is really important and really powerful," he said. "Honestly, it holds me accountable, because I'm a gay White man who's 50 plus, and I grew up in a different time."
But in this new generation of the fight for equal rights, Christian is taking up the torch.