Moments after former Minneapolis police officer Derek Chauvin was found guilty of murdering George Floyd, Black women congressional leaders on Tuesday renewed their call to pass legislation bearing the slain Black man's name, bolstered by Vice President Kamala Harris in her address to the nation in the wake of the verdict.
Harris, the daughter of civil rights activists and a former prosecutor who co-sponsored the George Floyd Justice in Policing Act as a U.S. senator last summer, said racial injustice is an American problem that "is holding our nation back from realizing our full potential."
"A measure of justice isn't the same as equal justice," Harris said. "This verdict brings us a step closer and the fact is we still have work to do. We still must reform the system. We are all part of George Floyd's legacy, and our job now is to honor it and to honor him."
Harris, the first woman and person of color to serve as the second-most powerful person in the country, and President Joe Biden watched the verdict at the White House and spoke to Floyd's brother, Philonise, after the decision. 
On Tuesday afternoon, the head of the Congressional Black Caucus, the first Black Lives Matter activist elected to Congress and the lead sponsor of the George Floyd Justice in Policing Act, standing with fellow CBC members and congressional leadership, spoke in front of the U.S Capitol in the wake of the jury decision, expressing relief and urging action.
Many CBC members — whose members represent a quarter of all Americans, including 41 percent of all African Americans and who now number a record 56 members — gathered to watch the verdict together. Caucus chairwoman Joyce Beatty called the verdict a first step.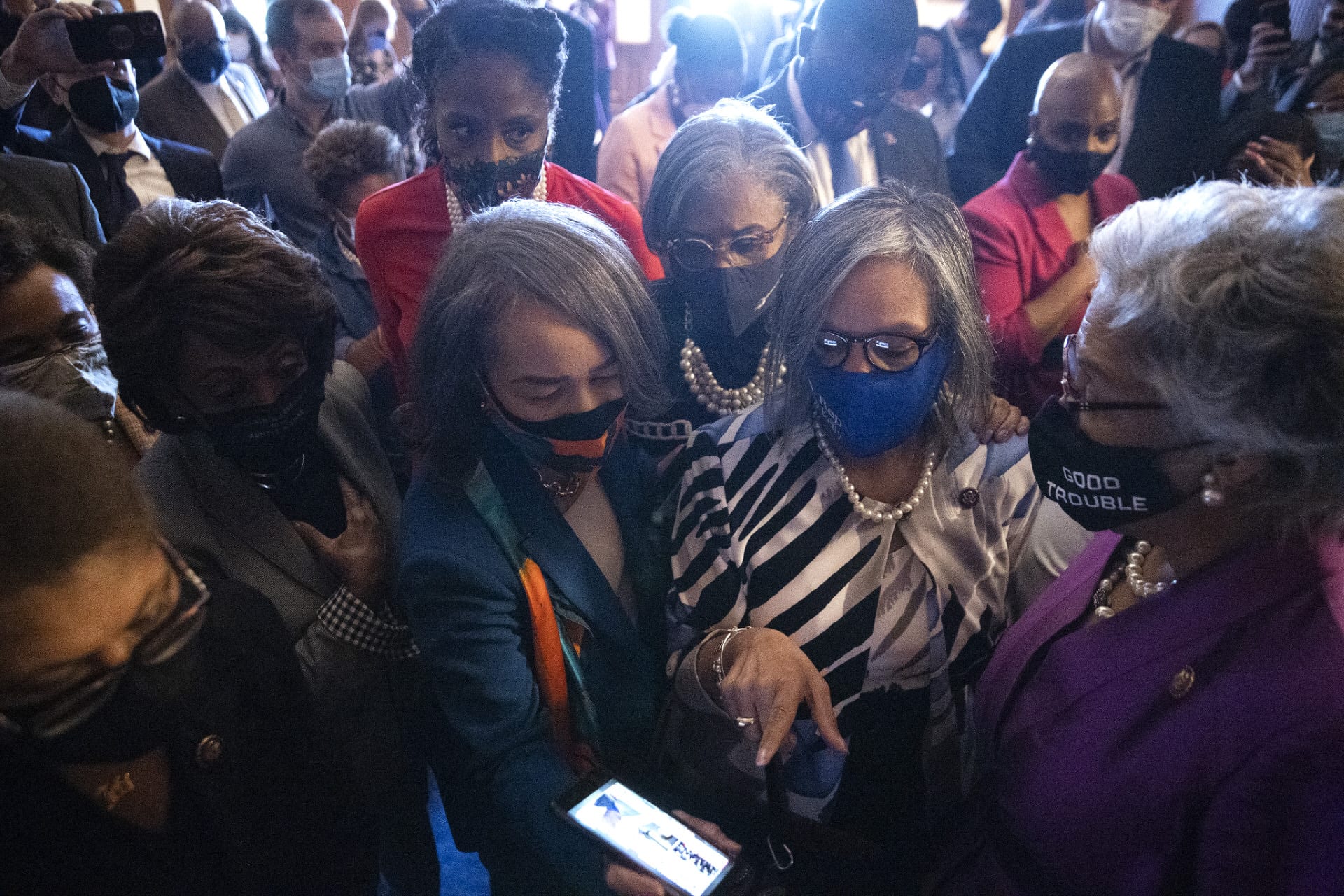 "We are hopeful that today will be the catalyst to turn the pain, the agony, the justice delayed into actions that go far beyond today," said the Ohio Democrat. "We will continue to say all of the names. We will fight continuously for all those who died or who have been injured senselessly by law enforcement. Black lives matter. Justice matters."
Floyd's killing in May 2020, in the midst of the coronavirus pandemic that has also disproportionately killed Black Americans, highlighted the dual pandemics of COVID-19 and systemic racism and sparked nationwide, sustained protests calling for police reform. Biden vowed to address the issue during his campaign, which was among the top priorities for Black voters in 2020. Harris joined protesters as a U.S. senator last summer in calling for accountability.
Bass, a former CBC chair and California Democrat, introduced the George Floyd Justice in Policing Act shortly after his murder. The bill would prohibit discriminatory profiling, mandate training, ban chokeholds, prohibit no-knock warrants, require the use of body cameras by officers and allow individuals to recover civil damages when a law enforcement officer is found to have violated their constitutional rights.
The House of Representatives first passed it last summer, but the bill languished in the then GOP-controlled Senate. Bass reintroduced the bill in February, and the House approved it a second time shortly thereafter, but it has continued to stall in the evenly divided, hyperpartisan 100-seat Senate where passing most legislation requires 60 votes to overcome procedural hurdles.
Bass said Tuesday that now is the time to focus on transforming policing in America.
"For a moment, we have a little bit of relief," Bass said. "In my opinion, this is the human rights issue in the United States of America. Today just marks the beginning of a new phase in a long struggle to bring justice."
The legislation is an attempt to more fully address the issue of policing at the federal level with a range of proposed solutions. Lawmakers, including the CBC, have coalesced around the bill as the latest push for a national response. Harris, in her remarks Tuesday evening, called the bill "not a panacea but a start," adding that the work of addressing systemic racism is "long overdue."
She said of Black Americans, and Black men in particular: "Their lives must be valued in our education system, in our health care system, in our housing system, in our economic system, in our criminal justice system, in our nation. Full stop."
On Tuesday, Biden also called for the confirmations of Justice Department nominees Vanita Gupta and Kristen Clarke, whose roles would also factor into policing accountability at the federal level.
Last summer, during protests, 60 percent of Americans said they trusted the Black Lives Matter movement to promote justice, four points more than said they trusted local police, according to a USA Today/IPSOS poll. By March, trust in Black Lives Matter fell 10 points while trust in police rose to 69 percent from 56. Trust in Black Lives Matter has fallen among both Black and White Americans since last summer, but far more White Americans trust local police, and far more Black Americans trust Black Lives Matter, with divisions also falling partly along partisan lines.
Missouri Rep. Cori Bush, elected in 2020, was an activist during protests over the 2014 killing of Black teenager Michael Brown in Ferguson. Speaking Tuesday, Bush said Black Americans are asking for no more than their fellow citizens.
"All we're doing is saying our lives matter," Bush said. "We want our children to grow up, we want to survive, we want to have the same quality of life as other folks get. Justice for us is saving lives. As an activist, as a legislator, that's the work."
House Speaker Nancy Pelosi joined the CBC and said she had spoken with the Floyd family on Tuesday afternoon.
"They're eager to see the (bill) pass and signed by the president into law," Pelosi said of the family. "This was a step in the right direction for justice done, but it's not over. Thank God the jury validated what we saw."