This reporting was supported by the International Women's Media Foundation's Howard G. Buffett Fund for Women Journalists.
PHILADELPHIA — Bess Kearney arrived early for her 2:30 p.m. appointment, anticipating a wait and long lines. Instead, she moved quickly into the Pennsylvania Convention Center and was exiting the building at around 2 p.m., her first dose of the Pfizer coronavirus vaccine done.
But Kearney, a 68-year-old Black grandmother with a mild form of the lung disease sarcoidosis, said she had been waiting weeks for her turn in line.
"I was happy, very happy when it was my turn," said Kearney, her breathing labored under her mask.
She described applying more than once for a spot through the city's health department website and initially hearing nothing before getting an email on the last day of February. She's due back for her second shot on March 24.
"Now, I have the vaccine to protect me," Kearney said. "This gives me the ability to be with my family. This was very simple and I appreciate it."
Sites like Philadelphia's — one of about 20 mass vaccination sites that are locally run but heavily supported by the Federal Emergency Management Agency — are one part of the Biden administration's effort to combat the pervasive racial inequities that have defined not only the coronavirus pandemic, but now also the ongoing vaccination campaign.
So far, women have been vaccinated at higher rates than men, a reflection of the demographics of both the health care workforce and the nation's most elderly people. But across genders, Black and Latinx people remain far less likely to have gotten a vaccine than White people, despite their increased exposure rates and deaths by coronavirus — and, for Black women and Latinas, their overrepresentation as essential frontline workers.
Health equity experts hope the mass vaccination sites, which can give out thousands of shots a day, could make a difference. But, they say, combating inequity will require a deliberate, sustained and multi-pronged approach, and a strategy that is hyper-aware of the health care barriers that disproportionately affect low-income people, people of color and women.
President Joe Biden and Vice President Kamala Harris took office in January pledging to confront the pandemic with a commitment to racial equity. The pandemic relief package moving through Congress has $14 billion in support for the vaccine rollout, and the president has vowed to have enough vaccines to immunize the entire adult population by the end of May.
But the promise of equity remains elusive. Individual states, which are tasked with the actual act of getting vaccines into people's arms, are taking varying approaches, and not all prioritize racial equity — despite public health experts warning that doing so is essential if the nation hopes to reduce the COVID-19 disease burden.
"Achieving equity is not an aspiration goal. This is mission critical. Absent equity we will not be able to stop this pandemic," Dr. Marcella Nunez-Smith, who leads the Biden-Harris COVID equity task force, told journalists Monday.
---
Not all states are reporting data on race and ethnicity of people vaccinated. As of March 1, according to a Kaiser Family Foundation analysis of the 35 states that provide enough data, 13 percent of White people had gotten at least one dose of a COVID-19 vaccine — almost double the 7 percent of Black people. Only 5 percent of Latinx people had been at least partially vaccinated.
Similar to the lack of data collection around coronavirus testing in the past year, there is no data consistently breaking down vaccine uptake by both race and gender, making it impossible to properly understand what access looks like for Black women and Latinas.
Federally supported mass vaccination sites could help alleviate the emerging vaccine disparity. They are generally scheduled to operate seven days a week and are equipped to dole out 1,000 to 6,000 vaccines daily. The administration has also announced 47 mobile vaccine sites, and is working directly with hundreds of federally qualified community health centers to supply shots.
But health equity experts warn no one delivery mechanism is a silver bullet. Beyond mass vaccination sites, they say, the government certainly needs to fully leverage the nation's 1,368 community health centers — which predominantly serve low-income people — and also partner with local, community-based organizations that already work to combat health inequities.
"Even slots at mass vaccination clinics in a lot of states — they're hard to come by because there's so much demand," said Dr. Marcus Plescia, chief medical officer for the Association of State and Territorial Health Officials. "People with means are more likely to navigate the system so they can get an appointment for somebody."
---
In Orlando, the federally supported mass vaccination site set up near the majority Black and minority communities meant Qualita Glasgow was able to bring her son's mother-in-law, 72-year-old Ginette Desdunes, to get her shot on Thursday afternoon.
She didn't need an appointment and could just walk up, which was lucky because her car had broken down and buses can be unreliable. The convention center — where the bulk of vaccinations and testing were taking place prior to the opening of the FEMA site last week — was 30 minutes away, near the theme park attractions where most locals can't afford to live and where the two of them rarely venture.
"This is so good," Glasgow said, "and especially now that it's running in a way where they don't need to make an appointment because sometimes you may be able to get a ride, but it's not convenient when you have to get an appointment."
The nation's supply of vaccines is also expected to dramatically increase this month, with Moderna and Pfizer ramping up shipments and the Johnson & Johnson one-dose vaccine entering the mix of options.
But supply is only one issue.
"When you go to groups that have even more challenges, I can see an even greater challenge for women in getting access to vaccines," Plescia, said of structural barriers that particularly affect Black women and Latinas. "I haven't seen a whole lot of states focused on that so far."
That, he worried, includes having access to child care and elder care — responsibilities that more often fall on women — pay disparities that could make Black women and Latinas more vulnerable to transportation challenges, and difficulty getting time away from work to get a vaccine.
---
Millie Rivera threw her hands up and shouted as she stepped into the sunshine after getting her vaccine nearly half an hour ahead of schedule on the first day of operation at the Philadelphia FEMA mass vaccination site. Rivera, 60, has asthma and COPD, conditions that bumped her up in the queue, but she said she'd filled out the city's vaccine interest form multiple times before she got the call March 1.
"I didn't believe it," Rivera said. "I waited a whole year for this. I've been in my house, I hardly go out. Now I feel safer, I have a little bit more freedom."
In newly released interim guidelines, the CDC advises that people who are fully vaccinated can interact in small, private settings with other people who are also vaccinated, or who are low risk for severe disease. But the agency recommends against unnecessary travel.
About 250,000 Philadelphians have received at least one dose of the vaccine. More than half of those who have received at least one dose are White, compared with 23 percent who are Black, 4.7 percent who are Hispanic, and 6 percent who are Asian. Meanwhile, per the U.S. Census, 42 percent of Philadelphians are Black, and 14.7 percent are Hispanic or Latinx.
In Philadelphia, as in many places, there are many reasons for the inequities. Vaccines are available at more than 100 locations across the city, but not equally across neighborhoods. A Philadelphia Inquirer report this week showed that the Rite-Aid pharmacy chain — the second-largest distributor of the vaccine in the city — vaccinated one Black person for every 21 White people. The Black Doctors Consortium, headed by Dr. Ala Stanford, a Black woman, is working to expand access in the most vulnerable ZIP codes, but the inequity in the poorest big city in America is hard to combat.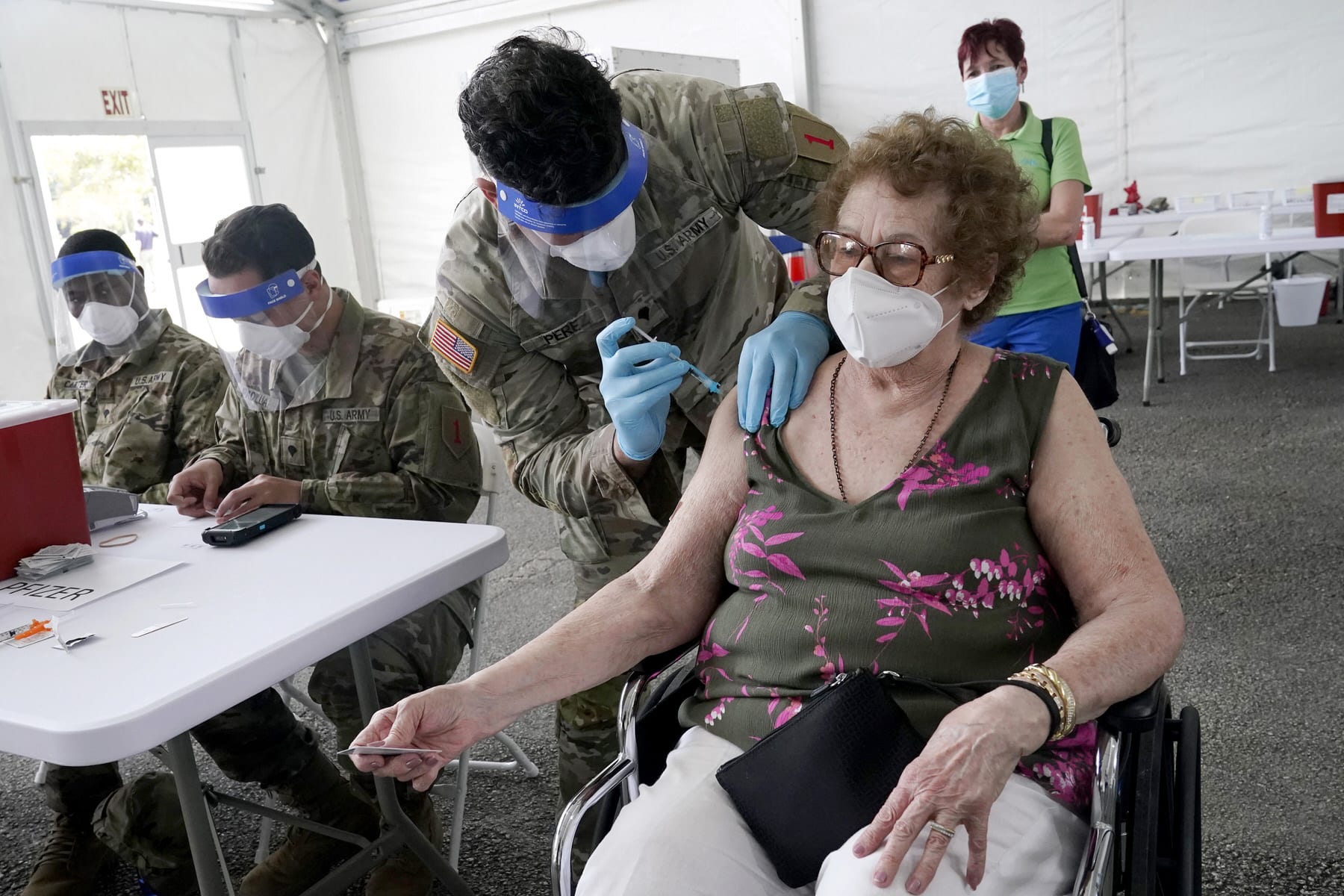 That's true across much of the country. Despite both federal and local efforts in Florida to better reach communities of color, only about 6 percent of those vaccinated are Black even though they make up 17 percent of the population. The data is incomplete; about 11 percent of those vaccinated are Hispanic, but there's no ethnicity data for almost 40 percent of those who have gotten at least one shot.
In Orlando, Alma Williams, 59, got the vaccine on Thursday and is looking forward to meeting her 5-month-old twin great grandchildren in Atlanta in May.
Williams has diabetes and a heart condition and said her doctor gave her a note recommending she be vaccinated, but her daughters didn't want her to get the shot. For her, though, the fear of getting the virus outweighed any other fears.
"This is another layer of protection," Williams said, adding: "I'm still gonna wear my mask, though."
While early polling showed that vaccine hesitancy could be a factory among some people of color, recent polling from Pew Research Center suggests the majority of Black Americans now intend to get a coronavirus vaccine. Other polling also shows hesitancy declining in Black and Latinx groups.
Kearney said she had no hesitancy about getting the vaccine.
"Wearing a mask helps, but if you have something to go along with the mask that's scientific, why not go ahead and do that?" she said.
Pastor Leslie Callahan of St. Paul's Baptist Church has been holding virtual forums for church members to encourage them to get vaccinated. Callahan, 51, posted a video of herself getting the vaccine earlier this year and said hardly any of the Black Philadelphians she talks to and ministers are refusing the vaccine if it's available.
"I think they're going to kill us and tell us that we wanted to die," she said.
Callahan said she's encouraged by recent developments in the national response but that more must be done.
"You cannot tell me the disparity in Philadelphia has anything to do with the lack of desire of Black people, because I know tons of Black people who are in the eligible categories who have been trying to get the vaccine," Callahan said. "It's built in, it's systemic, and they need a systemic solution."
Luthra reported from Washington and Carrazana reported from Orlando.