A year after Breonna Taylor was shot and killed by police officers in her Louisville apartment, her mother is calling for further investigation and accountability, including from the Justice Department.
"Clearly, Kentucky doesn't want to do the right thing," said Tamika Palmer. "I would definitely want it to go somewhere else, if I had a choice."
In the early morning hours of March 13, 2020, 26-year-old Taylor — an emergency room technician and aspiring nurse — was shot to death in her apartment. As the coronavirus pandemic dominated headlines, news of little else broke through. Attorney Ben Crump, who has represented Black families across the country whose kin were killed by police or vigilantes, said Taylor's case also highlighted the marginalization of Black women in society — in life and in death.
"Very seldom do they get the attention and recognition that brothers get when they are killed as a result of excessive use of force," Crump said. "Nobody was even mentioning Breonna Taylor. I remember thinking, 'They killed this Black woman in her apartment and no one seems to care.'"
Palmer described the pain and frustration of trying to get answers and bring attention to her daughter's case as "a nightmare."
"I couldn't imagine something like this happening to her and that nobody was paying attention," Palmer said.
Crump and Palmer worked to bring Taylor's death to national attention. It began to draw national headlines — including on May 11 from The 19th. Her death, as well as the deaths at the hands of police or vigilantes of George Floyd in Minneapolis, Rayshard Brooks in Atlanta and Ahmaud Arbery in Brunswick, Georgia, sparked protests and international outrage throughout the summer.
As people began to learn her daughter's story, Palmer said, their support bolstered her. Taylor's death attracted the attention of presidential candidates, prominent athletes and drew global attention to the hashtag #sayhername, a rallying cry to remember the Black women killed in police violence. Palmer recalled a feeling of relief, exhaling as strangers began standing up for Taylor's cause and affirming that what happened to her was wrong.
Crump said the national attention is crucial in pushing for arrests, prosecution and convictions in cases like Taylor's.
"It means the world when you can have the court of public opinion weigh in on behalf of the dead Black person," Crump said. "If we win there maybe, just maybe, we may be able to get the matter before a court of law."
---
For Palmer, every day is still March 13, because the fight for justice in her daughter's case continues.
"Every day that these people are getting away with this crime, I don't know how I can take time to grieve," Palmer said. "She's a constant reminder to what they did wrong."
In September, a Kentucky grand jury declined to charge the officers who fired into Taylor's apartment in her death. Palmer criticized the approach taken by Kentucky attorney general Daniel Cameron, saying he didn't present all the details.
"I would like for her case to be properly presented to a grand jury, to have an honest chance to have charges brought," Palmer said.
Palmer thinks the response in her home state has been inadequate. Asked whether she wanted Merrick Garland, confirmed Wednesday as the incoming head of the Justice Department, to prosecute the officers involved in her daughter's killing, Tamika Palmer responded: "Definitely."
Crump said Thursday that he "absolutely plans on exploring" the possibility of a Justice Department investigation, adding that the case is a violation of Taylor's constitutional right to reasonable search and seizure.
The Justice Department did not immediately respond to a question about whether officials plan to look into Taylor's killing.
The city of Louisville reached a settlement with Taylor's family that included a record $12 million payment and several reforms to policing meant to protect Black women like her younger daughter, Taylor's surviving sister.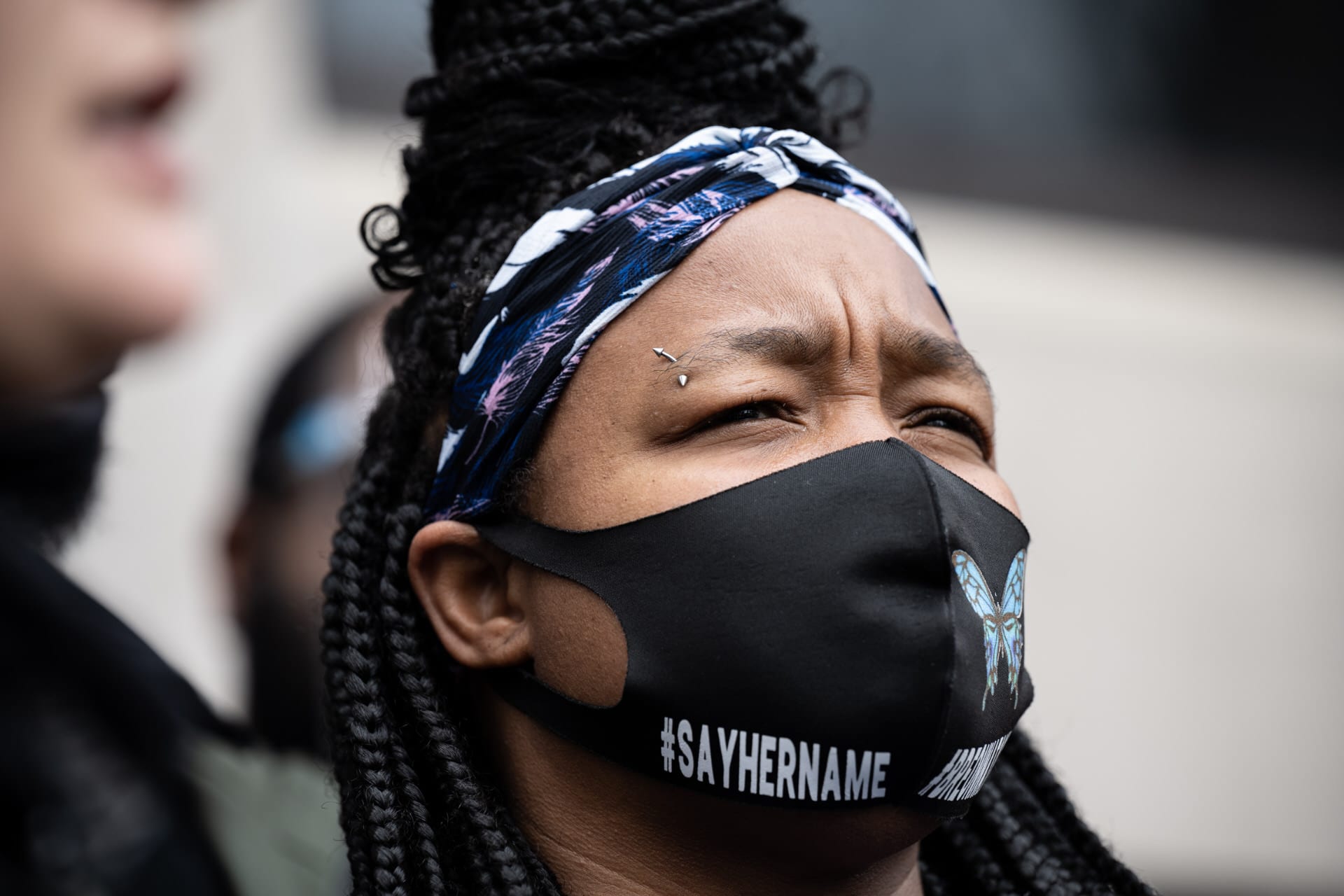 Palmer has also pushed for legislation at the local and federal level to address policing reform. In the past year, both Virginia and the city of Louisville have adopted laws named for Taylor that significantly limit use of no-knock warrants, the kind police were executing on the night Taylor was killed.
In the Kentucky statehouse, state Rep. Attica Scott, a Democrat, has been pushing for a statewide version of Breonna's Law. The measure did not get a public hearing until a few weeks before the end of the session, and the Republican-controlled legislature is considering a separate bill that limits but does not ban no-knock warrants.
Scott said members of the community have expressed concern that the new bill does not do enough. She said the goals of her legislation remains important as the anniversary of Taylor's death approaches.
"We have to keep going. In Louisville and across Kentucky, for Breonna Taylor, for her family, and for all of the girls and women who come after her who are showing up for justice, and who know that with our leadership at the forefront, we can transform anything," Scott said.
The George Floyd Justice in Policing Act, which passed the House last week, would also ban no-knock warrants, among other changes. It has yet to be taken up by the narrowly divided Senate.
Palmer said she spoke to both President Joe Biden and Vice President Kamala Harris during the 2020 campaign — she has not spoken to either of them since they have taken office — and that both expressed a commitment to the policing reforms that were a priority for millions of Black Americans who were part of the coalition that got them elected.
Palmer said addressing the systemic, institutional issues in policing are part of her daughter's legacy.
"Breonna loved helping people," Palmer said. "To have that law in her name is her continuing to help people. Too little, too late for her, but she would be honored that it would help someone else."
---
Crump said cases involving Black women have begun to get more attention since Taylor's death. He pointed to the 2019 Baytown, Texas, killing of Pamela Turner, a 44-year-old mother with a history of mental illness who was shot five times by a police officer who has since been indicted.
"If you were outraged by George Floyd, you should be outraged when you see the Pam Turner video, too," Crump said. "It takes all of us using our collective voice to say her life matters and we're not going to let her life be in vain. We're going to give her the legacy she was denied in life."
Palmer still smiles most times she thinks about her daughter with the attitude and spunk, who owned every room she walked into, the "old soul" who took pride in who she was and how she looked.
For her, she said earlier in the week, part of Saturday will be a celebration of her daughter's life on the anniversary of her tragic death. A march and a rally were held in Louisville for the community to collectively mourn.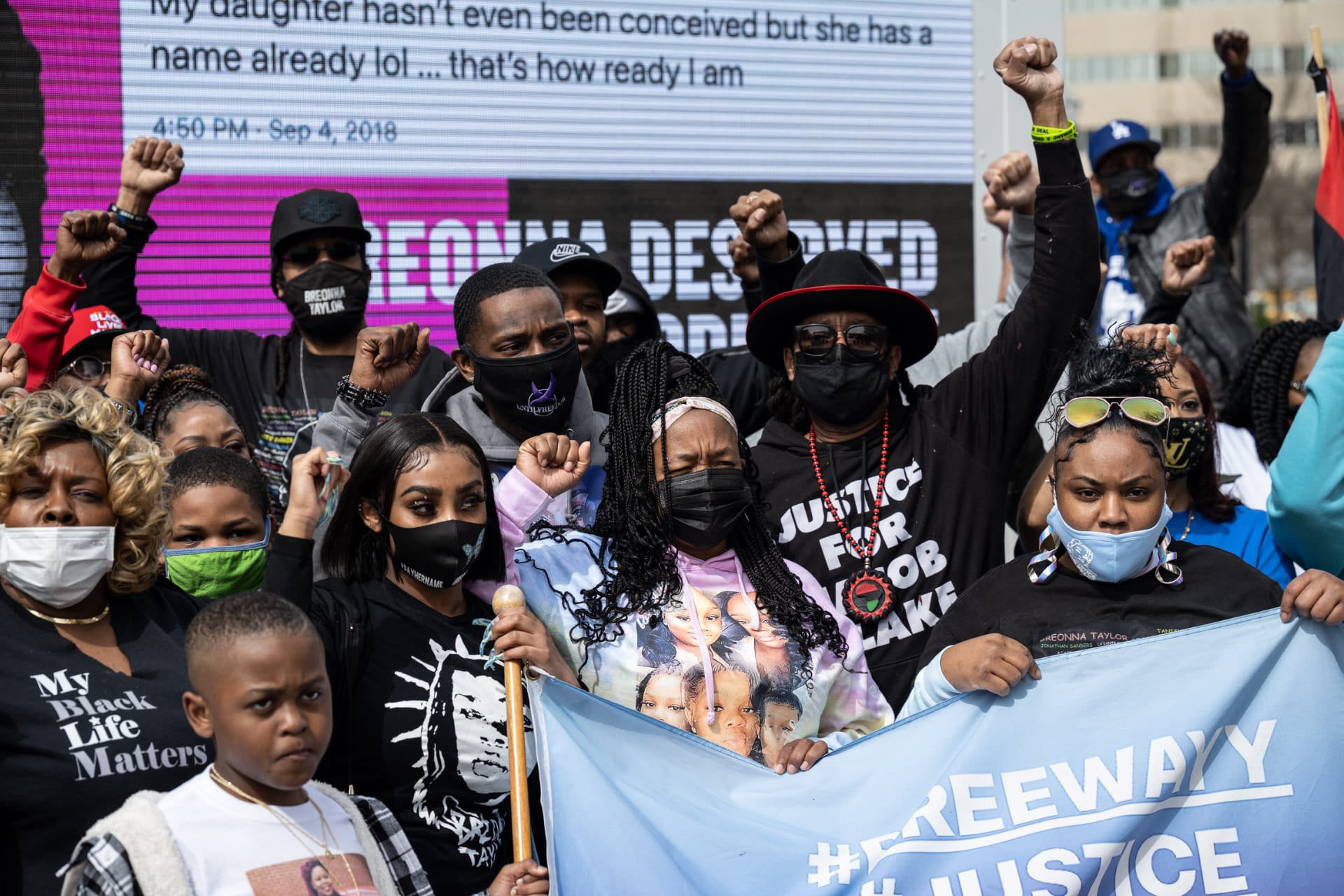 The anniversary of Taylor's death resonated with many who have pushed for justice in the killings of Black people.
"It is profoundly gut-wrenching how much injustice can be packed into just 365 days. … A Black woman was murdered by the police in her home, in the middle of the night, and nothing has fundamentally changed," said Rep. Cori Bush of Missouri, a Black Lives Matter activist who was first elected in November. "That is the reality of this one-year anniversary and a devastating reflection of how our society values Black people — and Black women in particular."
Activist Brittany Packnett Cunningham said she has thought of Taylor nearly every day since she learned of her death.

"Breonna gave her energy on the frontlines of a crisis that would have killed her first, despite how little she was given in return. I don't feel safer or more protected in my Black womanhood a year later," Packnett Cunningham said. "But every time I look at her joy in Breonna's smile and the promise in her eyes, I find the strength to fight. For every Breonna. And for myself."
Palmer is also still working to establish the Breonna Taylor Foundation to help young people interested in a career in medicine.
Taylor had been a child destined for greatness, Palmer said, and her killing robbed the world of an exceptional life of service.
"Breonna would've definitely done good things," Palmer said. "I hate that her face has to be the face of this, but then I try and take comfort in: 'Who could have done it better than her?"
Taylor was someone who brought the people in her life together, her mother said. It's something she continues to do in death. And her life still holds lessons for those she left behind, Palmer said.
"Breonna gave people a voice who didn't know they had one, including me — I'm a person who hates to be in the limelight," Palmer said. "Breonna gave a lot of people a voice, she helped them find their footing and become a part of something. There's a lot of people who didn't know how to get involved and she did that for them. She did that for us."
Though a reluctant activist, Palmer said she remains committed to being a resolute advocate for her child.
"I'm not done yet," she said. "I have to fight it 'til the end."
Barbara Rodriguez contributed to this report.