On January 6, Lisa Eisenhart and her son Eric Munchel, 30, departed the lobby of the Grand Hyatt hotel around noon, bulletproof tactical vests over their clothes and coffee cups in hand. They had driven from Nashville to Washington, D.C., to attend the "Stop the Steal" rally, where then-President Donald Trump encouraged his supporters to descend upon the U.S. Capitol as lawmakers worked to certify an election he lost.
After the rally, the pair made their way to the Capitol. According to court documents, Munchel mounted his cell phone to his vest and started recording. Before rushing into the building, Eisenhart and Munchel paused — bringing weapons inside the Capitol was grounds for "going straight to federal prison," Eisenhart warned, according to a transcript of Munchel's recording. FBI agents allege the mother and son stashed a bag of weapons outside, but Munchel brought his taser.
In one of the most viral images from the riot, Munchel jumps over seats in the Senate gallery holding a bundle of zip-tie restraints in his left hand. "Zip-tie guy," the internet dubbed him. Far fewer reports mentioned what court filings note: Eisenhart was in the Senate gallery too, wielding plastic restraints while chanting, "Treason!" Einsenhart later told a British newspaper that she and her son went into the building as "observers."
"I'd rather die a 57-year-old woman than live under oppression," Eisenhart told The Sun Times. "I'd rather die and would rather fight."
Eisenhart was arrested January 16 for obstruction of an official proceeding, violent entry and disorderly conduct in a restricted building, and aiding and abetting. A Tennessee judge approved her release, but last week, a federal judge in Washington, D.C., ruled in favor of detaining her pending trial even though Eisenhart, who does not have a passport, isn't considered a flight risk.
"Indeed, Eisenhart's willingness to die for her cause indicates that release conditions may be even less effective for her," the ruling reads. "If Eisenhart does not fear the ultimate consequence, the consequences for disobeying release conditions are unlikely to deter her."
The 19th reviewed more than 230 cases connected with the insurrection, which claimed five lives and marked the first time the U.S. Capitol had been breached in more than 200 years. So far, 28 women face charges. Most of them documented their time at the Capitol via social media, and court documents show that co-workers, relatives and, in one case, an ex-partner sent screenshots to law enforcement including the FBI, which set up a digital tip line the day of the insurrection. Many of those who were charged lack obvious ties to the far right, but joined with extremists to storm the Capitol.
More Trump supporters are men, but exit polls show that he won the majority of White women's votes in both 2016 and 2020. Similarly, men made up the majority of those who stormed the Capitol, however, the women there played key roles. Some women who have been charged told law enforcement they were there at the behest of the president, others claim they got caught up in the events of the day. Of the 28 who have been arrested, 21 have been released while they wait for their cases to proceed, and five await trial behind bars. The fate of two women has yet to be determined.
At least four women spoke directly to the media to confirm their participation in the insurrection, some boasting of their patriotism. Gina Bisignano spent more than two hours speaking to the Beverly Hills Courier about her time in the Capitol, expressing both excitement and dread. "My life is over, I'm going to jail," she said in tears. "I'm going to lose my son." Bisignano is currently in custody, deemed a flight risk.
Others have remained quiet, but court documents reviewed by The 19th began to paint a picture of women's roles and intentions during the insurrection. Some spent months physically preparing for the day. Others told law enforcement they made spur-of-the-moment decisions.
Dawn Bancroft and Diana Santos-Smith told the FBI they had not planned to enter the Capitol. But when they heard crowds saying they could go inside after Trump's rally, they crawled through a broken window and stayed in the Capitol for approximately 30 seconds, the women claim. A selfie video sent to the FBI by a tipster shows Bancroft and Santos-Smith in Make America Great Again hats as they stand among a throng stuck in a bottleneck at an exit point, according to court documents.
"We broke into the Capitol…we got inside, we did our part," Bancroft said in the video, according to a transcript. "We were looking for Nancy [Pelosi] to shoot her in the friggin' brain, but we didn't find her."
Santos-Smith and Bancroft were arrested on January 29 and charged with multiple counts of unlawful entry into a restricted building. They are awaiting trial in their home state of Pennsylvania.
The women at the frontlines of the insurrections, however, weren't just the ones carrying it out. Earlier this week, Captain Carneysha Mendoza, a Black woman with the Capitol Police, testified to the Senate about her experiences on January 6. Mendoza said the chemical burns on her face she sustained that day have still not fully healed and her arm was nearly broken as rioters wedged her between a railing. She spent the morning of her birthday in the hospital comforting the family of a fallen officer.
"Of the multitude of events I've worked in my nearly 19-year career in the department, this was by far the worst of the worst," Mendoza told senators.
---
Women are some of the most influential and effective organizers in conspiracy theories like QAnon, which thrives on women-dominated social media apps like Instagram. But QAnon, which views Trump as the protector against a global cabal of Satan-worshipping pedophiles, has jumped from online spaces to places like the Capitol. Ashli Babbitt, who was fatally shot inside the Capitol as she tried to jump through a shattered doorway leading to the House Chamber, was purportedly a follower of QAnon. As was 34-year-old Rosanne Boyland, a Georgia woman who was trampled to death during the riot. Court documents show that some of the women arrested in the Capitol riots also followed the far-right conspiracy theory.
Seyward Darby, author of "Sisters in Hate: American Women on the Front Lines of White Nationalism," views the Trump era as a gateway into extremism.
"The most avowed white nationalists in the country have been really using [Trump] opportunistically, and vice versa — it goes both directions," Darby said. "They can now be in the same spaces as Trump supporters. That exchange of ideas and information and different versions of reality is so much easier than it used to be."
Darby added that extremism can bring people together. Like Eisenhart, many women arrived at the Capitol with family members, friends or other loved ones.
"One thing I do worry about, although less so in the case of January 6 in comparison to past events, is this idea of looking at people as isolated individuals, as opposed to part of this wider ecosystem of communication and motivation and ideology," Darby said. "The existence of things like family networks, or friend networks, or whatever within the arrests that we've seen are important to not thinking about these people in this hyper- individualized way."
Marissa Suarez was supposed to head into her job as a probationary corrections officer at Monmouth County Corrections Facility in New Jersey, but she used an emergency holiday instead, court documents say. Early January 6 she got onto the southbound New Jersey Turnpike in her silver 2019 Jeep Wrangler with her friend Patricia Todisco.
Video inside the Capitol shows Suarez chanting "our house" between bouts of coughing from the remnants of tear gas in the air, court documents say. Suarez texted consistent updates to a person unidentified in court documents.
"Sooo we've stormed Capitol Hill lol," she wrote at 3:20 p.m. "We're inside," she wrote moments later. "On our way back.. shit got violent so we left," reads a text timestamped at 6:55 p.m.
Both women were arrested on January 22 charged with knowingly entering or remaining in any restricted building or grounds without lawful entry and violent entry and disorderly conduct and have since been released. The person Suarez had been texting reported the women to the police.
Rachael Pert went to the Capitol with her boyfriend, Dana Winn, and both face charges for unlawfully and violently entering the Capitol and for disorderly conduct while on the grounds. Pert's co-worker at a Circle K convenience store in Middleburg, Florida, recognized the couple on a flyer from D.C.'s Metropolitan Police Department asking for help identifying insurrectionists. Her co-worker said that Pert requested time off work to go to Washington, D.C.
But the insurrection also seemed to bring strangers together.
Tammy Bronsburg made more than 50 people who took a bus to D.C. for Trump's rally late. She went to the wrong McDonald's about 20 miles away from the pickup location.
Once on the bus, according to a witness, Bronsburg "seemed to bond" with her fellow passenger Mark Aungst. Capitol surveillance video captured Bronsburg with a Trump flag tied over a white puffer coat as she walked with Aungst, who was also arrested for disorderly conduct and illegally entering the Capitol. They were the last people to return to the bus, boarding an hour late. Court documents show that people on the bus told the FBI that Bronsburg and Aungst bragged about being inside the U.S. Capitol.
Texans Katherine Schwab and Jennifer Ryan knew each other through social media — they both worked in real estate, but had never met in person. On January 5, they boarded a jet chartered by another real estate professional. Five "patriots," as Schwab described them, flew from Texas to Manassas, Virginia. Ryan was tagged in Facebook photos taken at a small airport in Denton, Texas. "We're so excited!" the caption reads. "DC bound to #StoptheSteal."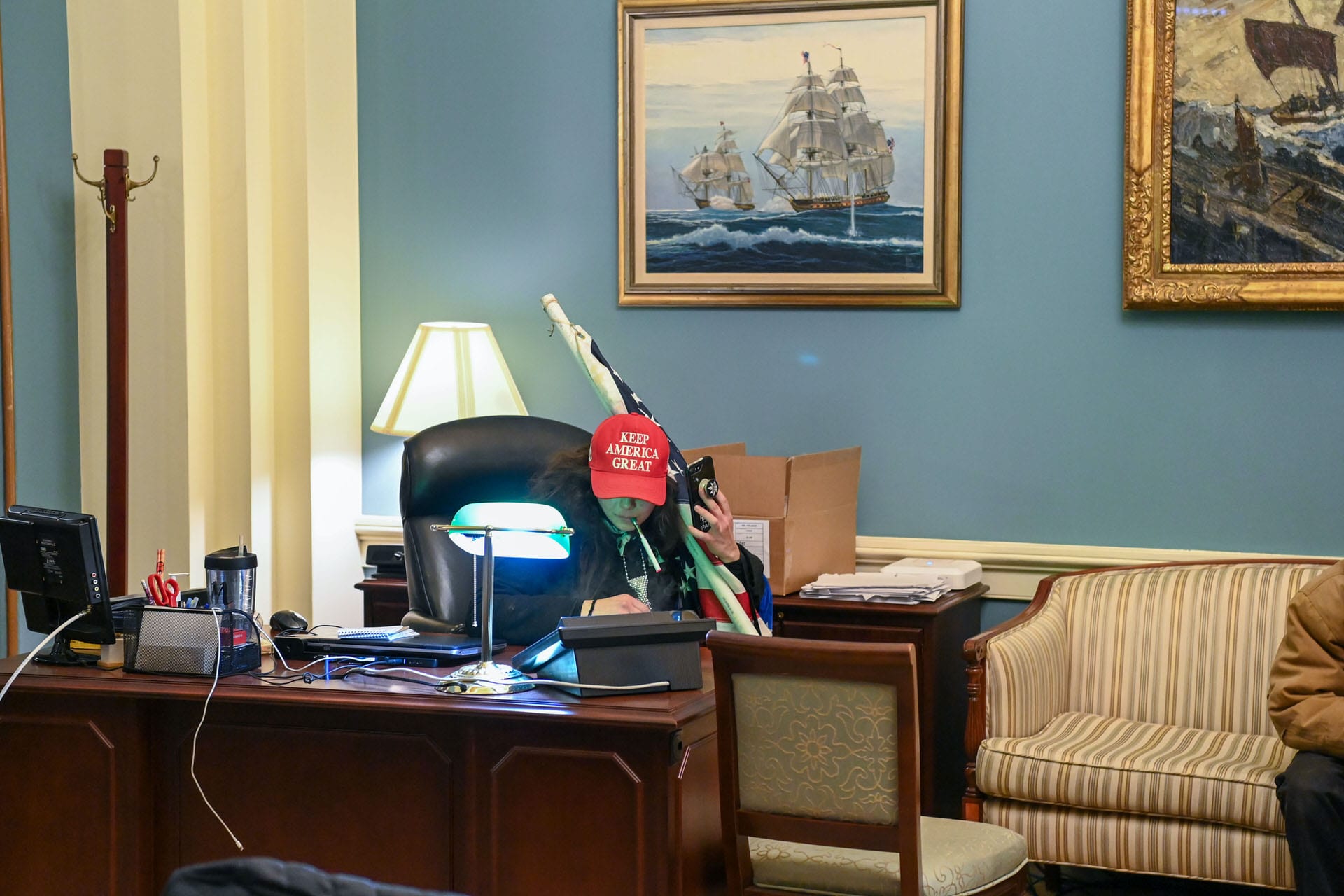 Schwab told the FBI that she, Ryan and some others were at their hotel when they saw news about the Capitol being breached. They got in an Uber to go see for themselves.
On her way, Ryan asked her Facebook friends to wish her luck as she went down to "storm the Capitol." Court documents include various screenshots of Ryan posing for photos, throwing up the peace sign in a Trump beanie. It was one of the best days of her life, she wrote later. In a since-deleted Facebook Live video, court documents say Ryan can be heard saying, "Life or death, it doesn't matter. Here we go." Later, she turns the camera to her face to promote her business. "Y'all know who to hire for your realtor. Jenna Ryan for your realtor."
Schwab reviewed social media footage from Ryan's accounts in an FBI interview — she said the posts made the group look "bad," court documents say. Both women have been charged with knowingly entering or remaining in a restricted building and disorderly conduct, and since neither have been determined flight risks, they're out of custody and in Texas awaiting court proceedings.
---
When Trump lost to President Joe Biden, Jessica Watkins, an Army Ranger veteran who served in Afghanistan, began to hold basic training workouts to get "recruits" trained for "urban warfare, riot control and rescue operations," court documents say. "I need you fighting fit by innaugeration [sic]," read excerpts of Watkins' texts in court documents.
Watkins is a leader in the Ohio State Regular Militia, a subset of far-right paramilitary group the Oath Keepers. Several members of this group, including Watkins, have been charged with conspiracy, as the government alleges the far-right group worked well in advance of January 6 to stop, delay and hinder Congress's certification of the Electoral College vote.
Biden's win signaled that Watkins' "way of life" was over, she said — and she was ready to "fight, kill, and die" to preserve it, according to court documents that include her text log. But she needed a sign from Trump himself to act: "If Trump asks me to come, I will. Otherwise, I can't trust it."
In December, when Trump told his supporters to come to D.C. on January 6, Watkins got her signal. According to court documents of texts sent from Watkins' phone, she said she was confident that her group of 30 to 40 Oath Keepers would stick together and keep Trump in power.
Watkins arrived at the Capitol in camouflaged battle fatigues, a tactical vest emblazoned with an Oath Keepers patch, combat boots, a military-grade helmet and radio equipment, court documents say. Watkins and other Oath Keepers have been accused of forming a stack, a military technique in which people line up and place their hands on the back of the person in front of them to remain together while navigating through a crowd. Watkins' stack allegedly rushed to the front of a crowd that smashed glass panes and busted doors off their hinges, clearing the way for others.
When the FBI searched Watkins' residence on January 17, they found more gear, including a recipe for a destructive device, court documents say. Later that day, Watkins was arrested and indicted for conspiracy along with destroying and entering a restricted government building.
Far-right extremist movements are often characterized as misogynist and male-fueled, which belies the integral role of women in their ranks. Experts on gender and extremism say this is true throughout history. Kathleen Belew, a historian who studies gender and extremist violence, sees women as "the glue" in extremist spaces, making the violent parts possible and carrying it out themselves in some cases.
"If we want to be able to see and combat this as a social movement [and] not a whole bunch of disconnected lone wolf actors who happened to all be there on January 6 … we have to look at and understand what it means to women," Belew said.
In recent weeks, others identified as part of Watkins's group that rushed the Capitol have been detained, including Laura Steele, 52, and her brother Graydon Young, 54. Three days before the insurrection, Steele submitted her membership application to the Oath Keepers of Florida, touting 13 years of experience in law enforcement in North Carolina as a K-9 officer and SWAT team member.
Connie Meggs, 59, and her husband, Kelly, 52, were also allegedly part of this group. Steele and Meggs have been arrested, but the courts have yet to decide if they will be freed on bond. Watkins' attorneys are currently fighting for her release.
"As a transgender female, she is at risk of harsh treatment in custody," Watkins' lawyers wrote. They say Watkins wasn't treated for an arm injury and went on a hunger strike and has been placed on suicide watch.
An overwhelming majority of the women arrested for storming the Capitol have been released from custody. Riley Williams, 22, was ordered to home confinement after being charged with unlawfully entering the Capitol and aiding and abetting others to steal, among other allegations. An ex-romantic partner called the FBI's tip line several times after identifying Williams in footage taken at the Capitol, including a video in which she allegedly takes a laptop or hard drive from House Speaker Nancy Pelosi's office. "Upstairs, upstairs, go," Williams can be seen shouting as she pushed insurrectionists up a staircase an FBI investigator confirmed led to the speaker's office.
Two days after allegedly storming the Capitol, Jenny Cudd appeared on West Texas TV station CBS 7 after a video she posted on Facebook recounting her time inside the Capitol went viral. Her Facebook Live stream and other photos from the day included in court documents show Cudd draped in a Trump flag as she pushed through the Capitol and said she broke down Pelosi's office door.
"I didn't think that this scale of response would happen," she told CBS 7 via Facetime, sporting a Women for Trump baseball cap in the interview. Cudd said she'd received death threats at her business, Becky's Flowers. In the interview, aired on January 8, she said the FBI hadn't contacted her yet, maintaining she had not done anything unlawful.
Cudd was arrested on January 13 for obstructing an official proceeding, entering a restricted building, disorderly and disruptive conduct, picketing in the Capitol and aiding and abetting. Two days after she was indicted by a grand jury, Cudd was granted permission by a judge to go on a work-related trip to Mexico.
Gracyn Dawn Courtright, 23, is a senior at the University of Kentucky. Court documents say she told her father she was staying with friends from high school in Washington, D.C., for a party.
The FBI received screenshots from a since-deleted Instagram account that featured Courtright's first and middle names as the handle. In one photo, with crowds of people at the Capitol toting American flags in the background, a woman the FBI says is Courtright, stands with her weight on her right leg, arms suspended in the air as if in celebration, a pink fanny pack clipped around her waist, a yellow trimmed beanie atop her head. "Can't wait to tell my grandkids I was here," the caption reads.
The FBI picked up on Courtright's distinctive beanie in surveillance video from inside the Capitol with a "Members Only" sign an officer later confiscated from her.
A judge in West Virginia, where Courtright is from, issued a $10,000 unsecured bond, which permits Courtright to attend classes in another state. On February 11, Courtright pleaded not guilty to five counts of theft of government property, entering the Capitol, picketing in the Capitol, and two charges of disorderly and disruptive conduct.
On January 6, within hours of the riot, court documents show that she posted a mirror selfie on Instagram. "Infamy is just as good as fame, either way I end up more known. XOXO," text across the photo read. Someone replied to Courtright's post: "You were there???"
"Yes it wasn't violent like the news said I took pictures all in the building, I never saw the violence, I guess i was lucky," Courtright replied. "The cops like let's [sic] us walk in. … It's history idc. I thought it was cool."