Liz Cheney is a national security hawk who represents Wyoming in the House of Representatives, where the conservative stalwart is a member of Republican leadership. She faced intraparty retaliation for saying Donald Trump "assembled the mob" that attacked the U.S. Capitol and then voting to impeach him.
Marjorie Taylor Greene is an incendiary newcomer from Georgia, where she owned a gym before launching a House campaign rooted in debunked QAnon conspiracy theories. She quickly garnered attention for her fealty to the former president. Democrats, and even some Republicans, denounced her outlandish and offensive assertions.
The clashes over the women's political futures came to a head on Wednesday in what was likely the first battle in a larger internecine Republican war over whether the party should repudiate Trump or continue to embrace him.
House Republicans signaled that, at least for now, they will try to have it both ways.
The high-profile political skirmish put House Minority Leader Kevin McCarthy on the spot as he attempted to balance calls from within his party to oust Cheney, the only woman in Republican leadership, from her post, and outrage over Greene, whose first month in office was marked by an exaggerated, conspiracy-laden version of Trumpism.
After a series of discussions with Cheney, Greene, rank-and-file Republican lawmakers and Majority Leader Steny Hoyer, McCarthy indicated Wednesday that he would attempt to support both women.
Rank-and-file Republicans ultimately agreed, giving Greene a standing ovation during a closed-door meeting before voting 145-to-61 by secret ballot to keep Cheney in leadership.
Greene is expected to be stripped of her positions on the education and budget committees when the Democratic-controlled House holds a public vote Thursday that will force Republicans onto the record.
Republicans' likely untenable balancing act brings into relief the potential benefits and costs for a party that is struggling with how to handle an outgoing president who remains popular with his base but offends and alienates the moderate Republicans and independents needed to win statewide and national elections.
Backing Cheney signals a rejection of Trumpism; acceptance of Greene all but affirms the former president's role as the figurehead of the party.
"They know they need both sides: they know they need the sort of far-right MAGA side, and they need the suburban, traditional conservatives, and Kevin McCarthy is trying to calibrate to figure out how they can have both — and I'm not sure they can," said political strategist Sarah Longwell, who is part of the Republican Accountability Project, which has pledged $50 million to defend lawmakers who backed Trump's impeachment and hold those who did not to account.
McCarthy said that in a meeting with Greene, he "made clear" that her past statements about "school shootings, political violence, and anti-Semitic conspiracy theories" were unacceptable and that she would be held to a higher standard going forward. He nevertheless declined to remove her from her committees and slammed the Democratic effort to do so as unproductive.
Then, ahead of the party meeting, McCarthy told Cheney that he would back her remaining in leadership as the conservative House Freedom Caucus called for Cheney to resign from her post.
McCarthy, who was first elected by his California district in 2006, had waffled in his defense of Cheney in recent weeks after initially rejecting calls to oust her. He was one of 147 Republicans who voted to overturn the valid results of the 2020 election on the day the Capitol was attacked, which prompted Trump's second impeachment.
McCarthy's attempt to navigate Cheney's vote, Greene's behavior and his own decision to reject the results of a free and fair election have put the Republican Party's post-Trump dilemma on full display.
Party leaders have known for months about Greene's social media posts that encouraged political violence or espoused viewpoints that were racist, anti-Semitic or transphobic.
McCarthy denounced Greene ahead of her August primary runoff for videos in which she called the 2018 midterm elections that handed Democrats control of the House an "Islamic invasion" and compared Black Lives Matters activists to neo-Nazis and members of the Ku Klux Klan. But remained silent in recent weeks as additional social media posts surfaced in which Greene shared September 11 conspiracy theories and suggested mass shootings were liberal plots to pass gun-control measures.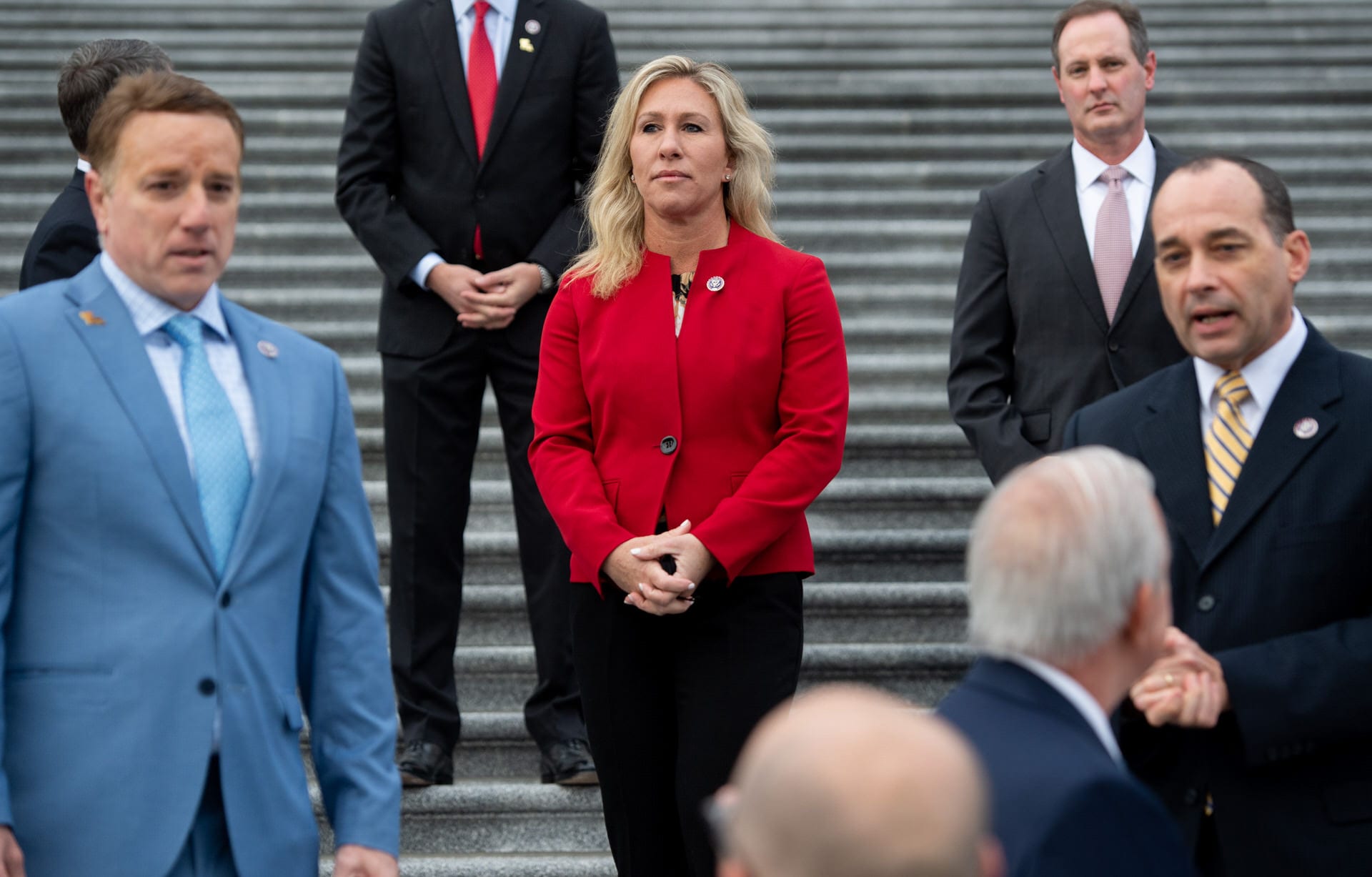 In 2018, Greene said, in an anti-Semitic rant, that California wildfires were caused not by climate change but by space lasers. She indicated support for executing Democratic leaders, including House Speaker Nancy Pelosi. On a 2019 trip to Capitol Hill, she harassed gun control advocate David Hogg, who survived a 2018 mass shooting at Marjory Stoneman Douglas High School in Parkland, Florida, that killed 17 people, then shared the video. "Why are you using kids as a barrier?" Greene asks as she walks behind him. "He's a coward," Greene said when he ignored her.
Greene removed many of the posts and disavowed some — but not before they caught the attention of Democratic lawmakers who demanded her removal from the education and budget committees. The House Rules Committee met Wednesday to debate Greene's ouster, approving a measure that sets up a Thursday vote. It too is expected to pass.
"For whatever reason, they don't want to deal with it, and that's unfortunate," Budget Committee Chairman Jim McGovern of Massachusetts said of Republican leaders.
Spokespeople for Greene and McCarthy did not respond to requests to comment for this story. Cheney's office declined to comment on the matter.
McCarthy signaled his likely reluctance to discipline Greene when he flew to Florida last week to meet with Trump — who has praised Greene and slammed Cheney — about retaking the House majority. Immediately after, McCarthy sent a fundraising appeal citing Trump's support for the effort at a time when other donors have cut ties with lawmakers who voted to reject the election results.
With Trump's continued popularity with the party's base, and his fervent support for Greene, defrocking her of committee assignments could create political backlash against the more moderate members of McCarthy's conference, many of whom fear primary challenges from the right.
"Democrats are eager to make her the face of the House Republican Conference, and if [McCarthy] were to preemptively act, it makes that harder," said Michael Steel, who was a spokesperson for Republican John Boehner when he was House speaker.
"It's not an easy decision, politically," he added.
In a sign that the political calculus differs for senators facing reelection statewide instead of in gerrymandered districts — Greene's, in northwest Georgia, is one of the most favorable to Republicans in the country — several high-profile Republicans have been more forceful than McCarthy in their denouncement of Greene and support for Cheney.
Senate Minority Leader Mitch McConnell told the Hill newspaper Monday that Greene's "loony lies and conspiracy theories are a cancer for the Republican Party." He told CNN the same day that Cheney's impeachment vote was indicative of a "leader with deep convictions and the courage to act on them."
McConnell said that Republican objections to the certification of the election put the party on a "poisonous path." Though he reportedly — and privately — backs Democratic-led impeachment efforts as a way to rid the party of Trump's influence, McConnell was among 45 Republicans who supported an effort last week to declare the impending Senate trial unconstitutional since Trump is already out of office.
Despite this week's scuffles, the ultimate political fates of Cheney and Greene — and the debate over whether the Republican Party will be defined by policy or personality, with Trump as its leader-in-exile — will likely be decided by voters in the 2022 midterm elections.
Greene has predicted a GOP House takeover and said that if Democrats remove her from committees there will be "payback." On Tuesday, she asked her supporters for money, saying Democrats were trying to remove her from Congress, but, since the country's founding, just five House members and 15 senators have been expelled — and 10 of those were Southern senators in a single vote at the beginning of the Civil War.
In Wyoming, some of the county parties have censured Cheney, and she has already drawn a primary challenger just weeks after winning reelection with nearly 70 percent of the vote. Trump's backers, including one of his sons, are openly campaigning for her removal.
It is unclear whether even the Republican leaders who would like to chart a less Trumpian course would be able to do so, or whether the Greene wing of the party is the new near-term normal, political strategists said.
"Every book, movie or TV show teaches us the same lesson: when you make a deal with the devil, you end up regretting it, it consumes you," said Doug Heye, who was previously a senior aide to former House Majority Leader Eric Cantor and an RNC spokesman.
"It's not clear to me how, at this point, at least in the short term, they can pull back," he added.