A barrage of threatening phone calls, voicemails and emails. Myriad social media posts laced with profanities. Threats of harm toward people at state capitols and private homes. In 2020, public officials faced escalating threats of violence fueled by disinformation and misinformation.
On December 5, as Jocelyn Benson and her son were putting the finishing touches on Christmas decorations, dozens of protesters gathered outside of their Detroit home. The crowd, some armed, shouted "stop the steal" and chanted into bullhorns — it was a situation Benson would later characterize as "unambiguous, loud and threatening." Eventually, she and her 4-year-old son retreated to her basement.
It was there that Benson, Michigan's secretary of state, called Dana Nessel, the state's attorney general. Nessel said she could hear the protesters' screaming through the phone and quickly called the local police chief on Benson's behalf.
"That's the kind of moment where you feel very vulnerable," Nessel told The 19th. "It's one thing to read things on Facebook … to hear things reported in the news. It's another thing when people are staked out with pitchforks outside your house, screaming and calling you a criminal and treasonous and all the rest of it, in the dark of night."
Michigan is a microcosm of the escalating threats of violence around the country against elected officials and public servants over a convergence of dynamics: Mask mandates and stay-at-home orders to protect against the coronavirus have prompted blowback; protests over continued racial injustice has created tension in local and state county governments over how to address police brutality; the polarizing election has played a key role in some people wrongly believing the presidential election was rigged — egged on by President Donald Trump himself.
And women got some of the worst of it. Although vitriol was directed toward many office-holders, attacks against women are harsher and more relentless, said Sarah Sobieraj, an associate professor of sociology at Tufts University and the author of "Credible Threat: Attacks Against Women Online and the Future of Democracy," which came out this year.
"It's really intense," she said. "It's very often grounded in trying to delegitimize the speaker as not possibly a credible voice is what sort of undergirds all of it, this idea that this person, this woman, should not be taken seriously."
Benson was the subject of online harassment in the lead-up to the election, particularly on Twitter. Posts about the election brings an onslaught of responses from accounts with few followers. But it intensified after Trump directed criticism at the Democrat by wrongly accusing her of sending ballots to homes (she sent ballot request forms, which other Republican secretaries of state also did). After President-elect Joe Biden won Michigan in the general election, people online criticized Benson once more, this time after she joined other election officials in challenging lies about voter fraud.
The incident at Benson's house came just a few months after authorities announced charges against more than a dozen people accused of planned attacks against Michigan Gov. Gretchen Whitmer and other law enforcement officials, including a scheme to kidnap the Democratic governor. Six were indicted on federal charges in mid-December. Investigators say the men were involved with paramilitary groups and were angered by Whitmer's stay-at-home policies.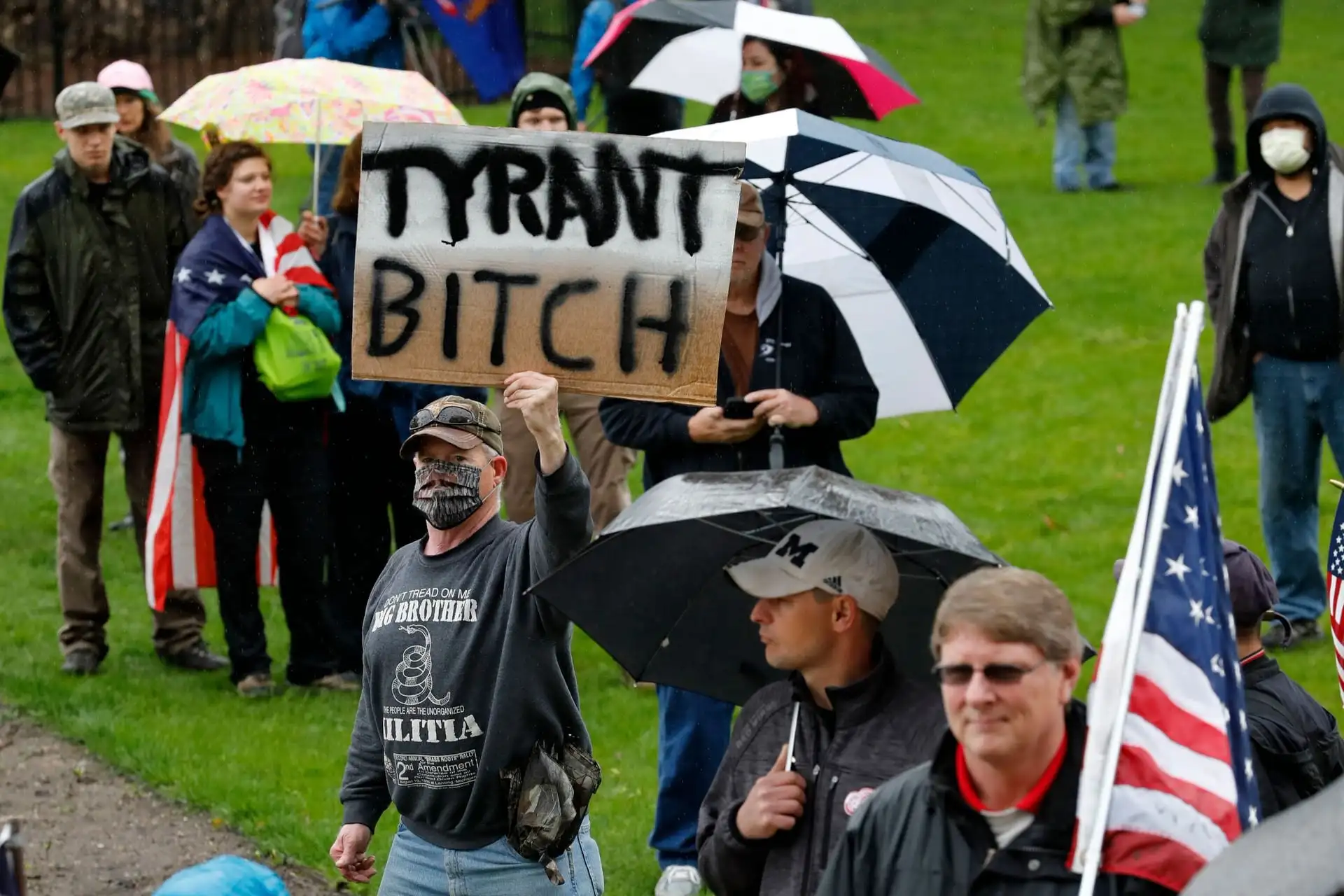 In the spring, the Wayne County prosecutor's office announced the arrest of a man accused of making credible threats to kill Whitmer and Nessel.
Around the same period, heavily armed protesters gathered at the Michigan Capitol to oppose stay-at-home orders by Whitmer. At one of those protests, someone held a sign reading, "Tyrants Get The Rope."
In December, authorities closed the state Capitol building citing a "security issue" ahead of electors gathering to cast votes for Biden in the Electoral College. Police later escorted the electors to their cars. Recently, Nessel's office has received "nonstop" calls during the work day that include harassment and clear threats of violence.
"We've definitely had our share of trouble here," she said.
Nessel said her office is handling part of the investigation involving eight defendants accused in the plot to kidnap Whitmer and has "investigations pending" involving threats to other public officials.
The rise in threats of violence precede 2020. Nessel, a Democrat, has been AG since winning a five-way race in 2018. Within months of being sworn into office, she began receiving threats. She wonders if her gender, or her Judaism or being the first out LGBTQ+ person to win statewide office in Michigan, has played a part.
She assumed threats were to be expected given her position, until she was briefed at the time by a security official that she had already received more threats than her predecessor, a Republican man.
"I'd only been in office a few months, and he was there for eight years," she said.
Sobieraj said for women of color, the attacks are worse.
Earlier in December, Michigan Republicans held an oversight committee meeting for people to testify about accusations of wrongdoing in the election. Cynthia Johnson, a Democratic state representative on the committee, attended the meeting and asked critical questions of the speakers.
What followed were numerous threatening emails and calls from people. Johnson shared some of messages on her Facebook page, including screenshots showing out-of-state phone calls incoming every few minutes and a voicemail threatening to lynch the Black lawmaker.
"The abuse that's directed at women is very much shaped by who the woman is. So a Muslim elected official or a Black elected official who is female gets sexualized and racialized abuse and the intersection is there," she said.
Nessel said whenever U.S. Rep. Rashida Tlaib, a congresswoman from the state who was the first Muslim woman to serve in the Michigan legislature, tags her in a post on Twitter, the attorney general sees an uptick in hateful messages. (Massachusetts Rep. Ayanna Pressley spoke with The 19th about her own experiences with threats to her and her office.)
"It could just be, like half a Saturday, and she would get back probably 1,000 horrible tweets, many which are threatening in nature," she said.
Shireen Mitchell is a disinformation researcher who runs the Stop Digital Voter Suppression Project, an effort rooted in stopping violence against women. She hopes elected officials will push for policies that prioritize combating online harassment and disinformation, and elevating the voices of Black women and women of color, whether or not they are public servants.
Mitchell said online harassment is often directly linked to threats of physical violence. Many of the cases this year in Michigan involving elected officials are connected to social media platforms.
"You can't dismiss disinformation, and people actually showing up screaming at me," she said, referencing an incident when her work led to in-person threats.
Following the threats of violence against Johnson, the state representative, she posted a video on Facebook on December 8 talking directly to viewers about some of the threats she has faced.
At one point she said, "Be smart. You don't have to yell. You don't have to curse anybody out. You don't have to call people names. Hit their asses in the pocketbook."
Then she noted that authorities were able to track down a person who had called her.
"So this is just a warning to you, Trumpers: Be careful. Walk lightly. We ain't playing with you. Enough of the shenanigans."
She added: "And for those of you who are soldiers, you know how to do it. Do it right. Be in order. Make them pay."
After a second video the following day, Michigan Republican leadership said they would take away her committee assignments. Nessel condemned the threats aimed at Johnson but also criticized her remarks in the first video.
"As Michiganders, and as Americans, we cannot allow hateful rhetoric from a few individuals to drag the masses down into a spiral of unjust actions," Nessel said in a statement. "It is never acceptable for anyone — especially a public servant — to incite violence or to threaten others with harm."
Johnson later told a news outlet that her intention was not to threaten Trump supporters but that she also did not regret her comments.
"In my community, we often use the term soldier, but when we use the term it means for people to rise up and not just take BS," Johnson told MLive.com. "It doesn't mean anything violent. Our rise up means rise up against racism, against tyranny, rise up against violence. No, my message was not one that was intended against the Trump people. We are talking about peace and unity."
Mitchell criticized legislative leadership's decision to take away Johnson's power on committees.
"What you're saying to her is, 'You should have been nicer while people are literally trying to take you out.'"
Sobieraj said there needs to be more policy conversation about sustained online harassment and the effects that has on people. In her book she wrote about a digital toxicity that impacts women's productivity at work and mentally.
"We don't really have laws that are built to protect people who are suffering from other kinds of harms. If someone's going to physically harm you, yes you have recourse," she told The 19th. "But if someone has completely destroyed your career, if someone has destroyed your reputation, if someone has destroyed your psychological well-being? There's not a lot that our laws are able to do to prevent it, and that is because there needs to be a crime and there needs to be a perpetrator. And both of those are tricky."
Maura Healey, the attorney general in Massachusetts, has also been public about calling out threats against elected officials. She said attorneys general have advocated for social media platforms to do more "to make sure that illegal, unlawful criminal threats are not going over their sites."
Healey said she has seen some tech companies be more proactive in identifying public safety issues, "but I think they need to do a lot more because this really is the means to which this stuff is out there, and, you know, it's just scary when I get messages and attacks and threats from people very, very far away. That's what the internet enables. You can be attacked from anywhere."
Nessel noted some of the challenges of responding to online harassment.
"What are you supposed to do? Are you going to go after every single person, anonymous Twitter handle, that has threatened you on social media? It becomes just overwhelming," she said. "But when we are able to identify specific threats and they are credible threats that involve great bodily harm or death, we absolutely pursue those."
But Nessel said she is trying to do more. Separate from ongoing investigations, her office created a hate crimes unit early on in her term. She said the unit is handling cases that involve white supremacy groups and militia organizations. A robocalling task force recently helped investigate allegations of political officials trying to suppress minority voters in the November election.
The threats against her, Benson and Whitmer have not deterred any of them from doing their jobs, Nessel said.
"I think that the three of us have worked very, very hard to make Michigan the best place that we possibly can, and to fight as hard as anybody on behalf of our constituents," she said. "… You can threaten us. You can say terrible things about us on social media. You can have protests at our homes. It's not going to stop us from doing our jobs."