This reporting was supported by the International Women's Media Foundation's Howard G. Buffett Fund for Women Journalists.
Last week began with racial and gendered attacks against some of the Black women that Joe Biden could choose as his running mate, a decision he is expected to announce in the coming days.
That criticism, combined with the news Friday night that Michigan Gov. Gretchen Whitmer — a White woman — had met with Biden to discuss the possibility of joining him on the ticket, was met with anger and frustration by many Black women strategists, activists, organizers and voters who have reached a point where they believe choosing a Black woman vice presidential nominee is no longer a recommendation, but a requirement.
"The backlash is very real, and it will be felt all across this country," said Democratic strategist Karen Finney. "Black women are sick and tired of being considered the backbone of the Democratic Party. We want to be recognized as leaders. We want all the things. We're due."
Interviews with Black women across the country reveal an evolving discussion about the vice presidency, which began during the primary and has taken on outsize importance in an already consequential election year.
In early March, when Sen. Elizabeth Warren's path to the White House looked like it might be ending, women began calling for the presumptive Democratic nominee — which appeared at that time to be Biden or Sen. Bernie Sanders — to select a woman, particularly a woman of color.
Near the end of March, Biden announced that he would choose a woman as his running mate if he became the nominee.
Since then, rumors have swirled about who Biden could choose as his vice presidential nominee. Among the Black women who have been reported as at or near the top of the list are Sen. Kamala Harris of California, former National Security Adviser Susan Rice, Congressional Black Caucus Chairwoman Karen Bass. All bring different strengths and lived experiences to the role.
"My position is that each of the candidates named is highly qualified," said Johnetta B. Cole, president and chairwoman of the National Council of Negro Women. She declined to name her preference, but said, "I think the most important thing for large numbers of us to do is to stand solidly in support of the selection of one of these candidates. If one understands that it's far time for this country of ours to not just make a declarative statement, do something about honoring diversity by addressing systemic systems of inequality."
In April, a letter sponsored by Sisters Lead Sisters Vote that initially had 200 signatures grew to more than 1,000 people saying they were "writing to recommend and encourage" Biden to "seize this moment in our country's history, and its bold future" by choosing a Black woman. Among the named signatories were elected officials, clergy and organizers.
Melanie Campbell, chairwoman of the organization, said she would be "extremely concerned" if Biden does not choose a Black woman and is cautiously optimistic that he will do so.
"It's not against anybody, but I'm just affirming Black women and what we bring," Campbell said.
Veteran strategist Minyon Moore agreed, adding that the Black women candidates in consideration are all qualified and experienced. Moore said that while she respects that the decision is Biden's, she would also be disappointed if that decision is not to choose from among the black women on the list.
"They have done all the things America has told us we needed to do to succeed," said Moore, who was among the letter signatories. "Why not write us into history?"
In May, several Black women in media and activism penned an op-ed in the Washington Post demanding that Biden choose a Black woman as his running mate. In the letter, they also specifically rejected Minnesota Sen. Amy Klobuchar as a non-starter. In the wake of George Floyd's killing and uprisings across the country around the issue of racism in policing, Klobuchar withdrew her name from consideration and backed the idea of a Black woman on the ticket.
Angela Rye, strategist and former executive director for the Congressional Black Caucus, said she won't be a surrogate for Biden's campaign if a Black woman is not his pick for potential governing partner.
"If there's a Black woman on the ticket, I think we do what we've always done: overperform in getting out the vote and showing up, either to the polls or the mailbox and wrangling our family and friends," said Rye, one of the signers of the op-ed. "If he doesn't, I think Black people are over it. They will not be able to use my leverage, my influence or my standing with the community."
The calls for a Black woman vice presidential nominee have grown louder, particularly amid the dual pandemics of coronavirus and systemic racism that have devastated Black Americans. So, too, have the gendered and racial rhetoric that have brought vitriol to the veepstakes conversation.
In recent weeks, Harris has been labeled as too ambitious — someone who may "rub some the wrong way." Bass, in contrast, was painted by Politico as a media-shy team player and the "anti-Kamala Harris." This week, Susan Rice has been dogged by her financial investments and Benghazi. And 2018 Georgia gubernatorial candidate Stacey Abrams, whose name has also been mentioned as among the contenders, has been cast as unseemly for publicly making her case for why she is qualified to serve alongside Biden as his vice president.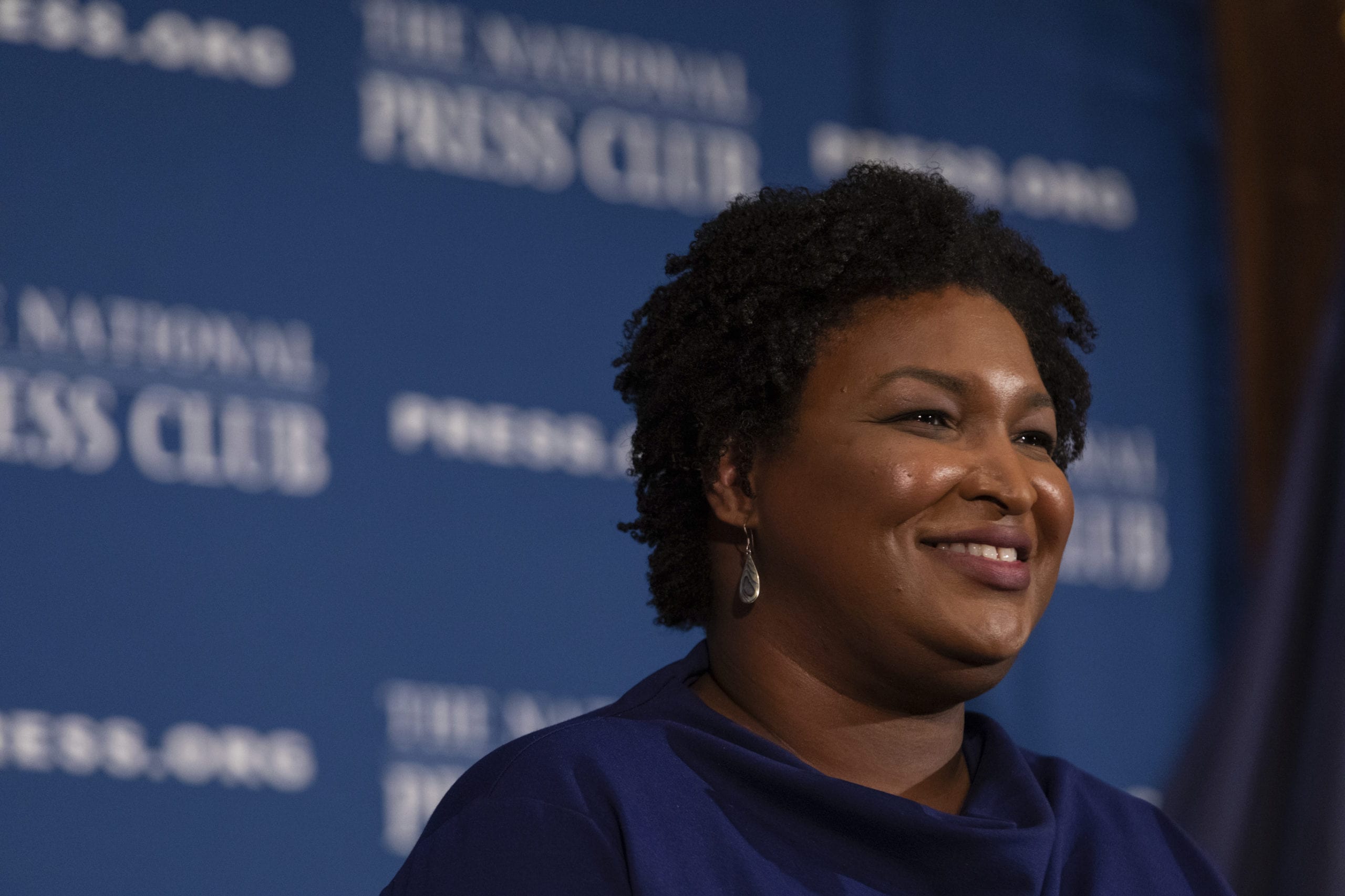 Last month, Biden campaign manager Jen O'Malley weighed in on the tenor of the conversation in a tweet: "Ambitious women make history, change the world, and win. Our campaign is full of ambitious women going all out for Joe Biden. He will make this decision, and this is clear: whoever he chooses from the very qualified options to help him win & unite the country, she'll be one too." Biden has not commented on the controversy.
The campaign declined to comment for this story. Biden aides have said he has sought to create a process that would be helpful to those in consideration, doing public joint events and interviews aimed at creating greater name recognition, particularly for some of the lesser known candidates — a strategy that has boosted the profiles of some, but also fueled speculation about their prospects.
Leah Daughtry, chief executive officer of the Democratic National Convention in 2008 and 2016, took to Facebook Live about a week ago, frustrated by the criticism of Black women candidates in a way White women in the conversation are not being discussed. Looking into the screen with exasperation, she lamented: "I don't have the strength to carry two White people across the finish line in November."
"For me, it raised again the spectre that we live every day as Black women, of being judged by and held to a different standard, despite the fact that we are qualified and that we are the highest propensity voters in the nation," Daughtry said, calling the current tone "maddening."
"I need to have someone who has my experience because of their sex and the color of their skin, so I know my issues and my concerns are going to be daily at the table when policy is going to be discussed," she said. "I can't make that assumption, and I'm not going to advocate for that assumption to the people I'm asking to vote."
On Friday, nearly 700 Black women — from sectors including tech, entertainment, fashion, music, the faith community and politics — signed an open letter decrying the emerging negative tropes and narratives against some Black women vice presidential candidates, declaring, "Regardless of your political affiliation, whether it's the media, members of the vice presidential vetting committee, a former Governor, a top political donor or a small town mayor: We are not your Aunt Jemimas." It was signed "Concerned Black Women Leaders" and the list has now grown to over 1,700 names.
Jotaka Eaddy, former senior advisor for the NAACP and an ex-Silicon Valley executive who was one of the conveners of the letter, said she and others have been watching the process unfold for months and have seen both the growing desire for a Black woman on the ticket — and the growing concern around how the potential pick is being discussed.
"Right now, there is just a conversation and an expectation for a Black woman vice president," said Eaddy, noting that the idea for the letter was hatched and executed within 24 hours. "There's a point where you just say, 'Enough.' It's our time. It's an imperative. I will still cast my ballot for Joe Biden; I don't think there is any other alternative. But I will personally be very disappointed if he doesn't choose a Black woman."
Three women have already run on a major party ticket — Rep. Geraldine Ferraro as the 1984 Democratic vice presidential nominee, Gov. Sarah Palin as the 2008 Republican vice presidential nominee and Hillary Clinton as the 2016 Democratic presidential nominee — but a Black woman has never been tapped for such a role. To select a Black woman in 2020 would present the opportunity to make history in an already historic moment — this month marks the centennial of the 19th Amendment, when women gained the right to vote but Black women were still denied full access to the ballot box.
Recent polling suggests a plurality of Democratic women — including White women — agree that the Democratic presidential ticket should be diverse. Attorney Star Jones, an open supporter of Harris, said she received numerous calls as news of the Whitmer-Biden meeting broke among her network of Black and Latino media, celebrities and other high-profile Black women in the entertainment industry and deep-pocketed Black donors.
"All of them are looking at this pick and getting worried the longer this takes," said Jones. She added that she had just spoken to a donor who, along with her, "is ready on the day Harris is announced to max out their entire friendship base," a potential fundraising haul of millions of dollars.
"The thought that you would throw that away and not guarantee that these people are going to come out and bring the hopes and the dreams of people like Sojourner Truth, Fannie Lou Hamer and Shirley Chisholm if you pick a Black woman is short-sighted," Jones said. "When Black women take an election on our shoulders, that person usually wins."
Not having a Black woman on the ticket could also mean a heavier lift for the Black women doing the work of registering and turning out the Black vote in the midst of a pandemic. LaTosha Brown, co-founder of Black Voters Matter, said choosing a Black woman running mate helps to create the energy necessary for victory in November.
"Some barriers are too difficult, given that we have less than 90 days left, to overcome," Brown said. "We show up, we do the work. This will absolutely determine whether we show up or show out."
Aside from enthusiasm, Brown said such a pick could also inspire voters in a way that an all-White ticket cannot.
"We need the hope of possibility and something different," she explained. "It's a ceiling breaker for people to see what's possible for a radical reimagining of America."
Glynda Carr, president and chief executive officer of Higher Heights, said Biden will have to answer to Black women on the campaign trail if his running mate is not from among their ranks.
"We've always been the architects of this democracy, and we always put more in than we get out," Carr said.
There hasn't been much public consensus around which Black woman Biden should choose, though observers have said among the top names for the role are Harris, Rice and Bass. But to the extent that there is a White woman that Black women voters are willing to support, there has consistently been one answer: Elizabeth Warren, who many say has a proven track record addressing issues of systemic racism.
As a 2020 Democratic presidential candidate Black women saw Warren as "paying attention, that she is learning, that she is listening and that she is moveable when she doesn't understand something," said Democratic strategist and former Warren campaign staffer Alencia Johnson, who doesn't have a position on who Biden should choose.
"They have seen here use her privilege as a White woman to fight for things that are just right," Johnson said, adding that Warren could help to bolster support among young Black progressives.
Still, without a Black woman on the ticket, Biden would need other strategies to galvanize Black women at the polls — not just bringing themselves, but their churches, sororities and salons, Johnson said.
"It puts Black women in a really tough position for advocating and going the extra mile to advocate to get people out to vote who have been disenfranchised, who don't see their political interest reflected, to overcome voter suppression and COVID-19," she said. "We need help convincing the people that we alone are responsible for."
Still, the lived experiences of the Black women in the running, coupled with their impressive credentials, make them uniquely qualified for both this role and this moment in American politics, said Cole. In making her point, she paraphrased an African proverb about women making the impossible possible: "When Black women lead, streams run uphill."
"If this does not happen, I will personally feel profoundly disappointed," Cole said. "It does not happen every day, to have such a defining moment."
For all the controversy swirling around the decision, Democratic Rep. Maxine Waters said she is "not nervous" about Biden's choice, and is convinced that he will choose an African-American woman, given their impact and standing in the party.
"I don't think it can be ignored, and I don't think it will be at all," Waters said, adding that the unconventional process has contributed to its chaotic and competitive nature.
"It identified any number of women it could possibly be and it became a contest," Waters explained. "When it becomes a contest, people will do what they think is necessary to win."