On Tuesday, Black women defended democracy, organizing thousands of Georgians as coronavirus and voter suppression raged anew in the state to pull off a pair of political victories in a consequential runoff election that gave Democrats control of the Senate.
On Wednesday, a mostly White, significantly male mob disrespected democracy, storming the U.S. Capitol in an insurrection with the air of a public lynching, falsely framed as patriotic, to defend President Donald Trump's false claims of a rigged presidential election.
In a span of 18 hours, the highs and lows of American democracy were on display, breaking down largely along racial and gender lines.
This is a trend four years in the making. On January 21, 2017, the day after Trump's inauguration, tens of thousands of women peacefully participated in the Women's March on Washington to protest the president's rhetoric and proposed policies and to advocate for equity under law. After that seminal march, women channeled their activism into politics, and in 2018 ushered in a historic mid-term election that saw more women voted into congressional office than ever before. In 2020, women in the South, notably Stacey Abrams and LaTosha Brown, mobilized an entirely new segment of the electorate to help Democrats win both the White House and the Senate.
And still, that the final days of the Trump presidency are ending as they began — marked by protest — and culminating in such a moment is stunning, but unsurprising for many. After all, on January 20, 2017, Trump stood on the building's West side and delivered an inauguration speech that spoke "American carnage" into existence.
As Black Lives Matter co-founder Patrisse Cullors watched Wednesday's images from Washington, she realized she hadn't just been watching them for a day; she'd been watching them for four years.
"It's not as if we didn't all know that this was going to happen," said Cullors. "They have enacted violence for the history of this presidency. The conversation is really about whose country this is. Who gets protected? Who's allowed to protest?"
These questions have emerged again and again since Wednesday, especially as footage of the riots emerge and are juxtaposed against the other protests marking Trump's presidency.
In 2017, after the Unite the Right rally in Charlottesville turned deadly, Trump blamed "both sides" — a sentiment that Biden said ultimately convinced him to run for president in 2020 after sitting out the 2016 contest. The next year, when a group of mostly women gathered at the U.S. Capitol to protest the confirmation of Justice Brett Kavanaugh, Capitol police arrested more than 100 people and charged them with unlawfully demonstrating; only 14 people were arrested at Wednesday's riot, according to the Washington Post, though more have been arrested in the days since. In the wake of George Floyd's death this past summer, primarily peaceful protests in D.C. agitating against the rhetoric and policies and the systemic inequality laid bare in the pandemic were met with a significant police presence. 
Rep. Nikema Williams feared for her own protection on Wednesday. When she arrived at the Capitol building to serve her third day as a member of Congress, despite the presence of protestors, she believed it "would be the safest place to be in the city."
"That did not turn out to be the case," said Williams.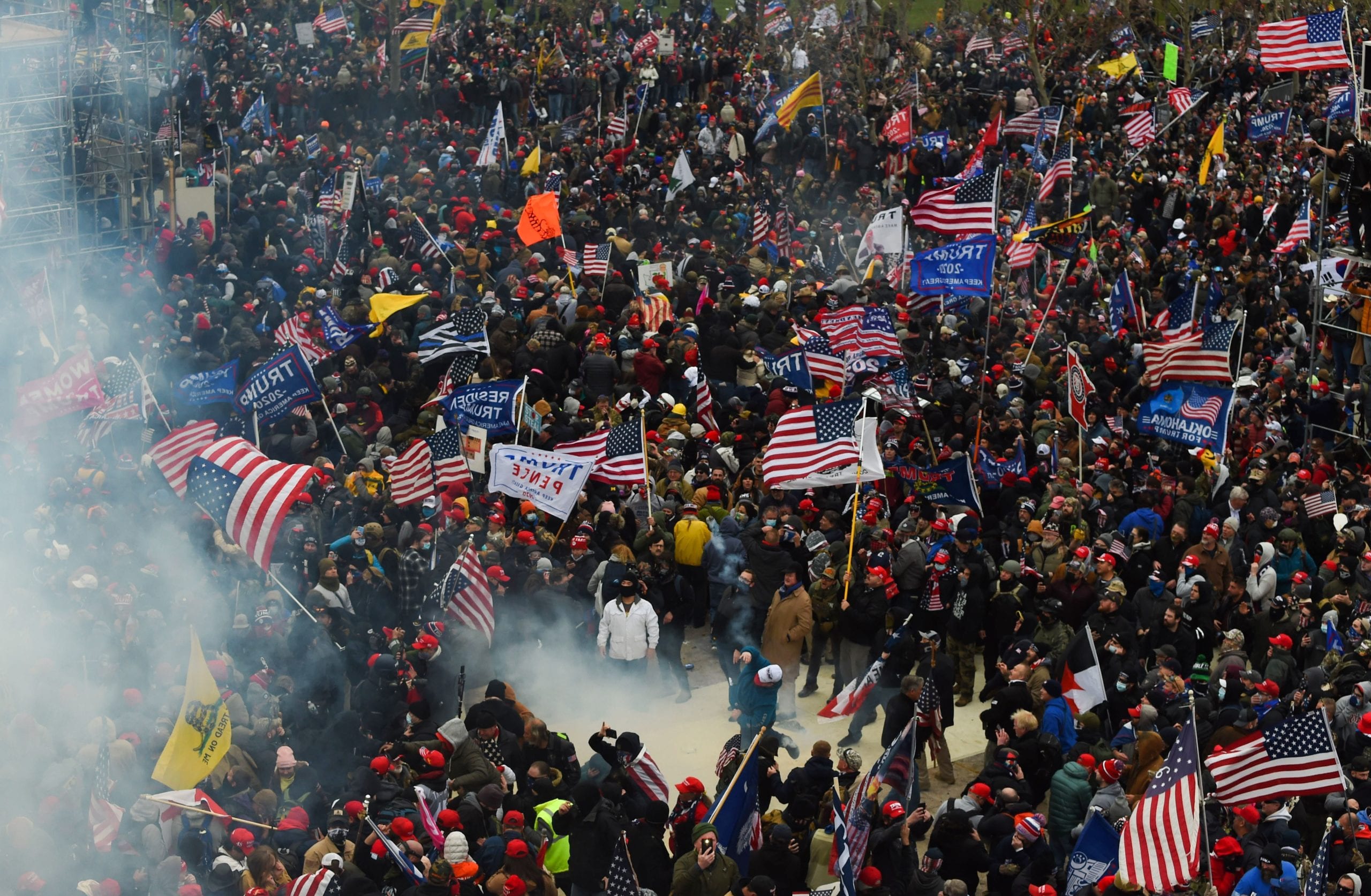 The Georgia Democrat and state party chair spent Tuesday night celebrating Warnock's projected victory and Ossoff's anticipated win. In November, she was elected to the seat held by the late Rep. John Lewis, the country's biggest proponent of voting rights.
Williams was prepared to defend Georgia's 18 electoral college votes on the House floor on Wednesday afternoon when the insurrection broke out. Ossoff was declared the winner of his race — officially sealing the balance of power for Democrats in the Senate — while she was on lockdown. For the freshman representative who was arrested in 2018 on the floor of the Georgia House after protesting the results of the gubernatorial election, Wednesday was a mix of emotions.
"I know that our democracy is fragile and that it is up to us to make sure we continue to uphold it," Williams said. "In my remarks today, I was going to talk about the ratification of the 15th Amendment and the 19th Amendment, when I still wouldn't have had the right to vote, but my state, in the Deep South, voted to elect the president of their choice and I get to defend their votes."
Instead, Williams said, rioters disrupted that process. The message, she said was, "'Let me put you in your place because people like you, in Georgia, were never supposed to build this much power, especially in a runoff system that was designed to suppress Black voices."
The events of the past two days in Georgia and at the Capitol were both symbolic of America. So were the peaceful protests during the national reckoning around the disparate killings of unarmed Black Americans. So, too, were the destruction and removal of Confederate monuments — and the racist protests in defense of the preservation of such statues in Charlottesville.
Biden launched his campaign as a "Battle for the Soul of America." His election victory was only a part of that battle, which is part of a war that is as old as the country itself.
As he and Vice President-elect Kamala Harris prepare to take office in 14 days, Biden must come to terms with all of America's history to fully and finally address it, Cullors said.
"When we say, 'This is not America,' that's not true," she explained. "This is a part of America that Black people have been trying to overcome and create a new way — not just for us, but for the entire country."
It's a question that dates back to the country's founding, said Phillip Mead, chief historian at the Museum of the American Revolution.
"One of our greatest strengths as a nation has been the willingness of our democratic society to recognize that fundamental requirement to accept the results of elections," Mead said, adding that inciting violence to overthrow the will of the American people is at odds with the spirit of the original revolutionaries.
"The numbers and engagement of recent elections shows that there is still something very revolutionary about America," he continued. "We need to take some reassurance that people hold that dear."